Despite that brief patch of mild weather this week, winter is in full swing at Pittsburgh International, with crews working to ensure safe and efficient operations on the airport's deice pads.
Much has changed since the 1990s, when a series of aircraft incidents, including the crash of USAir Flight 405 and Comair Flight 3272, led to improvements in winter weather procedures for commercial aviation.
In those years, a series of original "fixed-pedestal mounted booms" lined the deicing pad at Pittsburgh International. The booms were mounted to the ground and extended up to 90 feet, with a 500-pound orange cab at the top.
A member of the deicing team would sit inside the cab to operate the nozzle and spray deicing fluid on the airplane, much like today.
At the time, PIT was only the second airport in the country to employ fixed-pedestal booms, with Denver International being the first. By 2000, the airport shifted to using forced-air technology to help remove snow and ice before applying the glycol deicing fluid mixture.
Deicing equipment has greatly improved since then, said Kevin Gurchak, the airport's vice president of Sustainability and Natural Resources. One big change: Truck-mounted booms allow crews to get closer to the planes and make sure the fluid is hitting its target.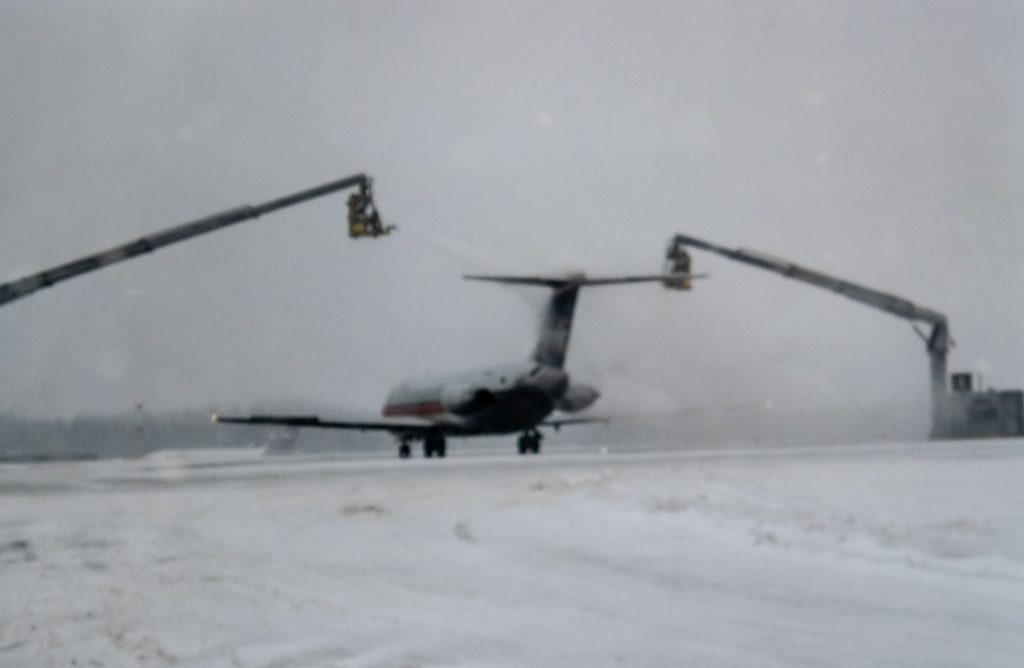 "Now, deicing operations are much safer and more efficient compared to the technology used years ago," said Gurchak.
Using forced-air and adjusting the deicing fluid mixtures to outside temperatures has been environmentally beneficial, as well as efforts to recycle and repurpose deicing fluid, said Joseph Savage, project manager for Integrated Deicing Services at PIT.
Pittsburgh International was one of the first airports to begin managing and reclaiming spent deicing fluid, with contractors helping the airport recycle more than 200 million gallons of spent fluid since 1995.
Safer. More environmentally friendly. Upgraded procedures. But with all those improvements, one thing hasn't changed:
It still takes about the same time – about 12 minutes – to deice a plane.
Click here, for more on deicing operations at Pittsburgh International Airport.