As Monica Hughes, dressed to the nines, waited to enter the hallowed halls of Congress surrounded by the nation's political elite on perhaps the most important night on the D.C. calendar, she found herself in a familiar situation.
This is just like being at work, she thought.
Hughes, a Transportation Security Agency officer at Pittsburgh International Airport, was attending the State of the Union address as a guest of Pennsylvania Sen. Bob Casey. It was her first time inside the Capitol, but the screening process was just like the one she performs dozens of times a day at PIT.
The Capitol guards even use the same equipment, she said.
Casey, a Democrat, invited Hughes to join the gallery as a representative of the hundreds of thousands of federal workers adversely affected by the recent 35-day government shutdown.
Hughes and her partner, Chazz Burke, struggled to make it through that stretch. While Hughes reported to work as usual, the bills kept coming and meals still needed to be cooked. But the money had stopped.
She said she and her coworkers were grateful for the outpouring of support during the shutdown, from free lunches to donations of nonperishable foods and other sundries.
"Dealing with what I had to deal with, the airport's been great, the airlines have been great, the employees have been great," she said. "I'm grateful and appreciative of all the support we received from passengers, the airport, anyone who has reached out to us and helped us. It's not gone unnoticed at all."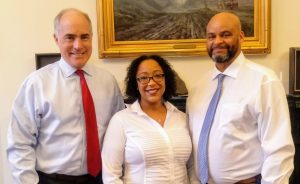 Hughes recalled how she left the airport late one night, about 30 days into the shutdown, and stopped to get food at Peppi's in Point Breeze on her way to her Penn Hills home. It had been a long day and she hadn't changed out of her TSA uniform, which was unusual.
As she waited for her order, the manager noticed her uniform and struck up a conversation about the toll the shutdown was taking on Hughes and her colleagues, she said. Then, by way of thanks, he comped her meal.
The gesture brought tears to her eyes and made her feel guilty, she said.
"I'm able-bodied. I'm a working person. I obviously had money (in my pocket) to pay for my food," Hughes, a former Army reservist, said. "But did I really have it?"
After she got home, she wrote a social media post about that moment and the overall frustration and fear she felt about the shutdown. They were sentiments she wouldn't typically show the world. But when a union official saw it and asked to share it, Hughes said yes.
The next day, Casey's office called the union, which arranged for the couple to make the trip to the capital.
Hughes and Burke drove to Washington on Tuesday, with a hotel room and per diem arranged by Casey's office. After getting settled in, they met the senator at his office and spoke with him at length.
"He's amazing," she said. "He was very sincere, he was genuine. He seemed like he felt for the cause for the federal workers not just as a politician, but as a regular person."
After a series of conference calls and media requests, she and Burke ate lunch in the Senate dining room surrounded by some of the most important men and women in U.S. politics.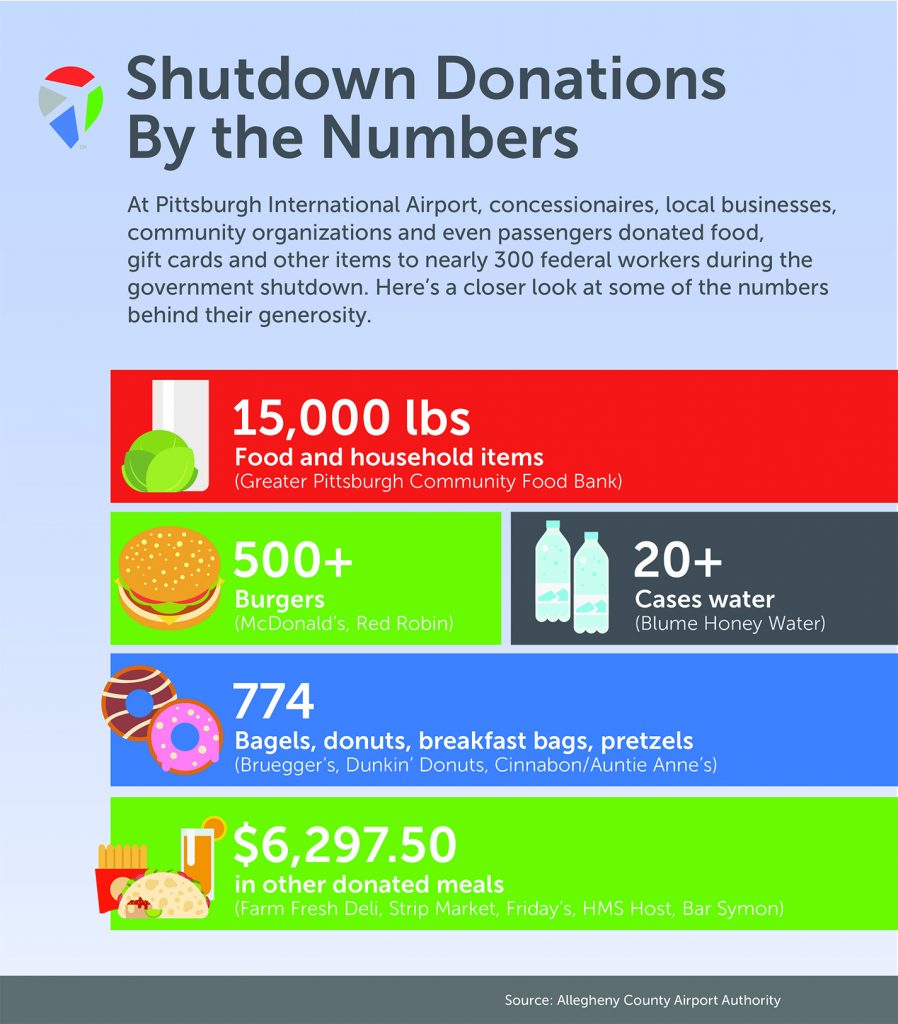 "'Are you serious? Is this happening right now?'" she recalled with a laugh.
After more media calls, they toured congressional buildings and the Supreme Court. Hughes said she especially got a kick out of the small underground subway that connects the buildings and offers privacy and security to lawmakers.
"You can feel it when you walk through these buildings. Everything about it says, 'I've been here forever,'" she said. "These buildings are grand."
Waiting in Casey's office before heading to the House of Representatives for the State of the Union, Hughes said she was "a ball of nerves." She said she was particularly moved when the chamber honored Tim Matson, a Pittsburgh police officer shot while responding to the mass shooting at the Tree of Life synagogue in October. Matson and Judah Samet, a Tree of Life congregant, were guests in the president's gallery and received a standing ovation when they were introduced.
"I was more proud to see (Matson) than to see anything else," she said.
Hughes was hoping the president would talk more about the shutdown and how it affected her and so many others.
"I was kind of disappointed that President Trump didn't speak on that as much," she said. "Like, why would he want to shut the government down again, and did it have the effect he wanted?"
Lawmakers have until Feb. 15 to strike a budget deal that will be passed and signed by the president. If they fail, Hughes will face another stretch without a paycheck.
"I keep telling people I'm fearful of it," she said. "I'm hoping for the best but I'm preparing for the worst. Yes, we got back pay, but don't want to touch it. You don't want to spend any money not knowing if this is going to happen again.
"We didn't hit the lottery. This isn't a reward. That money's already gone."