Editor's note: As states across the U.S. continue to lift stay-at-home orders, airports are seeing a slight uptick in travelers. To ensure the health and safety of travelers and staff, airports and airlines are adjusting their requirements and procedures. On a recent flight from Pittsburgh to Charlotte, Blue Sky News staffer Natalie Fiorilli documented her travel experience. Here's her log from Friday, May 26.
4:10 p.m. – My flight boards in less than an hour, so I pack up my things from our office in the Landside Terminal and head downstairs to the security checkpoint. While I have been working remotely for the most part, our team allowed me to work from the office today because of my flight, which was scheduled to depart at 5:30 p.m.
4:15 – Going through the security checkpoint was a fairly easy process. Everyone is wearing face masks, as this is a requirement inside the airport now. Only three people were ahead of me in line. When I got to the TSA agent, I scanned my boarding pass and presented my ID. Really, only one thing was different during the process: I had to move my mask below my face briefly to allow the TSA agent to confirm my identification and clear me to continue through the line. Next, I unpacked my laptop from my carry-on bag and placed it in the tray. Went through the x-ray machine and grabbed my things from the belt.
4:20 – I wait for the next train to arrive. Though there are only four of us inside the train car, we practice social distancing by creating as much space between us as possible. I hold on to my suitcase for balance, instead of touching the pole grips, as these are high-touchpoint areas – even though, as an airport employee, I know very well that we have enhanced our deep cleaning procedures throughout the terminal, including inside the trains.
4:25 – I'm heading to my gate now, B30. Walking through the Airside Terminal, you can see that most stores and restaurants are closed, but there are a few places to grab a bite to eat or a drink or snack for your flight. I have been Airside a few times over the past few weeks for work and have experienced this before, but as a passenger it feels a little strange.
4:35 – At the gate, people are spacing themselves by spreading out into other gate areas. This looks like a decently full flight. The gate agent announces that there will not be food or beverage service in flight and reminds passengers to grab a drink or snack prior to boarding.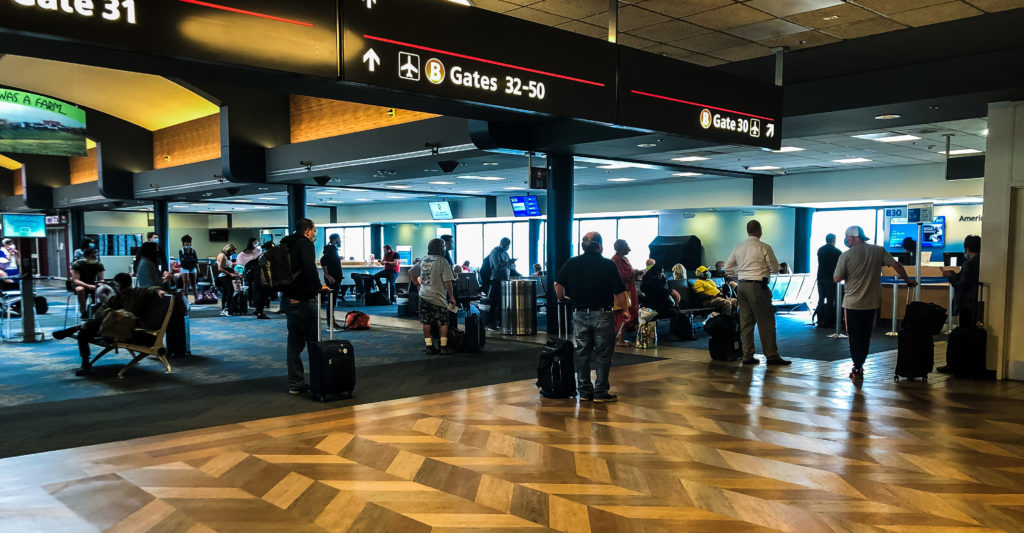 5:05 – The gate agent begins the boarding process. I'm not in a rush. I'd prefer to let others go ahead of me and avoid crowding together with people. As I wait to board, I call my parents to check in and let them know when I will be arriving in Charlotte. I also put on a pair of disposable gloves – maybe a bit excessive, but I figure you can never be too careful.
5:25 – I am settled in my seat. There are about 100 people on the flight, and most rows are full. The plane is an Airbus A319, which seats 128 passengers. I'm sitting in 23F, a window seat toward the back. There is no one in the middle seat next to me, but a lady is sitting in the aisle seat in my row. Across from us, two men share a row, also with an empty middle seat between them. As she sat down, the woman next to me notes that wearing a face mask makes it hard to breathe. She switches to a more comfortable mask. It is hot and uncomfortable wearing a face covering, but it feels slightly reassuring that we are all required to wear one.
5:30 – The flight attendants discuss how the airline is following CDC guidelines and that face masks are now required on board. They ask all passengers to be respectful of one another. They also ask passengers not to use the lavatory on board through the duration of the flight, if possible.
5:32 – We're now taxiing to the runway. I plan on catching up on some work when we approach cruising altitude. As a pretty frequent flyer, I'm happy to be on board a plane again. It's funny how many things you appreciate after basically being stuck at home for months!
5:49 – I take out my laptop and begin working. Instead of using the tray table, I sit the computer on my lap. I'm still wearing gloves. I make a mental note to remember to clean my computer when I get to my parents' house.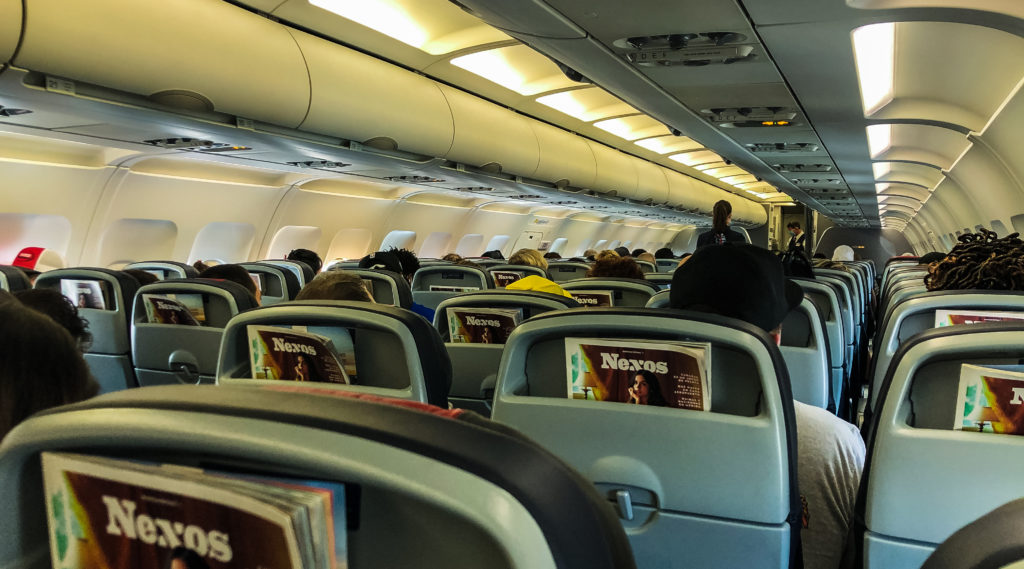 6:25 – The flight attendants announce that we have already begun our final descent into Charlotte. I always forget how quick this flight is! I place my laptop in my carry-on bag and plug in my headphones to listen to music for the remainder of the flight. Besides the face masks and no in-flight food and beverage service, everything feels like business as usual.
6:34 – We've already landed. Usually, the high volume of traffic on Charlotte's airfield means that it will take a while to get to the gate. I'm anxious to see the airfield and how many parked planes there are. I spot about a dozen parked outside of an American Airlines maintenance hangar; this is one of their hubs.
6:39 – We're at the gate now. Record time, from my experience. I guess there are some perks to flying right now, though I'd go back to having busy airports any day of the week.
6:44 – One thing I notice is how passengers do not seem to observe social distancing to deplane. The passengers on this flight got up from their seats, as we all usually do, and stood in a single file row. Not much the airline can do, but I do wish people would be more patient.
6:56 – There was a gate change, so it took a little while to offload. Walking into the Charlotte airport, the gates look the same as before the pandemic hit: busy. A number of people are wearing masks, though it's not a requirement here. I do notice red tape markings in the jet bridge and boarding zones.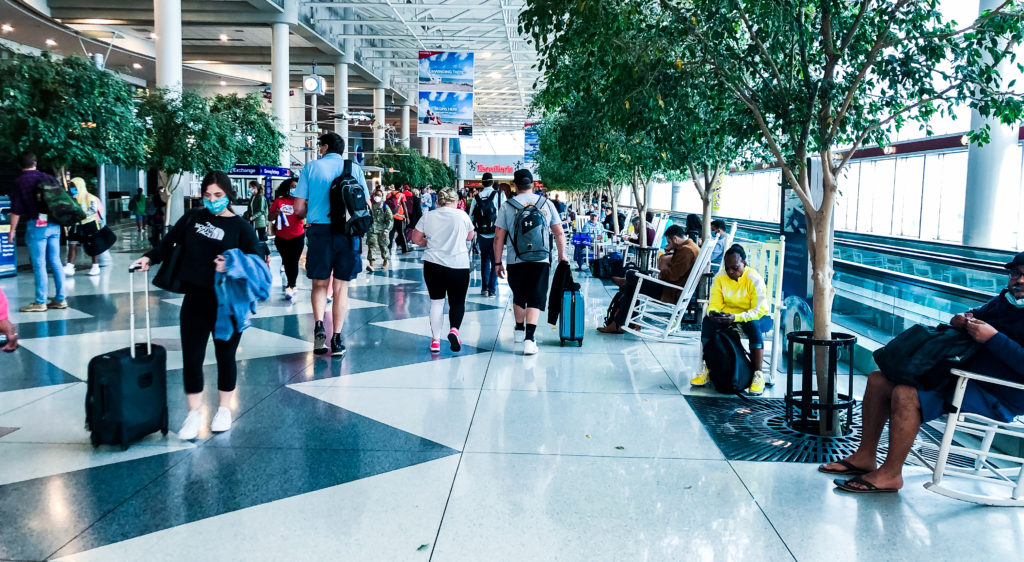 7:02 – Walking through the terminal, I see that a number of shops and restaurants are closed but quite a few remain open. The main atrium is bustling; there are lines of people waiting to get food, and most of the airport's iconic rocking chairs are occupied. Honestly, walking through this part of the terminal makes it feel like nothing ever happened.
7:08 – I proceed to the airport's arrivals curb to wait for my ride. Walking outside, I make sure to keep my distance from others waiting and decide to take my face covering off. Overall, the trip was a fairly normal experience, with the exception of a slightly full flight and being required to wear a face mask on board.