Airlines are getting smaller.
In July and August, U.S. airlines will have burned through an average of more than $5 billion per month as a result of a global drop in travel demand.
Because of this, the "big three" U.S. airlines—United, American and Delta—are bracing for an ugly autumn that will likely see sizeable reductions to airlines' networks and workforces.
For some of the regional carriers that support them, those cuts could be devastating.
Last month, United Airlines announced it would be ending its partnership with one of its seven regional carriers, ExpressJet. Before the pandemic, Atlanta-based ExpressJet operated more than 3,300 weekly flights on behalf of United with a fleet of ERJ-145 aircraft. The regional airline employs about 3,000 people.
United plans to have another of its other regional carriers, CommutAir, operate all of its flights on board the 50-seat ERJ-145.
Smaller planes, shorter flights
More than 60 certified regional carriers operate in the U.S., according to the Regional Airline Association, an industry group. Since the start of the pandemic, three have ended operations: Trans State Airlines, Compass Airlines and RavnAir Group.
Regional carriers operate smaller aircraft, usually carrying between 50 and 100 passengers and flying shorter distances of around 1,500 miles or less. Many operate the flights on behalf of larger, legacy carriers.
According to the RAA's 2019 annual report, 41 percent of scheduled passenger departures in 2018 were operated by U.S. regional airlines. Before the pandemic, regional airlines employed almost 60,000 full-time staff.
The airlines received financial assistance in March under the federal CARES Act, which required them to maintain a percentage of flights to the airports they serve and retain employees through the end of September.
With that deadline quickly approaching, airlines are anticipating the need to reduce their workforces by potentially furloughing and laying off thousands of employees.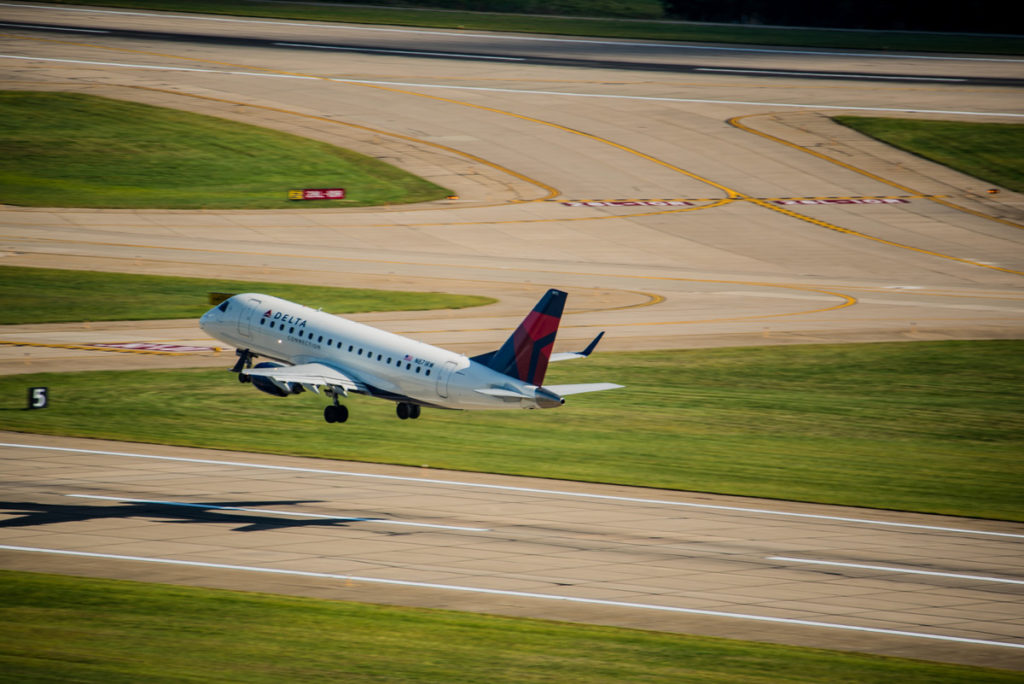 In response to United's decision, the RAA issued a statement urging Congress to extend the CARES Act.
"Announcements like this show demand is not anticipated to return by [this fall] and smaller carriers like ExpressJet remain uniquely vulnerable to service decisions beyond their control," the RAA stated.
Regional carriers like ExpressJet provide the only source of scheduled commercial air service to 66 percent of U.S. airports, according to the association.
RAA President Faye Malarkey Black added that situations similar to ExpressJet's are a "negative force multiplier."
"ExpressJet is not the canary in the coal mine; without intervention, this will be the fourth regional airline to fail," Black said. "The airlines' direct employees are dealt a crushing blow which continues to reverberate as small communities lose air service and those communities in turn lose business and even more job losses follow."
After ending its partnership with ExpressJet, United's list of regional operators currently includes: Republic Airways, Air Wisconsin, Mesa Airlines, GoJet Airlines and SkyWest Airlines.
As for ExpressJet, the need to cease operations entirely is certainly a possibility.
"It's a hard place to be," said Nicolás Mirman, a Dallas-based aviation consultant. "They will need to find a new destination for those planes and crews that will no longer be flying for United."
Dividing a smaller pie
An agreement between the major airlines and their labor unions could limit the damage.
Known as the scope clause, the agreement establishes a ratio for how many of its own flights a major airline needs to operate and how many regional carriers can fly for them.
The agreement was originally intended to prevent the big carriers from outsourcing jobs to the smaller airlines as a way of lowering their costs, Mirman said. Operating costs for regional airlines are typically lower than the majors' because it costs less to fly smaller aircraft.
At a time when the major airlines are cutting flights, the scope clause requires them to maintain a certain percentage of their flights on the regional carriers.
"In the environment of the pandemic, it makes sense for airlines to take their larger mainline aircraft out of their fleets [either through retirement or parking the planes]," Mirman said. "But in order to maintain the scope clause's balance, the airlines still must remove parts of their regional fleets as well."
While United is the first of the big three to drop one of its regional carriers, Mirman said the other major carriers may need to consider consolidating regional operations as well.
American Airlines works with six regional carriers: Envoy, Mesa Airlines, Republic Airways, Piedmont Airlines, PSA and SkyWest. Delta Airlines works with three: Endeavor Air, Republic and SkyWest.
Ultimately though, reductions for both mainline and regional airlines are expected.
"If 40 percent of the pie represents regional airlines and 60 percent is mainline, no matter what, the pie is going to be smaller," Mirman said.
"The industry will be smaller, and it will represent what the traveling public needs at this time. Still, regional routes can produce much higher margins than the rest of the network. We could reasonably expect a fast recovery for that kind of market after the crisis."