A mile south of Pittsburgh International Airport, firefighters from across the country train for a wide variety of possible incidents that can adversely impact an airport.
Known as an Aircraft Rescue and Firefighting (ARFF) training facility, the site features a computer-controlled fire simulator system fueled by propane. An aircraft fuselage sits in the center of the 135-foot diameter burn area.
When activated, the simulator ignites the aircraft, allowing firefighters to train with water for aviation-specific fires caused by fuel spills, engine damage, and wheel brakes, as well as fire outbreaks in an airplane cabin, flight deck and lavatory. Emergency personnel travel to PIT for the year-round courses held at the training facility.
In a year when so many education and training courses are being held virtually because of the pandemic, the instructors from PIT have made it a priority to hold these critical safety classes in person. Throughout September, the airport welcomed about 100 students from as far away as Puerto Rico for training with live fire.
"You can never stop training," said Deputy Fire Chief Tom Bonura. "No matter what's happening with the pandemic, our airport remains open and we have to be prepared and train for emergencies. We still have critical national infrastructure to protect and that also goes for the airports we help train."
At the start of the pandemic, the airport's ARFF instructors revised their operational and training policies to account for health and safety measures recommended by the Centers for Disease Control and other public health organizations.
They added routine, deep cleaning of the entire facility and required daily temperature checks for all on-site visitors. Additionally, trainers and participants disinfect their firefighting equipment and gear throughout each course.
In the last week of September, the airport hosted its week-long "40-hour" basic ARFF course, a required step in becoming a full-time, FAA-certified airport firefighter. Though participation numbers for courses this year are lower because of the pandemic, trainees came from Arnold Palmer Regional Airport in nearby Latrobe and Harrisburg International Airport, among other regional airports in Pennsylvania.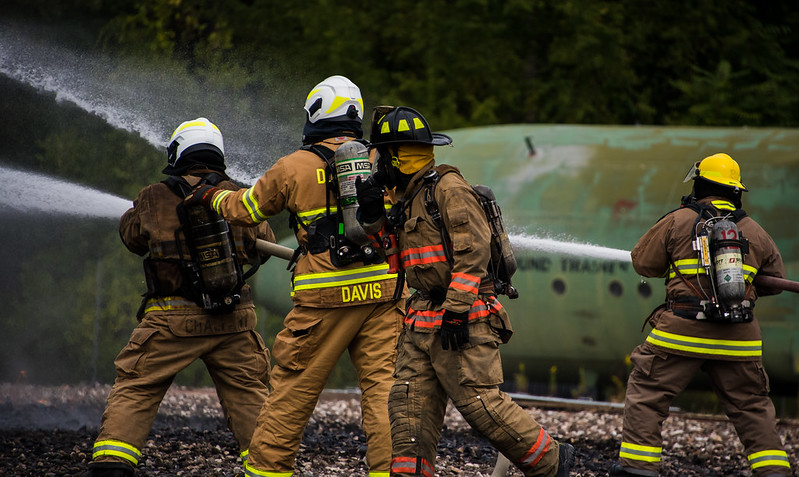 Sean Phillips, fire chief for Arnold Palmer Airport, has been training at PIT's ARFF facility for nearly 20 years.
"Since this facility has been here, this is the airport we've gone to for any kind of major airport training," Phillips said. "We send our new firefighters to PIT for the basic course and we're also required to conduct live-fire training at least once a year, so we come here for that as well."
ARFF training involves different strategies than traditional firefighting, Phillips said.
"You have a completely different mindset reporting to an incident like a house fire," Phillips said. "Structural fires focus on search and rescue, but in the ARFF world we're working to keep a rescue path open for people to safely exit the aircraft. It's just a different set of hazards."
Course instructors at PIT are all active members of the Airport Authority's fire department, which is responsible for Pittsburgh International and Allegheny County Airport in nearby West Mifflin, Pa.
Along with live-fire training and the basic 40-hour ARFF course, other classes focus on driving and operating ARFF vehicles. The site also offers National Incident Command System training for a wider range of first responders and business professionals.
"The simulator and fuselage are awesome tools to have; they've helped me learn new techniques to make our job easier," said Scott Adkins, a new firefighter at Harrisburg International Airport who attended the 40-hour training in September.
"The instructors at PIT were really knowledgeable and their willingness to explain the minor details made the class. They also kept it basic enough for crews that have never put firefighter gear on before."
Each program combines classroom training with practical experience, in which students participate in firefighting simulations, practice search and rescue operations, and vehicle operations, among other drills.
Classes are scheduled to continue throughout the fall, with instructors also offering virtual courses for training not involving the use of the site's simulator and burn area.