Airports are like small cities. Even with fewer people flying during the coronavirus pandemic, weird stuff is bound to happen.
As we close out what has been a challenging year for travelers and travel workers alike, we thought we'd relate a few tales from Pittsburgh International and other airports that are bizarre, heartwarming and sometimes both.
At PIT, for example, a passenger surrendered a live goldfish, bowl and all, at the pre-security Information Desk after realizing that the fish wouldn't get past TSA. Our customer service representative, initially caught off-guard by the unusual situation, quickly recovered, adopted the fish on the spot and took it home to her family.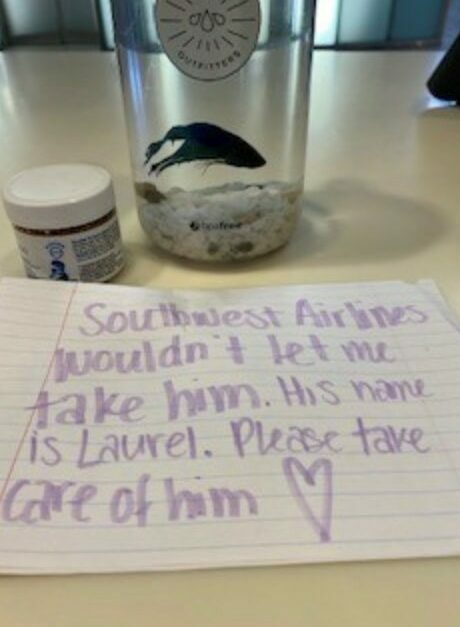 Then there was the set of false teeth found on the concourse that sat in lost and found for weeks, until a local TV news station ran a story about odd possessions left at airports. The day after the story aired, someone came in to claim the teeth.
Mr. Bags finds a home
Baggage claim always draw large crowds. But it was a temporary sign that read, "Please Do NOT Feed the Cat" a few years ago that drew attention at Dallas Love Field.
A small black and white cat had taken up residence within the baggage conveyors and belt systems. Passengers, employees and others would spot the feline when he came out to sneak a piece of someone's Campisi's Pizza or Cinnabon roll.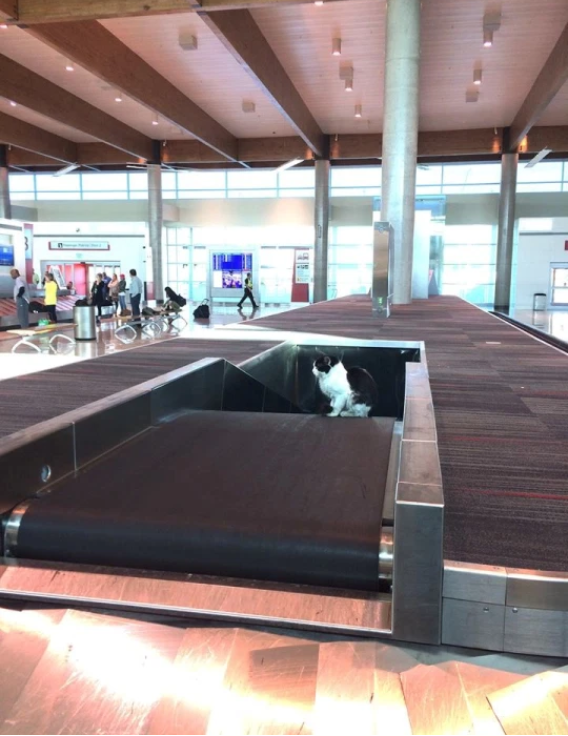 As is human nature, people would feed the cat. Someone soon named him  Mr. Bags, but he was too elusive to catch.
"He was very smart and would maneuver his way around the baggage belt system. He knew the system better than some employees," joked airport relations manager Rozalind Dickerson Cleaver.
"Finally, after a few weeks, a Southwest employee was able to gain his trust and safely bring him in. This same employee adopted him and gave Mr. Bags a new home."
13 Buddhist nuns fly into an airport …
It sounds like the start of a joke, but it wasn't all that amusing for 13 Buddhist nuns who flew into Ottawa/MacDonald-Cartier International Airport (YOW) and, due to weather, were stranded. But the situation made for good social media drama the next four days.
"Our team monitors our social media channels regularly for any discussions or comments about the airport," said Krista Kealey, vice president of communications and public affairs at YOW.
That team spotted a mention on a now-defunct Facebook account for Buddhist Nuns of Prince Edward Island at Great Wisdom Buddhist Institute. And the string of posts that came next were even better.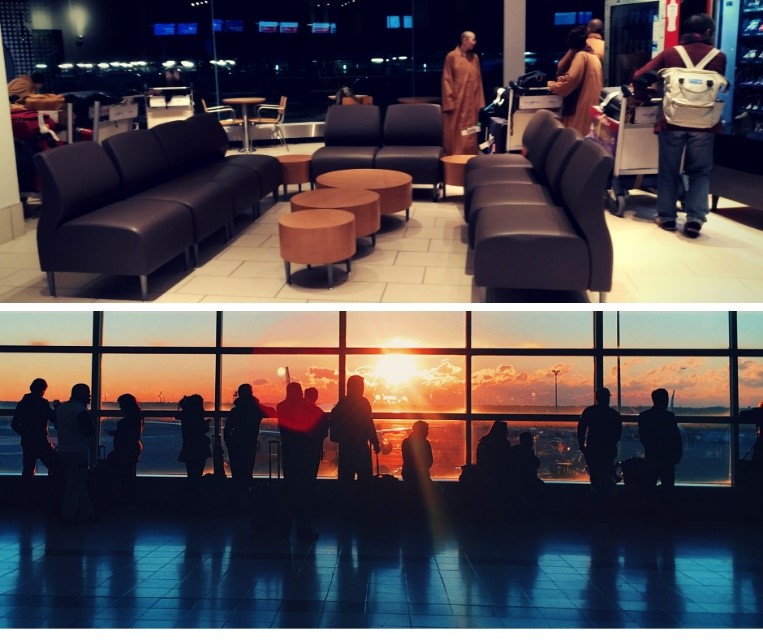 The series entitled "A Four-Part Story of Gratitude" extended over four days. The entries described how the nuns landed unexpectedly in Ottawa and couldn't get a hotel room. With the help of an airport employee, they ended up spending 12 hours in a vacant airport lounge with coffee from Tim Horton's before they departed on their next flight.
"It came out piece by piece and we couldn't wait to see what the group was going to post next," Kealey said.
'Shoefies' of the PDX carpet
All airports have something distinctive: In Austin, it's live music, while PIT has its statue of Franco Harris' Immaculate Reception. In Portland, Ore., strangely enough, it was the carpet. Designed in the late 1980s, the carpet had a teal background with geometric red and blue shapes that allegedly corresponded to Portland's intersecting north and south runways.
Over the years, The Carpet gained a following, as thousands of people posted their shoefies—pictures of their feet standing on the iconic floor covering—on social media.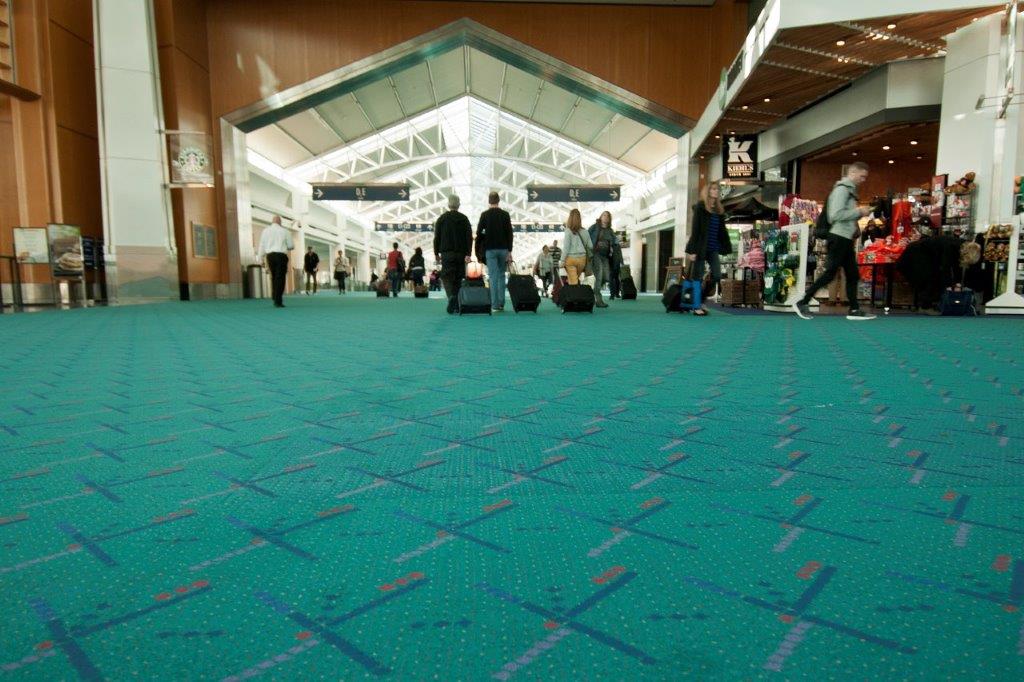 "The root of its color and unique design draws people in," said airport spokeswoman Kama Simonds. "There is a lot of affinity for not only the carpet, but the amazing people who work here and the unique shops and restaurants of Portland."
In 2015, the airport replaced The Carpet but recycled the worn surface by permitting four organizations to turn it into such items as doormats, luggage tags, coasters and mouse pads.
Show dog struts her stuff
Hartsfield-Jackson Atlanta International Airport, the world's busiest airport, became the personal runway for one pup in March 2019.
Gale, a 22-month-old American Staffordshire Terrier, had recently participated in a dog show and was heading home to Europe when she escaped her kennel at ATL.
Airline employees, airfield operations teams and emergency responders kept their eyes peeled for the shy and understandably frightened show dog. ATL's wildlife biologists, who spend most of their time pursuing birds and the occasional coyote or deer on the airfield, set traps and spent 72 hours tracking Gale.
Then a pilot spotted her and reported her position to the search team. Tempted by a treat and her trainer's call, Gale was successfully recovered in time for the next transatlantic flight home.
Although no judges were on hand, the airport crew was impressed by her gait and grooming.
Victoria's Secret gets flushed
Finally, here's an oldie but goodie from us.
When Pittsburgh International Airport opened in the fall of 1992, AIRMALL, its acclaimed concession program, was one of the first concepts of its kind. The airport terminal, packed with more than 100 shops and restaurants, had new and unusual retail outlets, including a Victoria's Secret, which sold high-end, elegant women's undergarments.
Not long after the grand opening, the airport's business development office received a letter and receipt from a customer who demanded reimbursement for the underwear she had purchased from the retailer.
The claim? She was using an airport bathroom stall and set her purchase on the toilet when the automatic flusher turned on, causing it to fall in and get flushed down the drain.
We met her request.