Dorsey Ziller was out of breath Friday when she came across an employee of Pittsburgh International Airport at the entrance to Concourse C.
"Excuse me," Ziller said. "Did I just hear that they have a vaccine clinic here today?" The employee confirmed what Ziller had heard on the airport's public address system and told her she was in the right spot.
"This is great," Ziller replied, with a hint of a grateful smile under her mask.
Allegheny Health Network operated the COVID-19 vaccination clinic Friday in Concourse C, in a partnership with the Allegheny County Airport Authority to administer the Pfizer vaccine to any airport staff and passengers.
More than 100 people took advantage of the clinic. For Ziller, the chance to be vaccinated while at the airport was too good to pass up.
"I was literally reading an e-mail about confirming my vaccine on April 29," said Ziller, who was at the gate waiting to board her flight to Miami when she heard the announcement. "I thought, 'If I can get this done now, it would be so much better than getting it in Florida.'"
The program is the airport's latest community partnership since the pandemic began which, in addition to promoting Safe Travels awareness in the terminal, included food distribution events in the airport's parking lot with the Greater Pittsburgh Community Food Bank, hosting cargo flights carrying personal protective equipment, in-terminal COVID testing and other initiatives.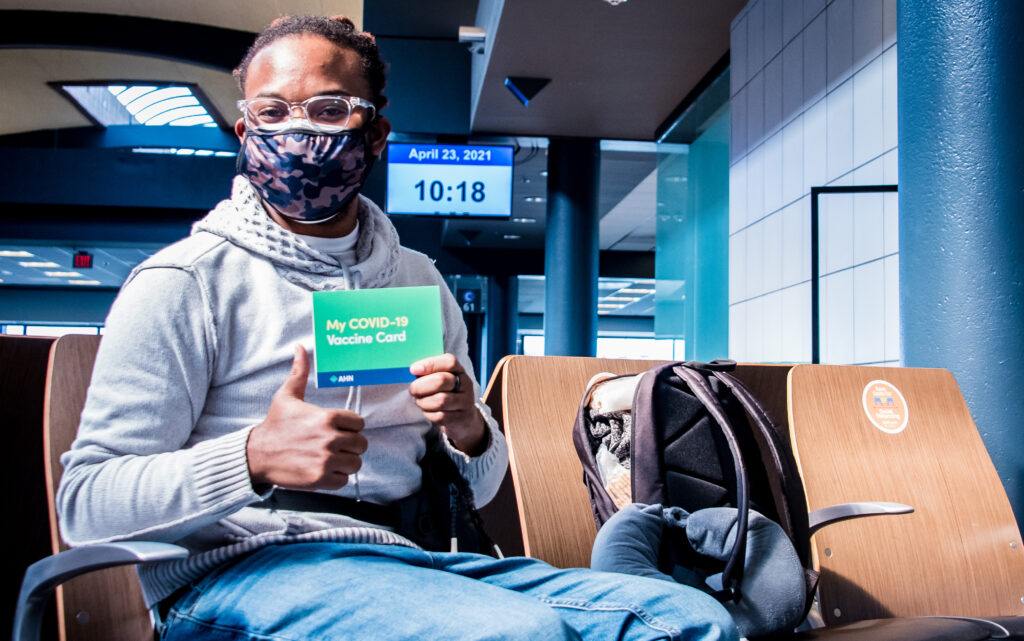 While planning the event, organizers soon learned that many more employees had already been vaccinated than they anticipated.
"It was a pleasant surprise for us," said Travis McNichols, Vice President of Public Safety for the airport authority. "So many employees have already been vaccinated and that's probably because the vaccine is more readily available now."
Friday's event was another step toward restoring confidence in air travel, McNichols said. A second shot clinic is scheduled for Friday, May 14, for staff at the airport, and passengers who received the first shot Friday will work directly with AHN to schedule their inoculations at a separate location.
This was all about providing vaccine accessibility, said Dr. Imran Qadeer of AHN, who was onsite Friday and who has headed the AHN team as it has traveled around the area to host the clinics.
"In general, we need 70 to 80 percent of the population to be vaccinated to achieve herd immunity," he said. "The goal is to reach that and reduce the spread. That means going out to the community, places such as the airport, and at-risk communities and such. And at times that are best for them."
The timing couldn't have been better for Ziller, 27, a COVID survivor from Pittsburgh. During her 15-minute observation wait after the shot, her energy was quite evident.
"I'm very excited," she said. "This is the best day."