Been a while since you last traveled abroad?
More than two years after the start of the COVID-19 pandemic, international travel is back on the rise as peak summer travel approaches and countries lift travel restrictions amid dropping case counts.
At Pittsburgh International Airport, international seat capacity is expected to increase. For the month of June, PIT is scheduled to see more than 3,200 weekly departing seats—nearly double from the total in May—to five nonstop international destinations in Canada, the Dominican Republic, Mexico and the United Kingdom.
Nonstop service to the U.K. returns this summer when British Airways resumes flights to London-Heathrow from PIT on June 3. The route, which launched in 2019, will operate four times a week on the airline's modern Boeing 787-8 Dreamliner. British Airways' hub at Heathrow and extensive airline partnerships will connect travelers to the rest of the world.
Air Canada resumes nonstop flights to Montreal on June 1. Service to Montreal, which began in 2018, will be upgraded to an Embraer E175 operating daily. Additionally, Air Canada will increase its service to Toronto with a third daily flight this summer.
Southwest Airlines and Spirit Airlines currently operate nonstop service from PIT to Cancun, Mexico. Spirit resumed service to Cancun in March and Southwest is currently scheduled to operate its flights through September.
In addition, Apple Vacations and Vacation Express currently operate weekly charters to Cancun and Punta Cana, Dominican Republic.
Tips for international travel
For many travelers, this summer will be the first time they fly on a plane to another country since the start of the pandemic.
Not traveling abroad for such a long period of time, it can be easy to forget the nuances and preparation involved for international travel, said Elise Gomez, PIT's Manager of Customer Experience.
"Making sure all travel documents are valid and becoming familiar with the most updated travel requirements for the destination are important steps in preparing for a trip," she said.
To renew a passport, travelers must fill out the Department of State's DS-82 form. Additionally, they must include their most recent passport, one form of identification, name change documents (if necessary) and an updated headshot. Mailing addresses for routing and expedited services can be found on the State Department's website.
While wait times can vary, updated passports usually arrive via mail in approximately four weeks, according to the State Department.
Airport officials caution travelers to make sure they meet the entry requirements for their destination country, including visas.
Passengers are advised to check if their international origin has border pre-clearance prior to their return to the U.S.; border pre-clearance allows travelers to clear U.S. customs at their originating city rather than at their final destination. Passengers originating from a pre-cleared airport have the benefit of arriving and deplaning as domestic flights would.
At PIT, Air Canada's daily flights from Montreal and Toronto have border pre-clearance and passengers can deplane as any domestic flight would.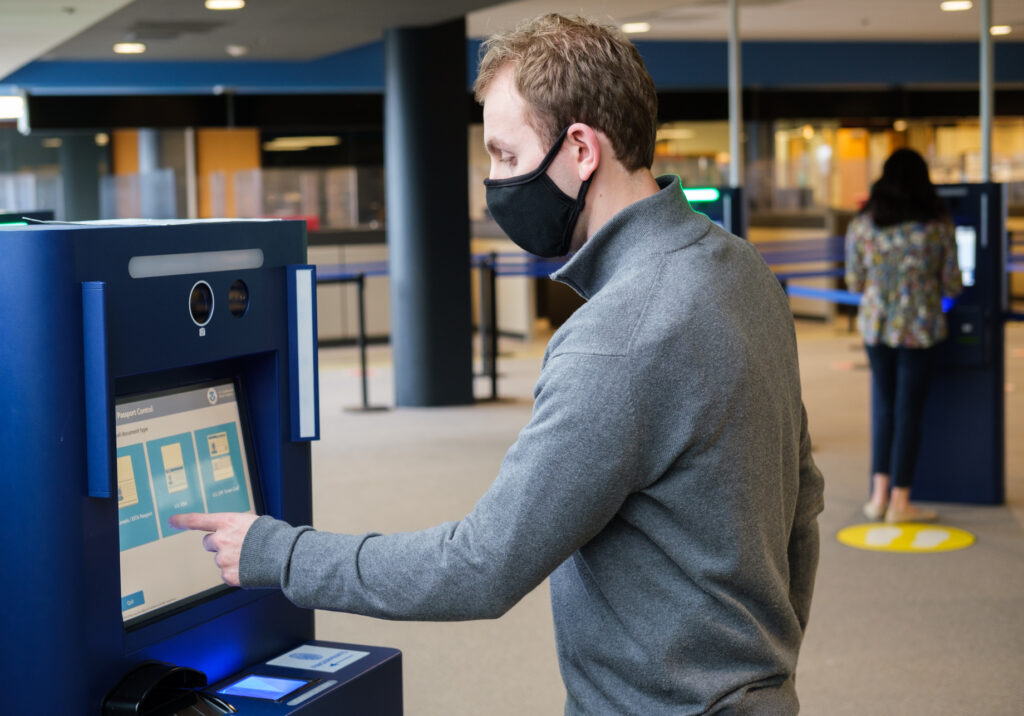 For British Airways' flights from London and all flights from Cancun and Punta Cana, all arriving passengers will need to clear customs at PIT. Passengers will scan their passports using kiosks in the terminal's customs and immigration area.
Volunteers from PIT's Airport Ambassador program will be on site to aid passengers in need of assistance with the machines.
"Whether travelers are arriving in Pittsburgh for the first time from Europe or returning home from Cancun, our volunteer ambassadors will be there to greet and assist them right when they step off of the plane," said Gomez.
Airport officials recommend special programs in place at PIT that can streamline the international arrivals process.
Those include the Mobile Passport Control app, which can expedite the entry process and make some parts of the experience touchless. Mobile Passport Control is the sole app approved for use by U.S. Customs and Border Protection and is available on iOS and Android, but for U.S. and Canadian citizens only.
Additionally, members of the Trusted Traveler Program can utilize Global Entry kiosks, allowing for expedited clearance for pre-approved, low-risk travelers upon arrival at PIT. To learn more about Global Entry, click here.
COVID entry requirements
Even as international travel resumes, COVID-19 entry requirements are still in place in many countries. As of April 18, here are the requirements for PIT's nonstop flights to Canada, the Dominican Republic, Mexico and the United Kingdom:
Canada: Only fully vaccinated U.S. citizens are permitted to enter Canada and do not need a negative COVID test. However, travelers entering Canada must complete an electronic form on the ArriveCAN app within 72 hours of departure. Children under 12 are exempt from the vaccination requirement but must have a negative COVID test valid within 24 hours of arrival.
Dominican Republic: The Dominican Republic suspended all COVID measures in February and no longer requires COVID tests or proof of vaccination for U.S. citizens. However, visitors must complete an electronic entry ticket and undergo temperature checks upon arrival.
Mexico: For air travel, COVID tests are required to enter Mexico, but most COVID restrictions enacted during the pandemic have been lifted.
United Kingdom: Following the lifting of all COVID entry requirements by the U.K. on March 18, U.S. citizens are no longer required to present a negative COVID test or proof of vaccination. Passenger locator forms no longer need to be filled out for entering the country. In addition, lockdown measures and capacity restrictions enacted during the pandemic by the British government have been suspended.
As of Dec. 6, 2021, travelers returning to the U.S. still need to show proof of vaccination and a negative COVID test within one day of departure for re-entry. Travelers may also present documented proof of recovering from COVID-19 within 90 days to avoid the testing requirement. Additional information can be found on the State Department's website.