It's 7 a.m. at Pittsburgh International Airport.
Workers in hard hats, safety goggles, high-visibility vests and construction boots are doing warm-up chest presses, side-to-side punches, various stretches and squats in the early-morning light alongside gigantic cranes and other construction equipment on the Terminal Modernization Program construction site.
The daily stretch-and-flex activity sets the stage the for a safe workday while giving workers a chance to hear and share important announcements. It also is an innovative reminder that safety is a top priority every day, a core value fully ingrained into the project.
"Safety and security are number one; we have to protect this airport and everyone in it," said Jason Timmerman, ACAA Vice President of Environment and Workplace Safety.
The first week of May is Construction Safety Week, a time when the construction industry recommits to keeping workers safe. But planning for the safety of workers and everyone else at the airport during the $1.4 billion program began long before ground was broken.
One key to the safety of this project is the strategic partnership established with the Occupational Safety and Health Administration (OSHA) that was designed, in part, to promote employee involvement in workplace safety and health.
Christopher Robinson, area director of the Pittsburgh Area OSHA Office, said this is the first time OSHA in Pittsburgh has partnered with the owner of a project within its jurisdiction. OSHA partnerships have generally been with the general contractor on a worksite.
Relationship building
Everybody working on the TMP is encouraged to say something and stop work if they do not feel safe doing something.
"We're not compromising safety for cost or schedule. We don't want people to put themselves at risk for this project," Timmerman said.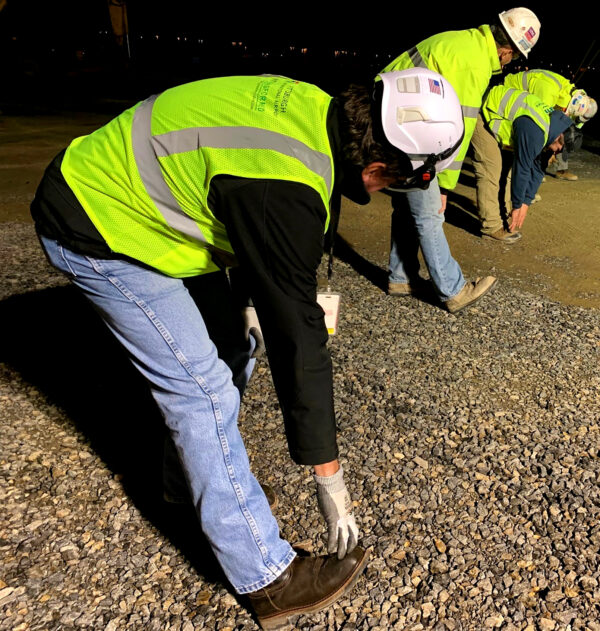 This aligns with "We care," a culture of caring and making sure everyone understands the importance of doing the right thing the whole time.
"We talk about how we want to build our safety culture out on the project. It's through two main areas: one is through continual improvement, and the other is building relationships. If we can build a culture based on those two key elements, we're going to be in a good spot," Timmerman said.
Effective engagement
To have an effective safety and health system, employees on the worksite need to actively identify and address potential worksite safety and health hazards. During the April Quarterly OSHA Partnership Visit, two TMP safety programs were identified as unique opportunities for employee engagement: the craft safety committee meetings and the "5 Worker Lunch" program.
The craft safety meeting involves standing meetings with trade union stewards, providing them with opportunities to express their ideas, findings, and solutions to any safety issues on the jobsite.
Additionally, the "5 Worker Lunch" program affords managers and workers the opportunity to engage in a small group to discuss all aspects of their experiences on the job site.
"We get five craft workers and an equal [number] of upper management folks just coming together, breaking bread, and having a candid conversation about the project … What's going well, where does our project stand compared to other projects, and more importantly, how can we get better," Timmerman said.
Robinson said the cooperative relationship allows for the exchange of program and technical information, enhancing the safety and health system.
"Also, all parties involved increase their knowledge base in the areas of design, construction challenges, and safety best practices," he said.
"This knowledge is then carried onto other construction projects, which serves OSHA's overall mission to protect workers and supports its ultimate goal: to ensure that every worker goes home safe and healthy at the end of each workday."
Health and safety awareness
Safety goes hand in hand with health and mental well-being, including changing the negative stigma around mental health.
The commitment to health and safety at the TMP extends to the addition of an onsite medical staff that includes a paramedic. Timmerman said having mobile medical on site helps with mental health awareness, along with making sure people understand there are resources available and ways to get help.
"We want workers to come to this project and to be happier and healthier. It's not about having zero incidents; it's about, 'How can we create a culture where people are actually becoming healthier by coming out here?' Mobile medical will be key to this," Timmerman said.
In addition to mobile medical on site, stretch-and-flex activities are conducted daily to help prevent soft tissue injuries. Timmerman said these activities also help to build relationships.
"It's about having relationships with the teams in the field, having that open line of communication, that conduit that goes both ways. We want to address the field, we want to give announcements, but we also want to know what's going on and where we can get better," he said.
For the latest TMP information, visit PITtransformed.com.