More than 80 years after her mysterious disappearance and presumed death, Amelia Earhart is still the most famous woman ever to pilot a plane. Her record-setting exploits and advocacy for female aviators paved paths for so many women to follow.
But Earhart was just one of many groundbreaking women in aviation history. And as women continue to be an overwhelming minority in cockpits, hangars and corporate offices, there will always be reason to celebrate their successes in flight.
As Women's History Month comes to a close, Blue Sky News is saluting a few of these brave pioneers by telling their stories. We hope they inspire more girls and women to find their ways to the skies.
And we're starting with Bessie Coleman, a contemporary of Earhart's who deserves to be just as famous.
---
Bessie Coleman had to break through so many barriers to reach the sky. Born in Georgia in 1892, one of 13 children, Coleman grew up in Texas picking cotton and washing laundry to help her mother earn extra money. In 1915, she moved to Chicago to live with her brothers and became a manicurist.
After World War I, her brothers returned from service and told her about life in France, including the peculiar (for the time) fact that women were allowed to fly airplanes there, unlike in the U.S.
Enamored with the idea of flying, Coleman applied to flight schools across the country but was repeatedly rejected both because she was a woman and because of her African American and Native American heritage.
During her time in Chicago, she befriended Robert Abbott, the founder and publisher of the Chicago Defender, the most prominent Black newspaper in America. Abbott encouraged Coleman to apply to flight schools in France, so she enrolled in French classes so she could complete an application.
Accepted to the Caudron Brothers' School of Aviation in Le Crotoy, she received her international pilot's license, from the Fédération Aéronautique Internationale on June 15, 1921—the first licensed female pilot of African American and Native American descent.
Like many early Black pilots, Coleman used her unique status to push for social change and civil rights. She toured the U.S. giving flying lessons and making speeches, refusing to speak or perform anywhere that discriminated against African Americans.
A stunt pilot, Coleman wowed crowds with her skills, including dangerous loop-the-loops. She survived a crash in 1923 and by 1925 had earned enough to money to buy her own plane, a Curtiss "Jenny," all the while calling for changes to the way the Black community was treated in the U.S.
On April 30, 1926, she was the passenger in her own plane as a mechanic friend flew over Jacksonville, Fla. He lost control of the aircraft at 3,000 feet, and both he and Coleman were killed in the resulting crash. She was 34.
Coleman's impact on her community at the time is impossible to measure. Ten thousand people attended her funeral in Chicago, where the eulogy was given by iconic activist Ida B. Wells.
But Coleman's spirit has lasted far beyond her day, and even beyond the skies she loved.
In 1992, Dr. Mae Jemison became the first African American woman to go to space, aboard the space shuttle Endeavor.
She carried a photo of Bessie Coleman with her.
Jacqueline Cochran: A supersonic pioneer
In her day, no woman on Earth was faster than Jacqueline Cochran, the "Speed Queen."
Born in 1906 in Florida's Panhandle, Cochran eventually moved to New York City to work at a beauty salon after the death of a young son and a subsequent divorce.
After taking an airplane ride in 1932, she decided to become a pilot and began taking lessons on Long Island. Within three weeks, she had learned to fly; within two years, she had a commercial pilot's license.
Cochran began competing in air races and was one of only three women to take part in the MacRobertson Air Race in 1934, which began in England and ended in Melbourne, Australia.
In 1937, she set her first speed record, hitting 470 km/hour on a 3-kilometer course. A year later, she became the first woman to win the transcontinental Bendix Trophy Race. By the end of 1940, she had set four more speed records.
As World War II consumed more of the globe, eventually drawing the U.S. into direct conflict, Cochran presented an idea to the Army Air Corps: since male pilots were being deployed in forward combat roles, perhaps the military could use female pilots to ferry aircraft from base to base.
Cochran's proposal was declined, so she went to England and volunteered her service to the Royal Air Force, recruiting other female pilots to do the same and eventually becoming the first woman to cross the Atlantic in a bomber. Her success convinced the U.S. to create what would eventually become the Women Airforce Service Pilots, or WASP, with Cochran as director.
During this time she also served as president of the Ninety-Nines, the female pilots' organization cofounded by Earhart in 1929. It has grown to more than 5,000 members in 30 countries today.
After the war, Cochran joined the Air Force Reserve as a lieutenant colonel—she is believed by many to be the first female pilot in USAF history. She served as a test pilot as the jet age dawned, befriending legendary aviator Chuck Yeager along the way.
On May 18, 1953, at Rogers Dry Lake, Calif., in a Sabre 3 borrowed from the Royal Canadian Air Force, Cochran averaged 652.337 mph, setting a new world speed record for women—and becoming the first woman ever to break the sound barrier.
Cochran continued to set speed, distance and altitude records over the next decade while also recording achievements such as becoming the first woman to land and take off from an aircraft carrier and the first and only woman ever to be president of the Fédération Aéronautique Internationale, the world's governing body for air sports.
During her aviation career, Cochran earned dozens of civilian and military awards around the world for her accomplishments. In 2004, the airport serving the Coachella Valley in California, where Cochran spent her retirement, was named Jacqueline Cochran Regional Airport.
Cochran died in 1980 at the age of 74. Perhaps the greatest testimonial to her impact on aviation is this: to this day, no man or woman, alive or dead, holds more distance and speed records than Jacqueline Cochran.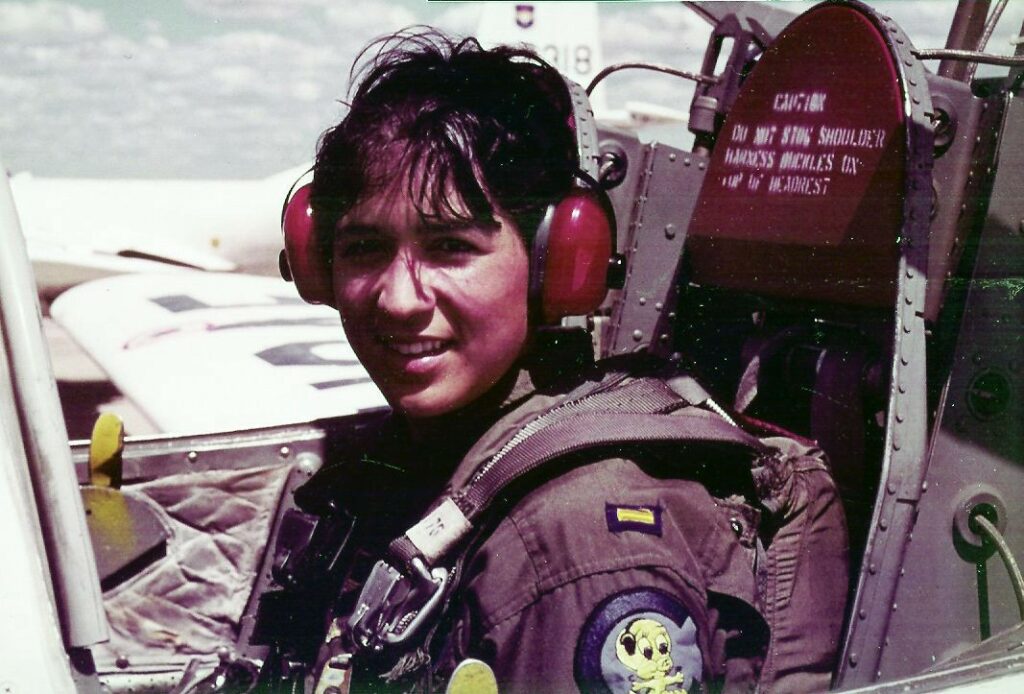 Olga Custodio: 'A pilot, a pilot or a pilot'
Olga Nevarez Custodio's unassuming start in aviation belied the unprecedented career she would ultimately achieve.
Born in Puerto Rico, Custodio was raised in an Army family that moved around the world. Parts of her childhood were spent in Taiwan, Iran, Paraguay and the U.S.
Returning to Puerto Rico in her teens, she graduated high school at 15 and enrolled at the University of Puerto Rico in the late 1960s, where she attempted to join the ROTC but was turned down because she was not a man.
She eventually broke into the aviation industry with airline Prinair—as an accountant.
During a later stint working with the U.S. Department of Defense in Panama, she applied for the U.S. Air Force Officer Candidate School. When the recruiter asked her what job she wanted, she replied, "A pilot, a pilot or a pilot."
The Air Force accepted her as a pilot candidate, and in 1981, she became the first Latina pilot in the U.S. military, serving as an instructor. After six years, Custodio moved to the Air Force Reserve.
She broke new ground again in 1988, becoming the first Latina pilot for American Airlines. She flew the airline's various Boeings—and even piloted a Fokker 100 at times—domestically and internationally.
After 20 years and more than 11,000 flight hours, she retired from commercial aviation in 2008 as a captain. Her 24-year military service had ended in 2003, when she retired as a lieutenant colonel.
The first Latina inducted into the San Antonio Aviation and Aerospace Hall of Fame, Custodio—who received the 2022 STEM Award during the 35th Annual Hispanic Heritage Awards in August—now partners with organizations that work toward the advancement of women, Hispanics and underserved individuals in the aviation industry.
"I was not out to prove anything. I didn't even know I was the first anything," Custodio told Fox News Latino in 2012. "I only realized I was the first Latina military pilot when I had my first female student at pilot training. She was the first Latina to graduate from the U.S. Air Force Academy."
Willa Brown: Teaching her people to soar
Willa Brown's legacy in the skies actually began during her time as a high school teacher in Indiana.
Born in 1906, Brown earned a bachelor's degree in 1927 from Indiana State Teacher's College and spent five years in Gary classrooms. She then moved to Chicago and held a variety of jobs; however, her roots as a teacher would eventually blossom spectacularly.
In 1934, she met pioneering Black pilot John C. Robinson, "the Brown Condor," who introduced her to other pilots. She was soon taking flight classes at Harlem Field, a segregated airport, with Cornelius Coffey, a renowned Black aviation mechanic and pilot.
She also studied aircraft maintenance at Curtiss-Wright Aeronautical Academy, the first accredited U.S. flight school to accept African Americans; she was one of only a handful of female students. Brown earned her mechanic's license in 1935. Two years later, she also earned an MBA at Northwestern University.
Brown made history in 1938 as the first Black woman to earn her private pilot's license in the U.S. A year later, she again made history when she became the first to earn a commercial pilot's license.
That same year, she, Coffey and Enoch P. Waters—a city editor at the Chicago Defender—formed the National Negro Airmen Association of America with the goal of building more interest in aviation among African Americans.
Brown served as national secretary, flying around the country and doing radio interviews to encourage the Black community to participate in aviation. She and Coffey also launched the Coffey School of Aeronautics, which focused on training Black pilots. More than 200 Tuskegee Airmen graduated from their school.
In 1942, Brown became a lieutenant in the Civil Air Patrol, its first-ever Black officer.
Her passion for creating opportunities for African Americans eventually led Brown to seek public office. In 1946, she ran in the Republican primary for Illinois' 1st congressional district, the first Black woman to ever compete in a U.S. congressional primary.
Brown lost the primary, and a second run in 1950 also ended unsuccessfully. In 1962, she returned to teaching in high schools, retiring in 1971. But she was not yet done paving the way for African Americans: a year later, she became the first Black woman to serve on the Women's Advisory Committee of the Federal Aviation Administration.
Brown died in 1992 at the age of 86. Last year, she was enshrined in the National Aviation Hall of Fame.