Amsterdam is known for tulips the way Pittsburgh was once famous for steel, but if David Storer has anything to say about it, the cities will soon be better recognized as home to two of the world's most sophisticated airport business centers.
The Schiphol development at Amsterdam International Airport is the model for the Pittsburgh Airport Innovation Campus, which broke ground today.  The 195-acre parcel will feature office space, research and development laboratories, warehouses and industrial manufacturing, as well as a town center with restaurants, retail and entertainment.
The Innovation Campus "offers a golden opportunity to create a global urban village at the main entrance to the airport, connecting directly to the airport terminal," said Storer, the real estate development manager for the Allegheny County Airport Authority. "The Schiphol development is essentially its own city, and that's what we're aiming to create."
Chris Heck, president and chief executive officer of the Pittsburgh Airport Area Chamber of Commerce, called the campus a "game changer," not just for the airport corridor, but for the entire region.
"Just imagine if, in five to six or seven years, we have an R&D community, 30 to 40 new businesses that are part of the campus and all the other things (the airport) has planned," he said. "We're on the cusp of having the airport area become one of the premier urban centers in America, similar to airport communities in Atlanta, Dallas and Boston."
The Innovation Campus also has been designated as a licensed World Trade Center by the World Trade Centers Association and is located within a foreign-trade zone. The designation allows companies to import goods, manufacture products and resell them outside the U.S. and provides relief or exemption of certain duties and tariffs.
"This is really an ideal opportunity for any company that wants to establish a global presence in the Pittsburgh region with access to taxiways and runways while realizing the economic benefits of doing business in a foreign-trade zone," Storer added.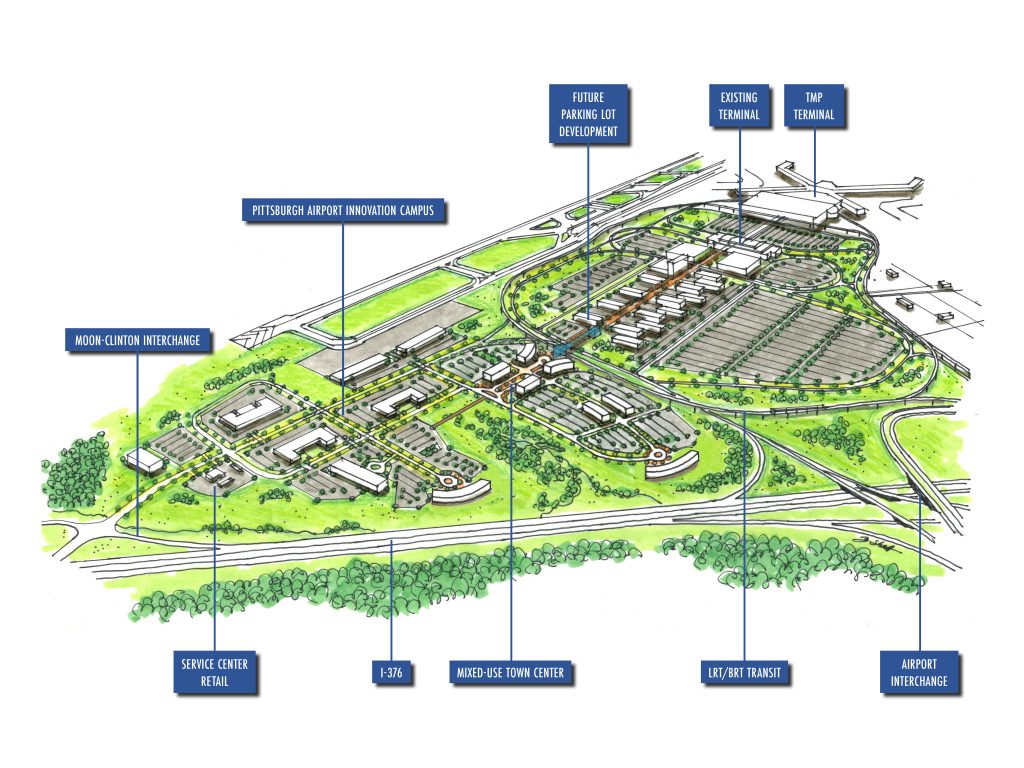 Finding the best use
Full development of the site is expected to take 10 years or more, with construction of the first building beginning in two to three years.
The business development is just part of the Airport Authority's long-term real estate strategy to take full advantage of its land holdings.
The authority owns about 5,800 acres of developable property around the airport, most of it acquired through Federal Aviation Administration funding to mitigate noise pollution for local residents. Only about 1,000 acres is devoted to actual airport operations.
In May 2017, the authority convened more than a dozen focus groups with leaders representing government, universities and foundations; energy and chemical producers; tenants and developers; technology and robotics firms; banking and financial institutions; transportation and logistics companies; and the health, medical and life sciences community.
Storer says such planning is vital to forecast the highest and best use for land 20, 30 or even 50 years into the future.
"We opened every discussion with, 'What does the region need; what are we lacking; what are we missing; what does your industry need and how can the airport assist you in getting it?'" he said. "It was a very deep dive and it was amazing the feedback we got.
"Some of it we expected, but some of it made us change direction. We know we have one chance to develop the land and we know we need to get it right."
The master plan that emerged is designed to be flexible to meet the shifting demands of the real estate market, Storer said. For example, the growing appeal for manufacturing in western Pennsylvania because of bountiful natural gas supplies might disappear in 20 years if there's a major tax on petroleum-based energy.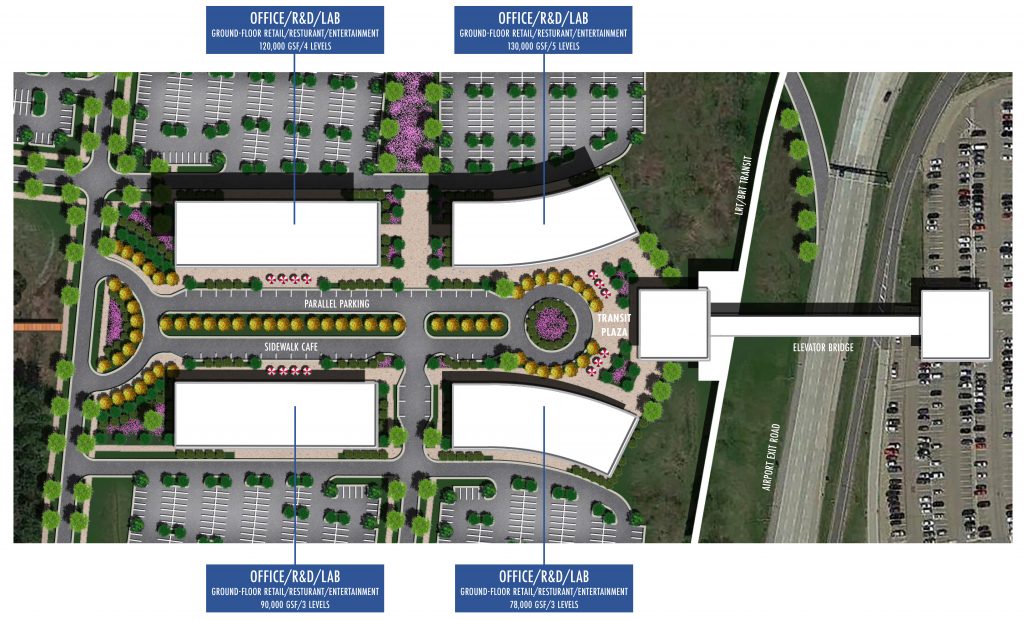 "Who knows what technology is going to be then?" he said. "It comes down to being adaptable to those kinds of changes."
Ready to build
Here's another wrinkle: The FAA does not allow developers or businesses to own the airport land they're building on.
To overcome that hurdle and attract marquee tenants, Storer and his team rely on ground-leasing, a mechanism that allows developers or tenants to construct, own and occupy a building for a designated period, and at the end of that timeframe, renegotiate terms of the lease.
There are advantages, Storer said. First, the land is ready for building and investment.
"This site is fully permitted, graded and connected to utilities, with direct access not only to the airport but to interstates 576 and 376, all within 20 miles of downtown Pittsburgh," he said.
Other advantages include the sheer abundance of available land and the ease of dealing with one landowner. It's all about making Pittsburgh an attractive destination for international commerce, Storer said.
"Few airports have the land mass that we do, so it's a tremendous opportunity," he said, adding that leasing helps the airport increase non-aeronautical revenue, which in turn helps keep costs to airlines stable, attracting more air service.
"We recognize that we are an airport first and foremost. We're not a land development company.  We are not a real estate trust. Our success is measured by our ability to attract flights and provide air service. That's our priority. That's the direction we look to."