A former Republic Airlines hangar at Pittsburgh International Airport will soon become part of an innovation hub for the U.S. Air Force.
Titan Robotics will convert the hangar into an Advanced Technology and Training Center, or ATTC, the Air Force's third such development and testing facility in the country. The Allegheny County Airport Authority board approved the contract on Friday.
Titan, which develops robotic solutions via artificial intelligence, is a Carnegie Mellon University spinoff located in Pittsburgh's South Side. The company got its start through CMU's National Robotics Engineering Center.
While at CMU, the group received Air Force funding to develop a high-powered laser system to remove paint from the surface of an aircraft, a process that takes place during heavy maintenance checks, which occur once every few years. The system was eventually vetted by the Air Force and approved for use after extensive testing at Hill Air Force Base in Utah, with Warner Robins Air Force Base in Georgia contracting with Titan in 2018.
Traditional methods of removing airplane paint often include using toxic chemicals and blast media. The robotic laser technology is quicker, reduces the amount of hazardous waste produced and eliminates workers' exposure to dangerous environments, Titan says.
The technology also can be used for related applications on military equipment and infrastructure that experience corrosion. The Department of Defense spent $20.6 billion last year in corrosion-related costs, according to a 2018 Logistics Management Institute report.
The company's knowledge and experience led the Air Force to designate Titan as an ATTC specializing in robotics and artificial intelligence, according to president and CEO Stuart Lawrence III.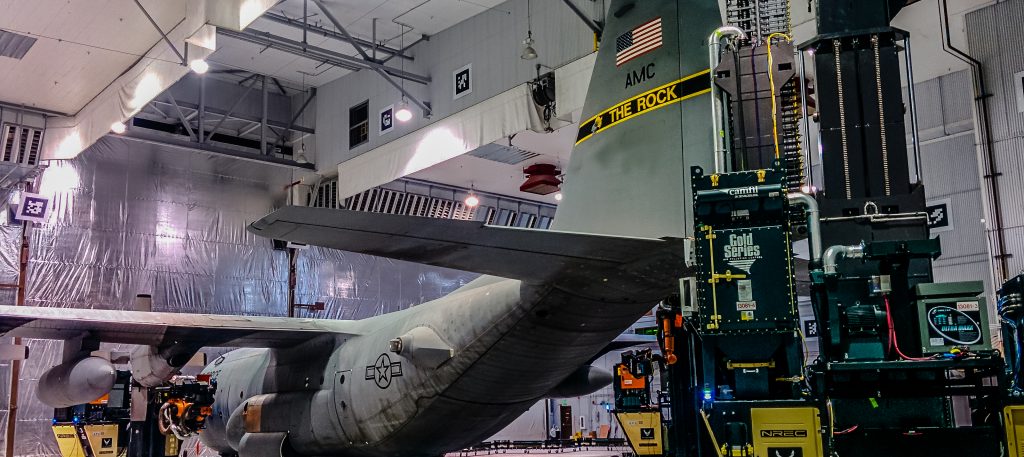 "We've been doing this for a lot longer than anybody else, and doing it successfully," he said. "We bring over 20 years of prior experience to the table and have such a deep bench in robotics."
The Air Force has been a supportive partner, Lawrence said.
"It's a great relationship. Ever since we were at CMU developing the technology, we treated the U.S. Air Force like our main investor. The things that we were interested in developing, they were interested in having developed," he said.
Lawrence added that the Air Force has encouraged his team to grow into the commercial market, with aspirations of providing painting and de-painting services for airlines, along with the defense department.
The project allows Titan "to reach out to the robotic and AI ecosystem here in Pittsburgh," Lawrence said, "and to leverage that technology for the U.S. Air Force's mission and beyond."
Likewise, the technology and training center provides the Air Force with access to state-of-the-art technology and training in a collaborative environment, said Debora Naguy, chief of product support in the Engineering Division of the Air Force Life Cycle Management Center.
"Pittsburgh is at the hub of automation and artificial intelligence and opens the door to numerous collaboration opportunities for the Air Force with universities and industry, bringing invaluable perspectives on these disruptive technologies," said Naguy.
The two other Air Force ATTC locations are at Warner Robins and Wright-Patterson Air Force Base in Dayton, Ohio.
The company held a ribbon-cutting ceremony on Monday at the Titan Robotics headquarters. It expects to have the hangar operational by November.