The Concorde is widely regarded as one of the most revolutionary commercial airliners ever built. At speeds of 1,500 miles per hour, the Super Sonic Transport, or SST, flew 2.5 million people across the Atlantic Ocean from 1976 until its retirement in 2003, when high costs and outdated technology made it obsolete.
But high-speed commercial travel could be making a comeback.
Start-up airplane manufacturer Boom Supersonic, based in Denver, is developing a modern supersonic cruiser for commercial airlines to purchase.
Founded in September 2014, the company's plan marks the first serious attempt to revive supersonic air transportation since the Concorde.
"Our predecessor, the Concorde, was built in the 1960s with slide rules, drafting paper and wind tunnels," Boom founder and CEO Blake Scholl told the audience at this year's Boyd Group International Aviation Forecast Summit in Las Vegas.
"It's really remarkable that it worked at all – an incredible technological achievement," he said. "But it was a brainchild of the Cold War, and really the only thing the Concorde had to do was fly fast, try to do it before the Soviets, and try not to crash."
The Concorde, which was operated by British Airways and Air France, traveled at speeds higher than Mach 2 – so fast it could outrace time. It reduced the travel time between New York and London, normally a seven-hour flight, to just three hours.
Economical and profitable
The two airlines retired their Concorde fleets in 2003, but officials at Boom believe that recent advancements in aeronautical innovation will allow the company to overcome the technological challenges that hampered the Concorde. Those advancements include modern wind tunnel testing, new materials, and quieter, more fuel-efficient engines.
"When we put these technologies together, you can create a great three-engine aircraft that would be the first mainstream, economical, profitable supersonic airliner in history," said Josh Krall, the company's co-founder and vice president of technology.
Boom plans to design two aircraft: the XB-1 and Overture.
The XB-1 will serve as a testbed – a proof-of-concept to perfect the design – with its first flight scheduled for 2020. The company plans to have Overture follow the XB-1 as a standard production model, with six aircraft to be built and tested over a two-year period.
Overture will be designed to achieve a top speed of Mach 2.2 (nearly 1,700 mph) and travel an average distance of 10,300 miles, while carrying 55-75 passengers.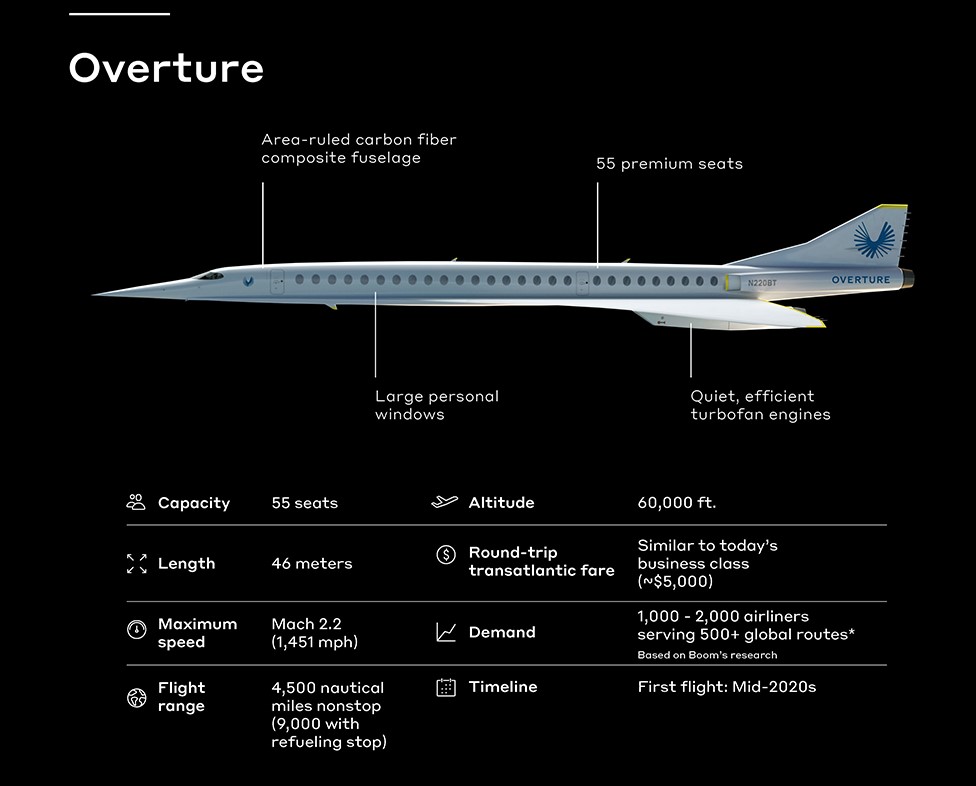 Airlines are already making offers to Boom.
In December 2017, Japan Air Lines agreed to a "pre-order" of 20 airplanes and a $10 million stake in the company. Additionally, British venture capital conglomerate Virgin Group committed to an order of 10 aircraft in November 2016 and has agreed to help Boom with engineering and flight testing. Boom also claims that five unidentified customers have signed commitments for up to 76 supersonic cruisers.
A Pittsburgh connection
Boom's team boasts professionals with backgrounds in air and space programs, and includes a touch of Pittsburgh. Scholl, Krall and chief engineer Greg Krauland are graduates of Carnegie Mellon University.
"I am from Pittsburgh, and as a kid I was always into transportation," said Krauland. "My dad would take me to the Conway rail yard, on Amtrak rides out to Altoona, and to watch planes at the old [Greater Pittsburgh] International Airport, where I saw my first 747."
While at CMU, Krauland earned a degree in mechanical engineering and a master's in product development. From there, he went on to work on projects including Virgin Galactic's SpaceShip2, a reusable winged spacecraft, and SpaceX's Falcon 9, the first orbital class rocket capable of flight.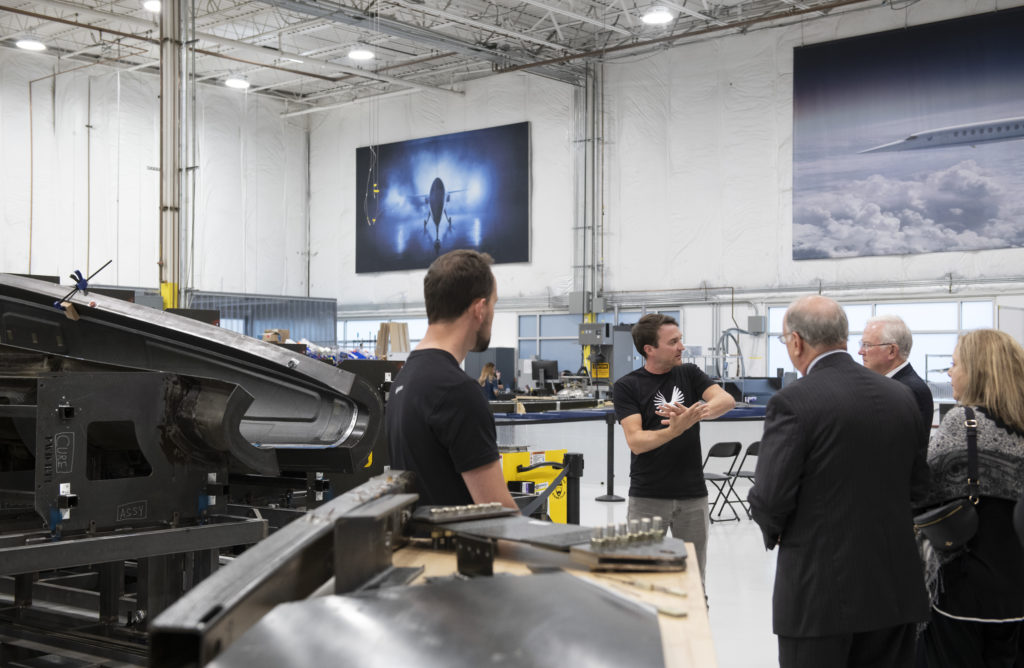 Despite his previous work, the challenge of developing the first mainstream supersonic passenger jet since the Concorde is no small task, and that's one reason Krauland decided to join Boom.
"I'm personally more of an airplane person than a rocket person," said Krauland. Bringing back supersonic travel was "an opportunity that I felt I needed to jump on."
Krauland is now helping to design Boom's XB-1 demonstrator. For Krauland and the team of engineers at Boom, the project is a challenge that often involves a learning curve.
"When something doesn't go according to plan, we learn – and this learning is a key part of paving the way toward the future success of Overture," he said.
Following tests of the XB-1, six Overture production airplanes will be built and undergo a separate two-year testing period. Boom expects Overture to enter commercial service by the mid-2020s.