Things may look a little different the next time you fly through Pittsburgh International Airport.
On Friday, officials unveiled a new initiative that boosts health and safety measures throughout Pittsburgh and Allegheny County airports. Officials said the plan, dubbed "PIT Safe Travels," will help to increase confidence in air travel though best practices for reducing the spread of germs and additional measures advocated by the Centers for Disease Control and Prevention.
A key component of the program includes requiring everyone on airport property – officials, travelers and airport staff – to wear a face covering or mask, beginning this week.
"When passengers are ready to begin traveling again, we will be ready to welcome them, and welcome them safely, by implementing social distancing guidelines and other measures throughout the terminal," said April Gasparri, PIT's senior vice president of Public Safety, Operation and Maintenance.
Other changes include:
Signage and floor markings throughout the terminal to offer guidance on six-foot social distancing.
Shields and barriers installed in high-traffic areas, including public counters, checkpoints and baggage claim.
Reconfigured seating at gates and other high-traffic areas to allow for social distancing.
Continued, frequent deep cleaning practices in all public spaces and restrooms, with additional hand-sanitizing stations added throughout the terminal.
The use of UV light in airport public areas such as floors, and on the handrails of moving walkways and escalators to reduce contaminants and provide another layer of sanitation.
"This initiative will continue to grow as we implement evolving best practices and the latest technology to benefit our passengers and staff through UV disinfection, touchless transactions and more," said PIT CEO Christina Cassotis.
A Slight Uptick
The announcement comes as U.S. airports begin preparing their terminals for the gradual return of air travel following a historic two-month period of record-low passenger numbers caused by the COVID-19 pandemic.
While traffic still remains significantly low, airports are starting to see a slight uptick in passengers as a number of states, including Pennsylvania, begin easing stay-at-home orders.
Through the first two weeks of May, an average of just over 1,200 departing passengers passed through Pittsburgh International per day. That's twice the number during some days in April, but still a far cry from PIT's typical count of 13,000 to 15,000 departing daily passengers.
Transportation Security Administration officials recorded a total of 253,807 passengers at airports nationwide on May 17 – the highest number of travelers in a single day since March 25. For context, a typical day in May 2019 saw more than 2 million passengers total.
As air traffic numbers creep up, other major airports are launching similar safety initiatives, including Tampa International Airport, Seattle-Tacoma International and Charlotte Douglas International Airport, among others.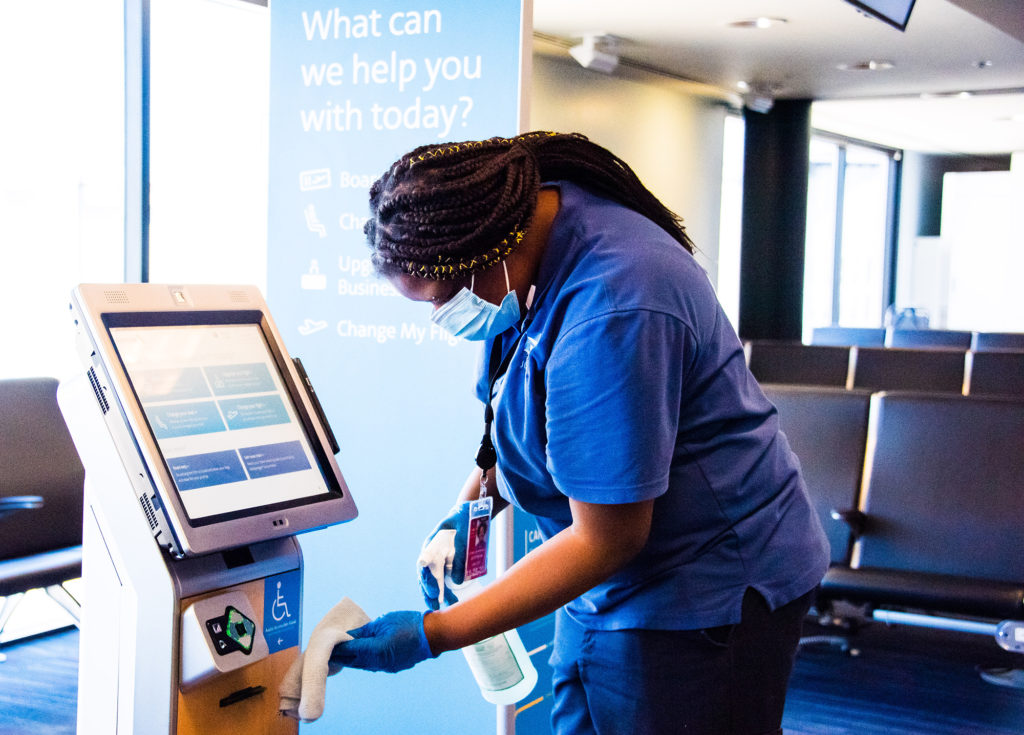 Airports are reinforcing health and safety standards to restore travelers' confidence that their facilities are clean and safe, officials say.
A study conducted in April by the International Air Transport Association (IATA) found that travelers worried about check-in and security process, sitting in an airport lounge or restaurant, and baggage claim.
Despite those concerns, 57 percent of survey participants said they will fly for a vacation as soon as possible. Additionally, 47 percent said they will wait only a month or two before traveling again.
Tampa International Airport CEO Joe Lopano said in a statement that he and his team understand the eagerness for travelers and employees to return to their "normal lives" again. Tampa's "TPA Ready" initiative mandates best practices for social distancing, mask usage, plastic shield barriers, surface disinfection and touchless transactions, all designed to slow or stop the spread of germs.
"That new normal may look very different than what we were accustomed to pre-COVID 19," Lopano said. "Keeping people safe is always our top priority at TPA, and as people plan to come back, we want to ensure we are offering an environment that is clean, healthy and ready for business."