As cases of Covid-19 once again surge throughout the country, the nation's doctor last week appealed to the public for help.
"Please, please, please, wear a face covering when you go out in public," U.S. Surgeon General Jerome Adams said at a press conference on June 30. "It is not an inconvenience. It is not a suppression of your freedom. It actually is a vehicle to achieve our goals. It adds to your convenience and freedom because it allows us to open more places."
Even as some states make facial coverings mandatory, the uneasy standoff between the masked and the unmasked plays out every day in the nation's airports, where many have made it a requirement, including Pittsburgh.
"The overwhelming majority of people who come through the airport follow the regulations and wear face coverings," said Samantha Stedford, director of customer experience at Pittsburgh International Airport. "The issue is what to do about the few people who either can't wear masks for health reasons or refuse to wear them.
"When that happens, sometimes we receive a complaint, often through an e-mail with a picture of the offender attached," she said.
Pittsburgh International requires all staff and visitors to wear masks. The airport has posted signs on airport doors, makes frequent public address announcements about the requirements and provides personal protective equipment vending machines in both the Landside and Airside terminals. Masks may also be picked up for free at the airport's customer service desks. Travelers not wearing masks may be approached by airport staff to inform them of the requirement and where to get one.
But there is no consistency among airports on masking requirements, and there are no federal standards to follow, other than the recommendations from the Centers for Disease Control and Prevention.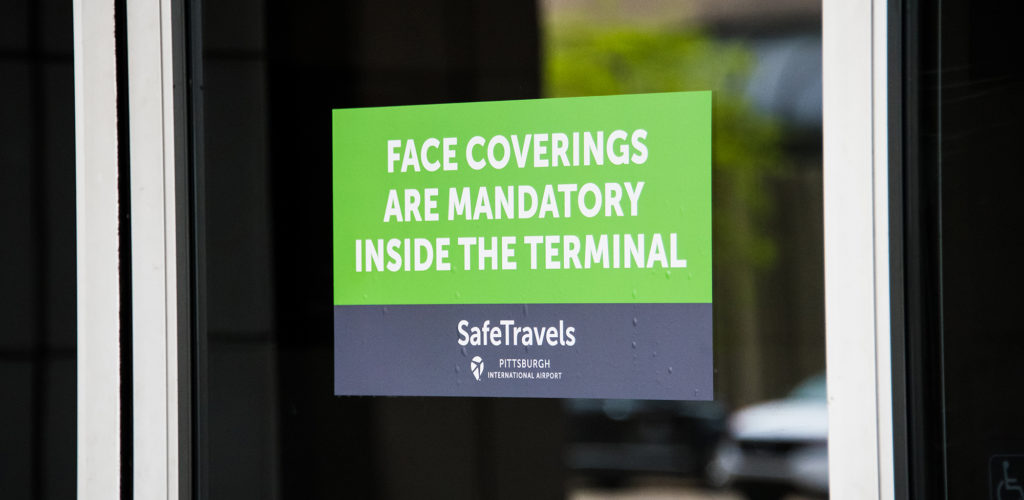 "We would welcome regulations on a temporary basis that you should wear a mask in an airport when you're transferring through it," Kevin Burke, president of Airports Council International – North America, told lawmakers in late June, as reported in The Hill.
"You can infect as many people without a mask going through an airport as you would getting on an airplane."
Airlines have also set their own policies on facial coverings. Most have made wearing a requirement to board and have denied boarding to travelers who refuse.
Airport employees can be disciplined for violating the policy, as well as airport vendors and their employees, Stedford said.
The CDC recommends that people wear cloth face coverings in public settings and when around people who don't live in your household, especially when other social distancing measures are difficult to maintain. Cloth face coverings may help prevent people who have Covid-19 from spreading the virus to others and are likely to reduce the overall spread of the virus when they are widely used by people in public settings, according to the CDC.
State mandates
Pennsylvania Gov. Tom Wolf last week followed the lead of California Gov. Gavin Newsom and made it mandatory to wear masks in public. Both states' enforcement plans are murky.
"We're not looking to fine people," Newsom told the Los Angeles Times last week. "We're looking to educate people, encourage people. And to the point that people abuse and flaunt, which may be the exception, then we have many tools in the tool kit."
What that means isn't exactly clear. Violators could be charged with a misdemeanor and face a potential fine under California law, but authorities admit that enforcement is highly unlikely.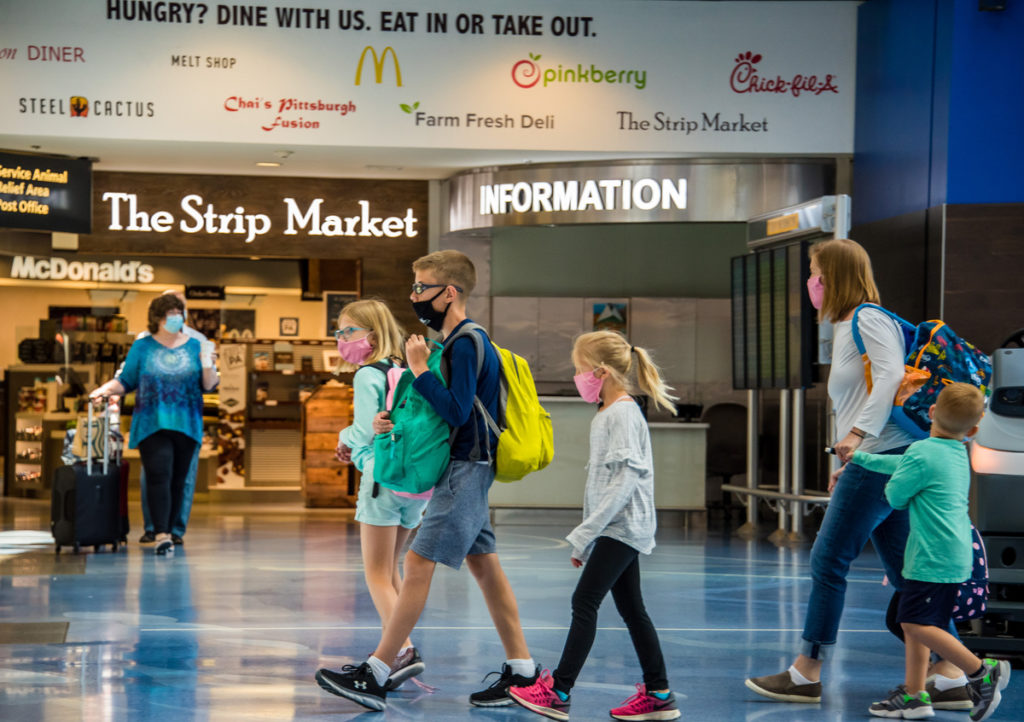 "We've tried to make education everyone's job and back off the word enforcement," said Christopher Birch, director of guest experience at San Francisco International Airport. "(Overall) compliance is about 95 percent. We're working on improving compliance even more through communication with [airport] tenants."
Seattle-Tacoma International Airport has created a "go" team that approaches customers who aren't wearing a face covering and offers a free one.  San Jose Airport set up tables to distribute masks to the public but learned quickly that there was little demand. Neighboring San Francisco had a little more success.
"We have staff that have been redeployed into the operation as Travel Well Ambassadors.  Throughout the day and a few on select overnights they engage staff and guests on compliance with masks and distancing," Birch said.
As the summer travel season ramps up, the issue has become even more important as more people hop a plane for their vacation. While many states have opened up their economies, some governors are now pausing those efforts to respond to record high cases of the coronavirus in their states.
Airport masking requirements are typically part of a larger coronavirus response from airports that include increased cleaning and other measures. Locally, the PIT Safe Travels program includes mandating facial coverings while on airport property, practicing social distancing through guided markers in high-traffic areas, utilizing protective shields in high traffic areas, enhancing cleaning and disinfection, and implementing new touchless transaction technology, among other improvements.