When it comes to air travel in the COVID era, apparently less is more. That's what the results of J.D. Power's 2020 North America Airport Satisfaction Study released last week indicates.
The study, now in its 15th year, ranks airports in three categories: mega, large, and medium North American airports. J.D. Power reported that although the volume of passengers has dropped so far this year, customer satisfaction has risen sharply.
"Over the Labor Day weekend, airport passenger volumes climbed to 40 percent of year-ago levels as travelers slowly started to trickle back onto airplanes," said Michael Taylor, travel intelligence lead at J.D. Power. "Compared to the pre-COVID-19 environment when most airports were running significantly over capacity, the lack of crowds and long lines is actually creating a very convenient experience for travelers right now. Obviously, this lower passenger volume is not sustainable for most airports."
At Pittsburgh International Airport, where traffic has dropped 60 percent year-to-date, administrators agree with Taylor's assessment.
"It would be extremely difficult to remain sustainable if this trend in passenger traffic stays the same," said Samantha Stedford, director, customer experience at the airport. "But we will continue to work to gain the trust of passengers by maintaining a safe, clean and healthy airport."
Stedford pointed to the airport's PIT Safe Travels program as one of the ways passengers can be reassured that the airport is doing everything it can to ensure the pandemic does not spread in its terminals.
Masks are mandatory. Hand sanitizing stations have been added throughout the terminals. Floor decals mark the 6-foot social distancing standards for passengers, while those stopping at concessions will encounter cashiers behind plexiglass. Safety announcements are broadcast throughout the airport every 15 minutes. And autonomous robotic floor scrubbers sanitize the terminals using ultraviolet lights.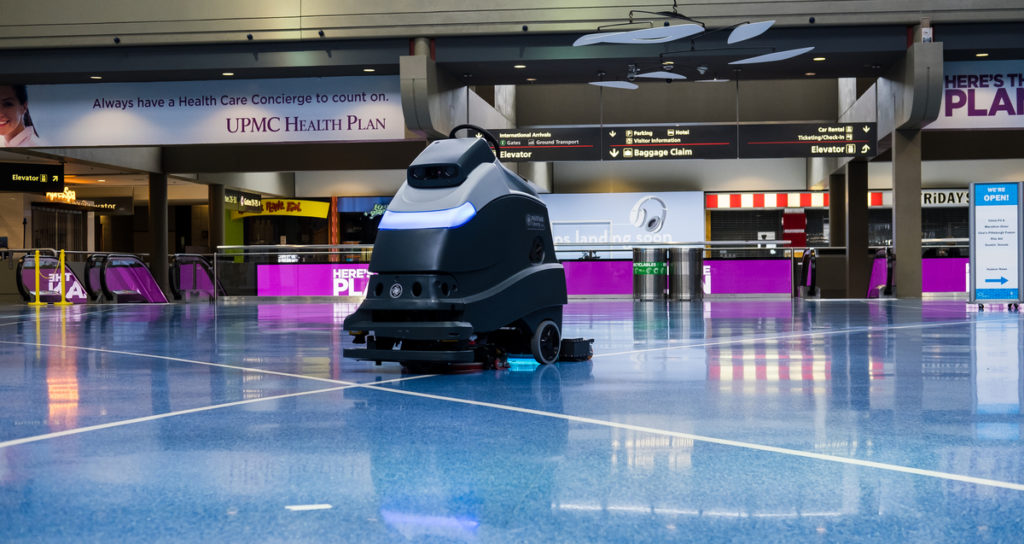 "We get it," Stedford said. "For those that are traveling right now we realize that their tensions are high. They're flying to see loved ones, maybe a very important business trip, or possibly a once-in-a-lifetime vacation. We understand that there are more things on their mind than flying. When they get here, we want them to understand we are doing everything we can to keep it safe so that they can focus on other things."
Pittsburgh International received a score of 826 in the JD Power study. That score put the airport tied for fourth among medium-sized airports in North America. Indianapolis, with a score of 866, was first, while Palm Beach, Fla. and Ft. Myers, Fla. finished second and third. Albuquerque airport also received a score of 826. It was the fourth consecutive year that Pittsburgh finished among the top seven of its division.
JD Power determined airport scores based on just more than 26,000 surveys. Each airport was reviewed in six critical areas: terminal facilities; airport arrival/departure; baggage claim; security check; check-in/baggage check; and food, beverage and retail. Medium airports were defined as those that have between 4.5 to 9.9 million passengers, while Mega airports have 33 million or more passengers, and large airports have 10 to 32.9 million passengers per year. The study was conducted from August 2019 through July 2020.