For only the second time in its almost 20-year history, the volunteer program at Pittsburgh International Airport is on hiatus.
The first time the Volunteer Ambassadors, as they're known, weren't on hand to greet and assist passengers was during the few days following Sept.11, 2001, shortly after the program launched.
This time the break has lasted months. Due to the COVID-19 pandemic, Ambassadors have not been helping at the airport since Friday, March 13. That's 29 weeks, or 207 days. It's a long time for people who thrive on helping others.
Ambassadors freely give up their time to help those in need at the airport, whether it's giving directions, guiding travelers through the airport or just providing a sympathetic ear when someone needs to talk.
When the Volunteer Ambassador program launched, 54 people from around the region joined, ready to help fellow residents and welcome people from around the world to Pittsburgh. Today, the program has to grown to more  than100 members, having absorbed volunteers from Traveler's Aid and adding members of the PIT PAWS therapy dog group to its ranks.
Several Ambassadors we spoke with recently shared fond memories of helping passengers at the airport. They miss the airport and long to return.
"I was a freshman in high school when I decided I wanted to become an airport Ambassador," said Dominic Jovanelly of Moon Township, Pa. "I was the youngest ambassador at the time.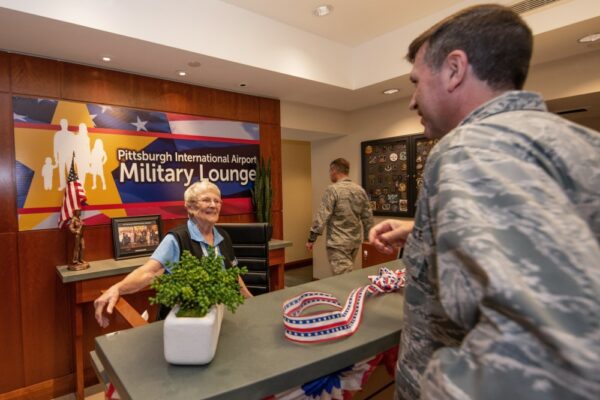 "While taking a mother and daughter to their gate, they mentioned how young I was. They asked me a bunch of questions about what I had planned for my future, and where I wanted to attend college. They complimented me on my customer service skills and how mature I was for only being 16 at the time. This has boosted my self-esteem when talking to people, drastically.
"There is one thing I can still hear her say to me," Jovanelly said. "She said, 'I will remember you for the rest of my life.' At random times when I'm driving or watching TV, this encounter will pop up in my mind and make me smile."
Ambassadors must average 12 hours of service per month; their assigned duties include assisting travelers in the airport's Military Lounge, the Ambassador Desk in baggage claim, the international arrivals gate and various other areas throughout the terminals. They also help at special events and occasionally will assist a VIP or two.
Of course, who qualifies as a VIP varies depending on who is giving the definition. Cindi Moore of Imperial, Pa., said she views most of her customers as VIPs, even if you've never heard of any of them.
When she recalls her favorite stories, Cindi—an original Ambassador who left the program for a few years before returning—talks about Steelers fans from all over the world and a member of the military who had a layover, among others.
Cindi also tells the story of Judson, an older, distinguished-looking gentleman who arrived very early for stay at a local hospital. Cindi arranged for transportation for Judson.
"Judson was touching my hand as I finished talking with the limo driver," she says. "I looked back to Judson, who took my hand to kiss it as his way to thank me, which brought tears to my eyes. I leaned over and gave Judson a kiss on the cheek."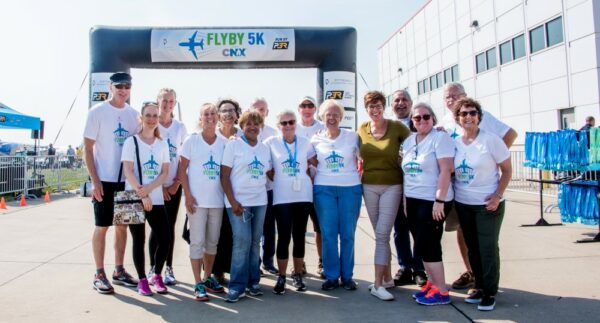 Not all moments are as intense or as touching as that. Ambassador Jack Ciciarelli of Beaver Falls, Pa., a former Traveler's Aid volunteer who serves at the Ambassador Desk in baggage claim, usually has a smile on his face. Jack always keeps things light, perhaps because he finds amusement in many of his interactions.
Take this exchange, for example:
Customer: "Can you get me a wheelchair?"
Jack: "Sure! Is it for you?"
Customer: "No, it's for my wife, the frumpy one over there with the bowling ball."
Then there are times when he can't resist sneaking in a little joke while helping.
Customer: "What is the least expensive way to get downtown? I'm on a government expense account, and I don't want to spend too much money."
Jack: "Thank you for not spending my money. The least expensive way is a bus, the 28X."
Not every interaction between Ambassadors and passengers is so lighthearted. Martha Lanken, an original Ambassador from Mt. Lebanon, Pa., remembers Sept. 11, just after the program started.
"Thinking back 19 years to the horrible events of that day and how many people were stranded," said Lanken, who lists former United Nations Secretary-General Kofi Annan, whom she escorted to a flight, as her favorite customer. "We worked hard trying to answer questions that we had no answers for and trying to comfort everyone who needed it. Some Ambassadors even took people home with them for dinner or the night. A year later, I was asked to meet the Japanese mother whose son had been killed in Shanksville on Flight 93. For the next two years, she asked me to meet her and spend some time helping her around the airport."
Moments like these are the reasons volunteers donate their time to help strangers.
"I am proud to be an Ambassador at the Pittsburgh International Airport," Jovanelly said. "I've made a boatload of memories and life experiences that I will carry with me for the rest of my life."