The force is strong with a part of United Airlines' Boeing 737-800 fleet.
Like the Millennium Falcon descending smoothly to a planet's surface, earlier this year, this special United Airlines plane touched down at PIT from a galaxy far, far away… well, actually from Denver. But the way the plane was painted up in a special Star Wars livery, you could almost imagine Han Solo at the helm.
Last year, United and Disney launched a partnership to promote The Rise of Skywalker, the final installment of the Star Wars film series. As part of the promotion, United introduced a Star Wars-themed Boeing 737-800 adorned in a galactic paint job. The plane, marked with tail number N36272, last touched down at PIT in March.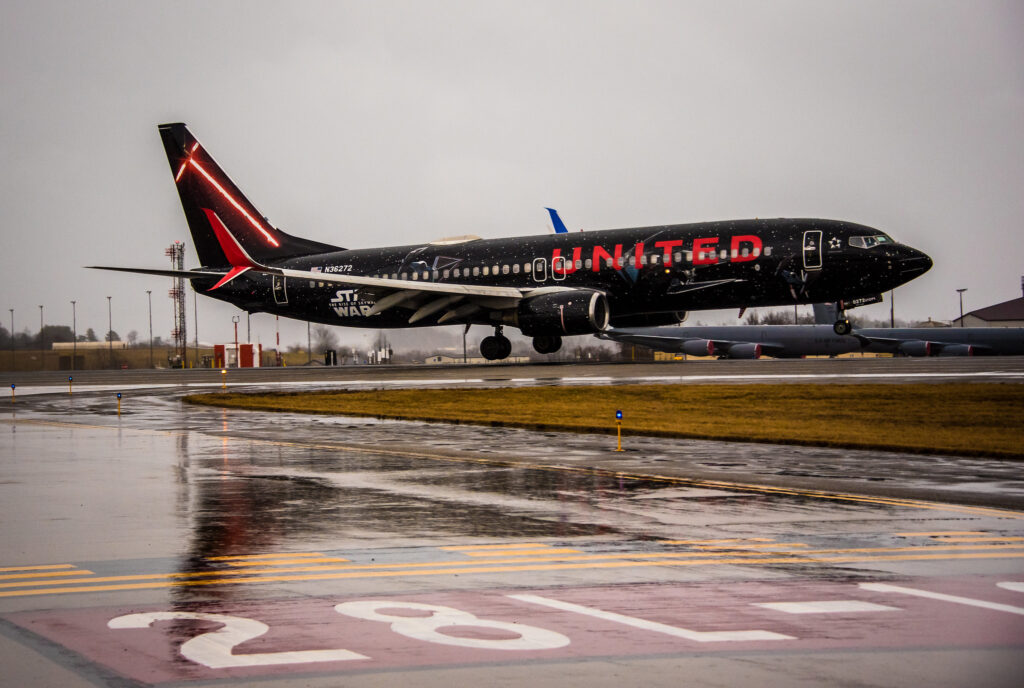 United's Star Wars-themed livery is painted entirely in black with a wave of stars providing a backdrop on the fuselage. On the left side of the plane, the United titles are painted blue while the titles on the right side are painted red. The winglets and lightsabers on the tail also follow an alternating blue and red color pattern. Additionally, there are multiple X-wing and TIE fighter spacecraft featured on the fuselage, giving the livery a 3-D look.
The Star Wars theme goes beyond the exterior of the aircraft. Inside the plane at the boarding door is a silver plaque commemorating the plane's special scheme. On the in-seat headrests, the symbols of the two factions are placed in the center. The left seats onboard are of The First Order – otherwise known as the dark side. The seats on the right however are that of the Resistance.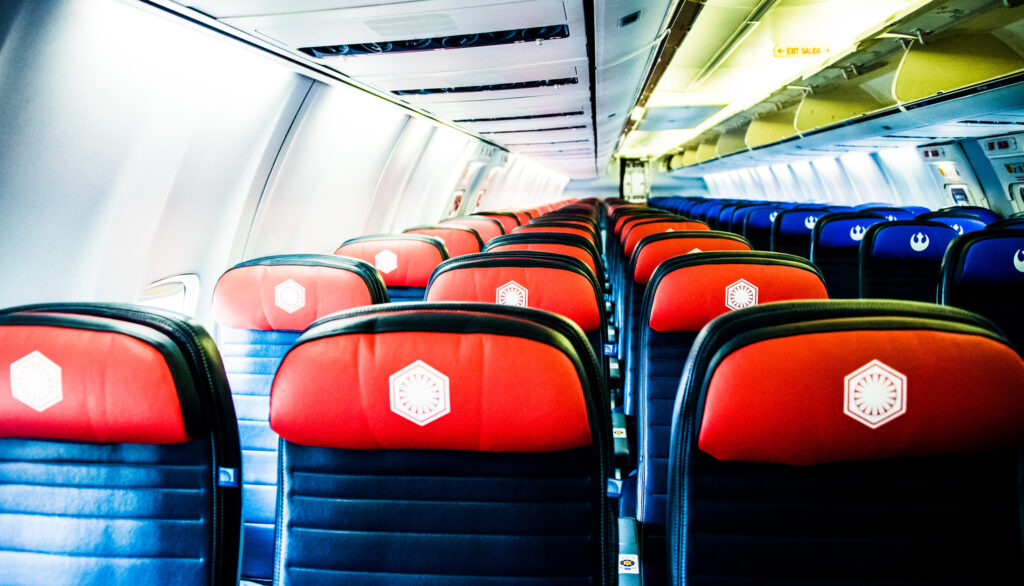 Doug Chiang, vice president and executive creative director of Lucasfilm, which oversaw the production of The Rise of Skywalker, designed the livery. In October 2019, the aircraft spent nearly three weeks in Amarillo, Texas, being fully painted into its Star Wars colors. It was introduced into service a month later on a flight from Houston to Orlando.
United's Star Wars plane usually flies within the United States as well as to Canada and Latin America. The plane can be followed on flight tracking sites such as Flightradar24 and FlightAware. To track the aircraft, click here.
Other airlines have made attempts to promote Star Wars. For example, ANA of Japan has three aircraft in the theme of three characters of the series – BB-8, C3PO and R2-D2. Additionally, LATAM of South America has a Boeing 777-300ER sporting a stormtrooper on the tail promoting Galaxy's Edge – Walt Disney World's new Star Wars exhibit.