President Joe Biden announced a $2 trillion infrastructure plan as part of a visit to Pittsburgh on Wednesday and, along with it, offered a vote of confidence for a new terminal project at its airport.
Biden talked briefly with Allegheny County Airport Authority CEO Christina Cassotis after landing at Pittsburgh International Airport earlier in the day. In their quick exchange, she briefed him on the airport's Terminal Modernization Program—a billion-dollar infrastructure plan for the region that is expected to create 5,500 direct construction jobs.
That clearly resonated with the president, enough for him to reference it later that day, including a call-out to Allegheny County Executive Rich Fitzgerald while rolling out the national infrastructure plan.
"I'll begin with the heart of the plan: It modernizes transportation infrastructure—our roads, our bridges, our airports," Biden said at a carpenters union training center in Pittsburgh. "I just left your airport. The director of the airport said, 'We're about to renovate the airport.' Is that right, Mr. County Executive? 'We're going to renovate. We're going to employ thousands of people.'"
To learn more about the Terminal Modernization Program, click here to go to PITTransformed.com
Biden had just spoken with Cassotis and state leaders at the Pennsylvania Air National Guard 171st Air Refueling Wing base at PIT after Air Force One landed.
"I told him I was really grateful that airports have been included in the plans for infrastructure," Cassotis said. "I also told him that we are building a new terminal that will be powered by a microgrid that includes 10,000 solar panels and that we would be putting 5,500 people to work during construction coming out of a pandemic."
The president's American Jobs Plan includes some $25 billion in infrastructure funding for the nation's airports, drawing support from prominent figures such Airports Council International President and CEO Kevin Burke.
"Investments in aviation infrastructure are more vital than ever before," Burke said. "The COVID-19 pandemic decimated airport finances around the country as passenger traffic dropped dramatically. On top of that, airport infrastructure has long been underfunded, creating a backlog of $115 billion worth of necessary projects."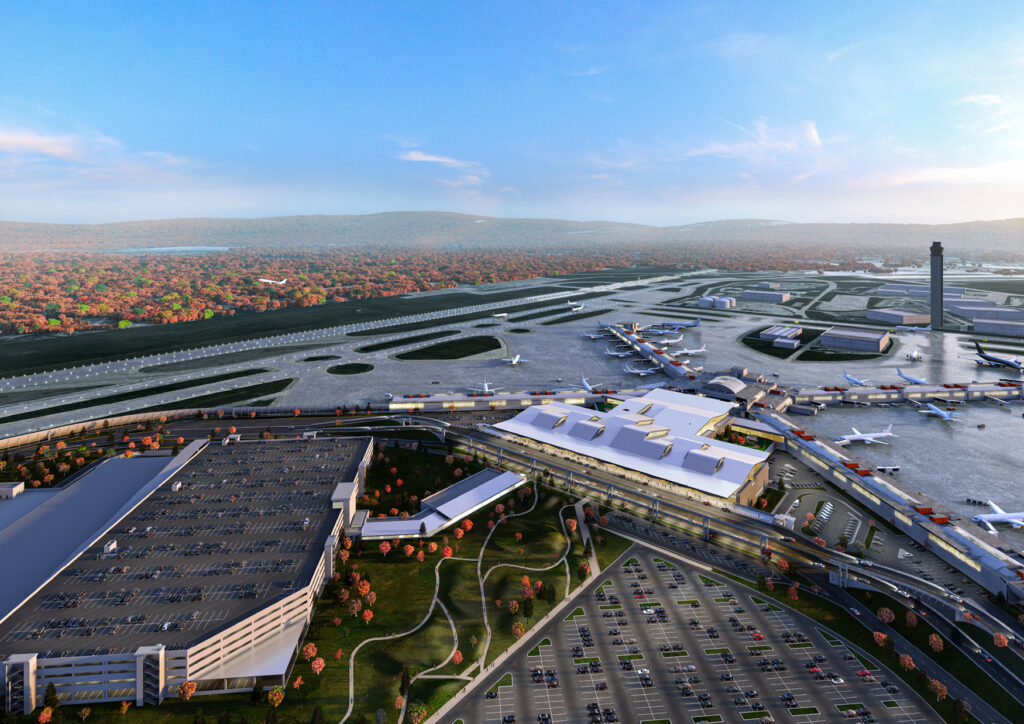 Earlier this month, airlines serving PIT approved restarting the project, which will build a new 700,000-square-foot terminal that consolidates ticketing, security checkpoints and baggage claim. The plan also includes a new 3,300-space parking garage, rental car facilities and entrance roadways—all designed to improve the passenger experience. Construction had been delayed nearly a year due to the pandemic.
Airlines are the primary funders of the project, which includes no local tax dollars. The airlines agreed in March to fund construction site prep work while negotiations continue on a long-term airport-airline agreement to cover the rest of the project. The total budget is $1.39 billion.
The approval allows the Airport Authority to bid and award contracts for structural steel and concrete decks, foundations and underground utilities later this spring, and it provides funds for additional design of Airside Terminal renovations, ongoing program management and other work.
"The PIT team has been a fantastic partner throughout this entire process," Patrick Bowes, manager of corporate real estate for American Airlines and chair of the Airport and Airline Affairs Committee, has said.
"While we still need to finalize a long-term agreement, the fact that there is airline support of the Terminal Modernization Program during what has been a very challenging time for our industry and the entire economy is a testament to the great work the team has done—and the merits of the project itself."
During the year-long pause, officials revised the TMP design and operational plans to include public health and safety features to address new concerns created by the pandemic.