Editor's note: This story was originally published on Oct. 26, 2020. It has been republished for the Fourth of July holiday.
A 62-year-old Boeing KC-135 Stratotanker waits for a routine maintenance check inside a hangar at the 171st Air Refueling Wing.
But for Master Sgt. Brian Curzi, a crew chief at the 171st, this is not just any airplane. Not only is his name on the side of the aircraft, it carries a unique artistic signature he designed right below the cockpit.
Featuring a jet emerging from molten steel pouring out of a ladle, the nose art serves as a reference to a prior aircraft assigned to the 171st and as a tribute to Curzi's family.
"My father retired 47 years from the steel mill industry, so I wanted to dedicate it to him," Curzi said. "It was a nice retirement gift for him at the time I got this painted onto the aircraft."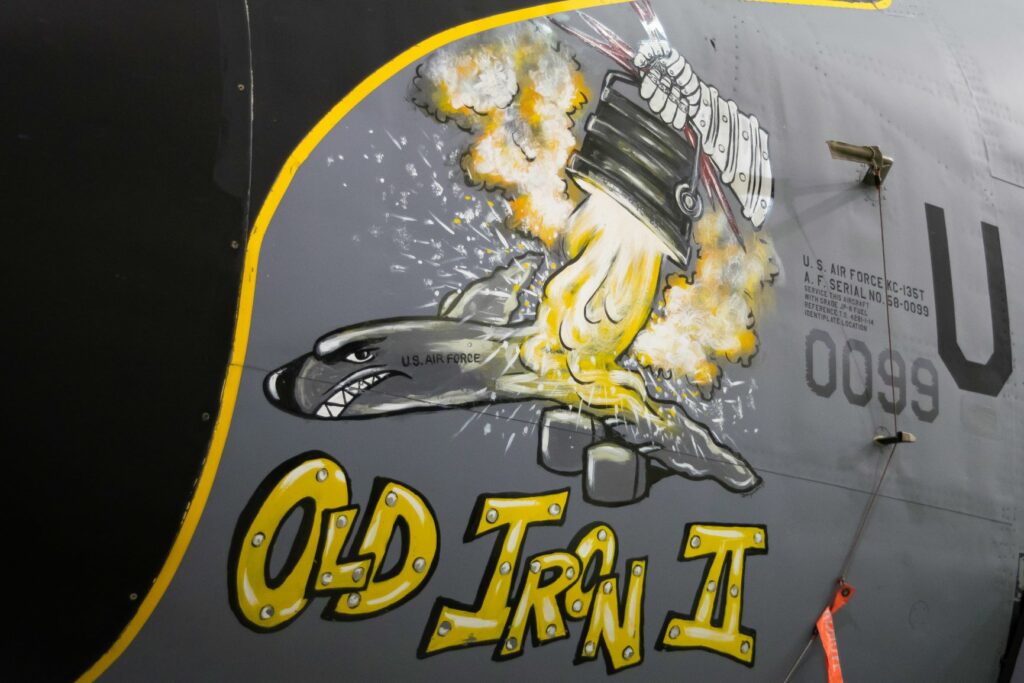 The nose art, named "Old Iron II," also includes hidden references to Curzi's mother and a friend who has passed away.
"It's something that you strive for at the beginning of your career: becoming an aircraft mechanic and being able to have your name on your own jet you get to take care of," Curzi added. "It's something that is a part of you once it is on the aircraft."
"Old Iron II" is one of many designs crew chiefs at the 171st have commissioned for aircraft over the years.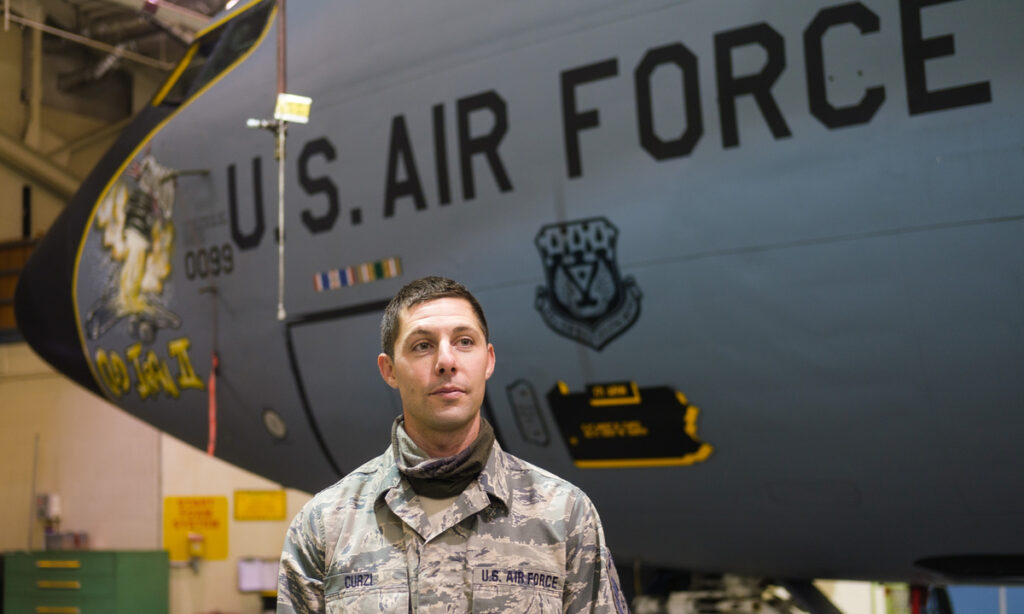 It's all thanks to the Air National Guard's Dedicated Crew Chief Program. Unlike U.S. Air Force active duty and reserves, Guard crew chiefs are assigned to maintain a single aircraft in a squadron for as much time as possible. This includes traveling with their aircraft around the world, whether for training or deployment for combat operations.
As a part of the program, the 171st allows its crew chiefs to personalize their assigned aircraft with nose art, something that has made the wing recognizable throughout the Air Force.
Of the 16 KC-135s operated by the 171st, six currently have nose art.
Designs are created by an aircraft's crew chief and a sketch is made with the help of local artist Donna Mrdjenovich.
It is then reviewed by the wing commander, who may suggest alterations of the design in order to remain under appropriate regulations and guidelines. Ultimately, it is passed to the National Guard Bureau for final approval.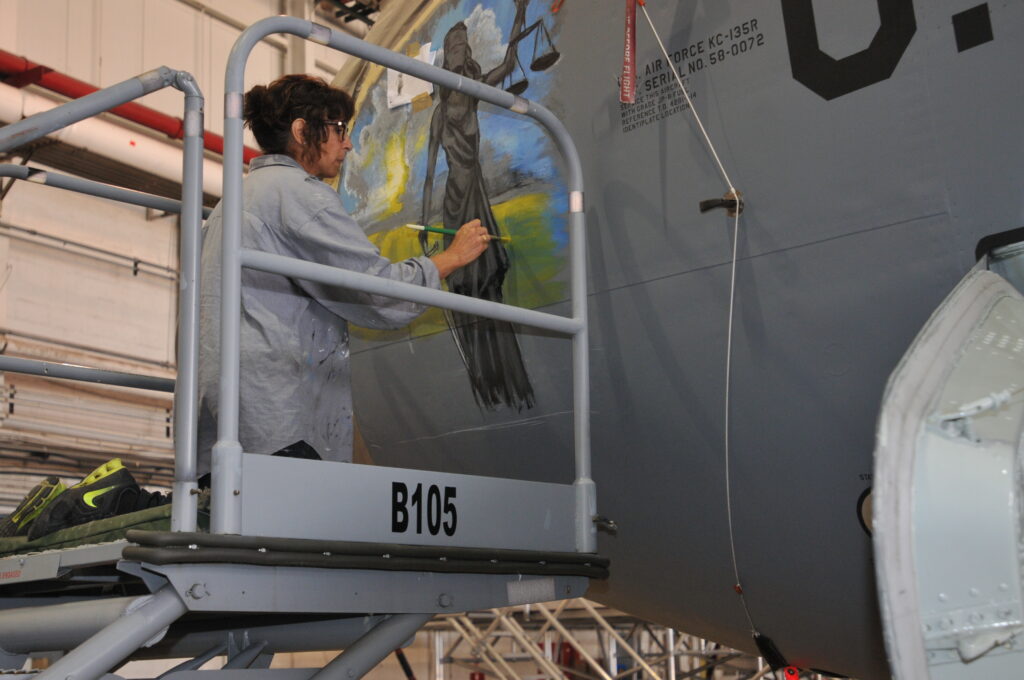 Mrdjenovich, a native of Moon Township, Pa., has worked with crew chiefs on nose art designs at the 171st since 1998. She has completed 83 different designs for both the 171st and the Air Force Reserve's 911th Airlift Wing, also based at Pittsburgh International Airport.
Mrdjenovich said it usually takes her a day or two to paint the nose art onto the aircraft.
"I always like seeing the crewmembers' reactions when they first get to see the nose art, whether it is laughter or tears of joy," she said. "They give a lot to defend our country and I'm proud to give something back to them."
One of those designs was "Lady Justice," adorned on tail number 58-0072. Its crew chief, Master Sgt. Timothy Springer, created the artwork following two deployments to Iraq in 2008.
The design "blended two of my beliefs together," Springer said. "It is not only a Metallica album, which I am a fan of; it also represents justice. That is something people have fought for throughout American history."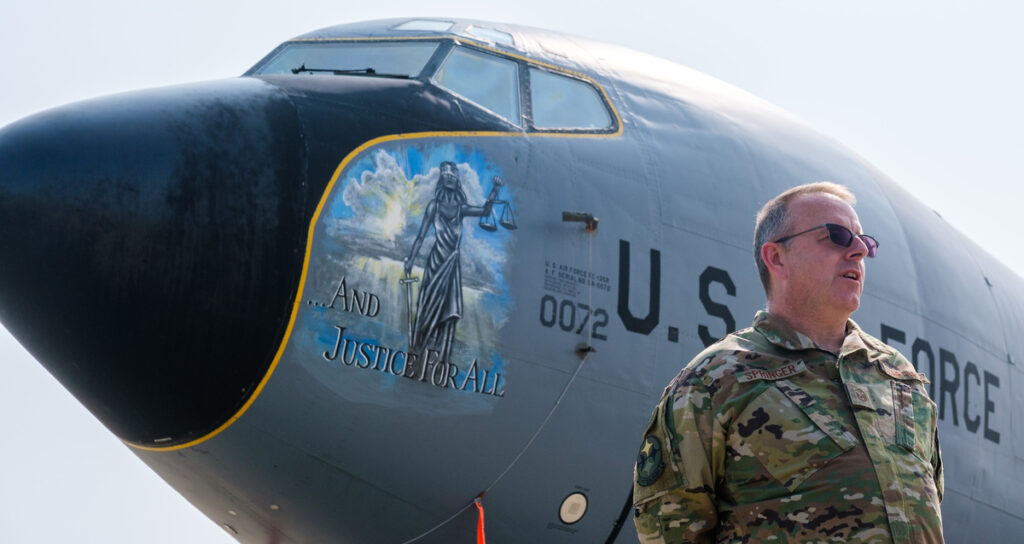 In addition to the nose art, inside the aircraft on the navigator's table is a graphic of the Orion constellation.
"When I deploy, I tell my kids that I can see Orion anywhere in the world. Anytime I am gone and they miss me, they can look up at Orion and know that I'm also seeing the same constellation," Springer said.
Long-lived tankers
The KC-135 is the primary tanker for the Air Force, supporting aerial refueling of U.S. and allied aircraft. It uses a flying boom, controlled by a boom operator at the rear of the plane, that pumps fuel to receiver aircraft. The KC-135 can carry up to 200,000 pounds of fuel and transfer nearly 700 pounds per minute, although this can vary depending on the mission.
The aircraft first entered service for the Air Force in 1956, making it the oldest model in the inventory. Throughout its life, the KC-135 has received many upgrades to bring it up to modern specifications and follows a routine depot maintenance program. The Air Force expects to fly the type until 2050.
The 171st primarily flies the mission of aerial refueling for the Pennsylvania Air National Guard out of PIT. The unit provides tanker support to a wide range of aircraft, such as fighters, bombers and airlifters. The 171st deploys around the world to support operations when needed.
The 16 "T-model" KC-135s the 171st flies are 1958 and 1959 models, and were formerly a part of Strategic Air Command (SAC), which was in charge of all tankers and bombers during the Cold War.
To carry on the SAC's heritage, all nose art designs at the 171st have incorporated its insignia, the "SAC fist": an armored fist clutching a lightning bolt. Some crew chiefs have made the fist prominent, while others have creatively hidden the emblem in their designs.
For his nose art, Master Sgt. Gill Ruffing featured the SAC fist waving a Terrible Towel over Heinz Field.
"I grew up as a Steelers fan throughout the Seventies when they won four Super Bowls," Ruffing said. "My family and my wife's family were even bigger Steelers fans back then. I knew I wanted the SAC fist holding a Terrible Towel to bring that hometown feel to the aircraft and represent Pittsburgh."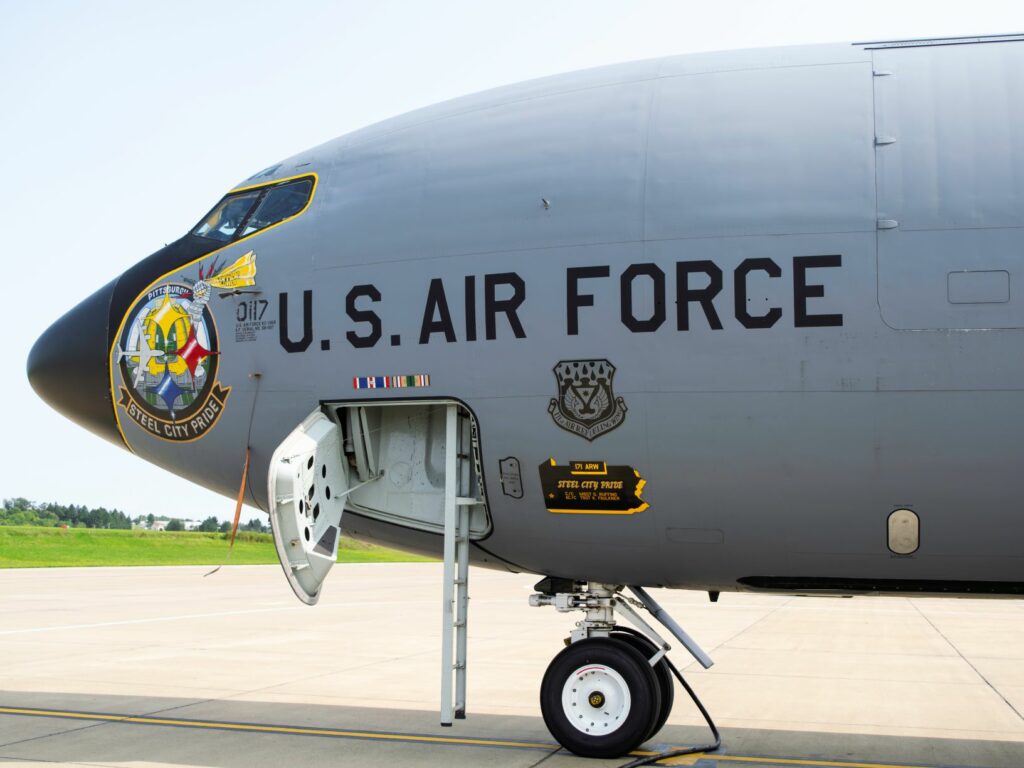 "Steel City Pride" has been adorned on Master Sgt. Ruffing's jet, tail 58-0117, since 2006. Another detail of the nose art includes two football players depicting his grandsons, Adrian and Brayden, who both grew up playing football for West Allegheny High School in Imperial, Pa.
While nose art has allowed a degree of personalization for crew chiefs and their jets, it is not the only perk of the job.
"Everyone's airplane goes out for a flight every so often, so we all get to work together as a team sharing knowledge and making each other better. We also get to travel together [on deployment] to foreign countries," Ruffing added. "That's why I love the job."