As the sun rose on the U.S. on Sept. 11, 2001, life was humming along as usual. Children got ready for school, businesses prepared to open and flights were taking off and landing like clockwork at Pittsburgh International Airport.
At the time, PIT was a hub for US Airways, moving nearly 2 million passengers a month on more than 25 departing flights an hour, on average.
"It was just a normal day," said Jack McGrogan, then a facilities supervisor for Terminal Maintenance.
Then American Airlines Flight 11—which had departed Logan International Airport in Boston with 92 people onboard—hit the north tower of the World Trade Center in New York City at 8:46 a.m.
…
Much like the rest of the world, information about the attack was slow to arrive at the airport. There were no smartphones or social media. Texting was still rare.
At that time, word of mouth was still the primary channel for immediate communication.
"The very first thing I heard was a coworker say to me, 'Did you hear something about a plane going down in New York?'" said McGrogan.
Initial reports that the Flight 11 crash had been an accident quickly changed when United Airlines Flight 175, also headed from Boston to Los Angeles, struck the south tower of the WTC at 9:03 a.m. with 65 people onboard.
At PIT, Dawn Bailey was talking with a coworker when someone told them what happened. They rushed to a TV to watch news coverage.
"It didn't take long for other employees to find out what was happening," said Bailey, who was responsible for parking and ground transportation at the time. "Most everyone was huddled around a TV or packing up their things to head home."
Key staff members were summoned to the executive office to plan and execute crisis operations. Theresa Richardson worked in the reception area of the executive office at the time.
"We had a TV in the Executive Conference Room, and I heard voices coming from the conference room," she said. "I went to investigate, and they had the TV on showing the attack on the Twin Towers in New York.
"When I first saw it, it looked like a little plane flying into the buildings. I couldn't believe what I was seeing."
Byron Harriger, a duty manager in Operations at the time, left for the Allegheny County Emergency Operations Center as the airport's representative.
…
In Pittsburgh, fear was particularly acute when American Airlines Flight 77, en route from Dulles International Airport to Los Angeles with 64 people onboard, was hijacked over Ohio, less than 200 miles southwest of the city.
At about the same time, United Flight 93 out of Newark was being hijacked just west of Cleveland and circling back east as well.
"I was both sickened and anxious as one of the hijacked planes was somewhat close to the airport," said Bailey, who was particularly concerned because her brother-in-law was flying that morning, although not on one of the hijacked planes. "We didn't know what to expect at that time."
Across the U.S., rumors began to circulate that other prominent skyscrapers and landmarks were the next target.
"My memories probably center the most on working in the EOC and watching the second plane hit," Harriger said. "Everyone was trying to track Flight 93 to see if it was going to hit the U.S. Steel Building in Pittsburgh."
Several minutes after Flight 77 hit the Pentagon, the Federal Aviation Administration grounded all civilian aircraft in the continental U.S. McGrogan and other members of the airport team were in the executive conference room trying to figure out next steps.
That team had to make room for unexpected landings and find secure ways to get people off those planes, as well as evacuate the airport itself.
"The building was filled with people asking questions and you didn't always have the right answer or even an answer at that time," McGrogan said.
Meanwhile, Flight 93 was headed toward Pittsburgh.
…
PIT leaders were in the executive conference room, trying to make informed decisions to protect everyone at the airport, but like most of the nation, they knew very little about what was happening.
"We knew that Flight 93 was coming over Pennsylvania, but we couldn't get any information," McGrogan said. "We didn't have anything for a while. We were just sitting in that room wondering, 'Is it coming here?'"
That dread pervaded the terminals, Richardson said.
"I would have to say that there was panic in the airport when people found out about the attack. We were not sure, at the time, if we were a target," she said.
No one knew that the passengers aboard Flight 93 were attempting to retake the plane from hijackers, who had set a course for Washington, D.C. Their heroic efforts forced the plane to crash in a field near Shanksville, Pa., about 65 miles southeast of Pittsburgh.
The threat to PIT had tragically ended.
"We touched base with our supervisors and were told to head home," Bailey said. "By this point, the (fourth) plane had crashed in Shanksville so we knew there was no imminent danger at PIT."
But work at the airport and in the community was just beginning.
"At the EOC, we did general coordination of what was needed, everything from getting (Port Authority) buses for the airport in case we needed to evacuate to coordinating support for the Flight 93 crash site," Harriger said.
Airport staff were scrambling to keep crowds safe and calm while evacuating the terminals, which took most of the day. Richardson pitched in to help the information desk handle the flood of questions and phone calls customer service was receiving.
"I was there until approximately 8 p.m., when someone relieved me at the reception desk," she said. "It was like a ghost town at the airport."
McGrogan and the team in the executive conference room didn't leave for nearly 24 hours.
…
Security changes came quickly, directed by the FAA and other government agencies. The national ground stop and airport closures would last for three days, and any vehicle within 200 feet of an airport terminal was ordered removed.
Staff at PIT closed elevated roadways, towed vehicles and even began hand-painting signs to help passengers and guests find secure entrances and exits when they returned.
"I was back in the office early the next day to prepare for accepting passengers and commercial ground transportation carriers into our parking lots once we were able to re-open," Bailey said. "I was there for three long days prior to re-opening."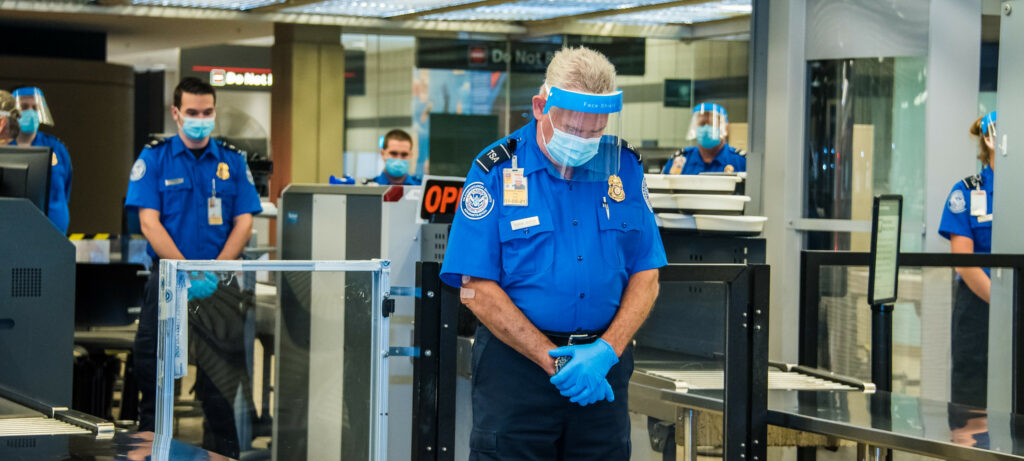 County emergency officials began 24-hour staffing of the EOC, Harriger said, rotating on 12-hour shifts.
Towing companies helped the airport move hundreds of vehicles over the next couple of days, McGrogan said. Staff built a road through the middle of the parking garage to keep vehicles away from the Landside Terminal and temporary barricades were put around all doors on Ticketing and Baggage.
"All departments stepped up and did what they had to do to make the airport safe in the days following the attack," Richardson said. "Some departments worked around the clock to make it happen."
…
The entire landscape of the aviation industry has changed since Sept. 11, 2001. The Transportation Security Administration was launched, no-fly lists were enacted, baggage scanning technology was upgraded and so much more.
Airport veterans agree that those changes were much-needed, but took some getting used to.
"I think the entire mindset about security nowadays in the aviation world is much sharper than it was then. I think it woke up everybody," McGrogan said.
Like all airports across the country, TSA took over passenger screening at the checkpoint. The enhanced process took up more space and time in the Landside Terminal before the train platform that carries passengers to the Airside Terminal.
But not all the differences are obvious to the public.
"I think a lot of changes have been in terms of security, not just from the passenger standpoint but also a lot behind the scenes," Harriger said. "To some degree, even things such as how we deal with emergencies have changed as a result."
The people who were at Pittsburgh International that day say that they have changed, too.
"Much has changed over the years," Bailey said. "If nothing else, it taught us to be prepared for absolutely anything."
As the U.S. approaches the 20th anniversary of 9-11, memories of that day are as sharp as ever, and the lessons endure, particularly at PIT.
"People were scared. I saw people that day that were truly, truly scared and didn't know what to do," McGrogan said. "Hope it never happens again."