The Art Deco airport building looks more like a movie set (which it's been more than once) than like Pennsylvania's fifth-busiest airport (which it is).
Opened 90 years ago this month, Allegheny County Airport would appear very different if built today, airport officials say. But with about 60,000 departures and arrivals each year, the airport is hardly a relic of aviation's early days.
"It has a rich history and a bright future," said Traci Clark, vice president, Allegheny County Airport, who oversees the facility. "It's very unique. It's such a gem."
Dedicated on Sept. 11, 1931, four years after Charles Lindbergh's transatlantic flight, the airport, located about 10 miles southeast of Downtown Pittsburgh in West Mifflin, Pa., is a timepiece in some respects. It has no mall, food court or long security lines, as it handles only noncommercial flights.
The airport remained busy last year as the pandemic ground commercial aviation to a near halt, driving some travelers toward alternative ways to fly. The number of commercial air passengers nationally fell 60 percent, while traffic was down just 10 percent at the county airport.
"Many people who never flew private before started doing it last year," said Clark.
Clark, who took the Pittsburgh job two years ago after working at Cleveland Hopkins International Airport, caught the aviation bug early. Her father was a baggage handler at the Cleveland Airport.
She admires her new workplace, which has recently been renovated and in some examples restored.
"This airport is such a part of the community. How many other airports still have picnic tables where people can sit with their grandchildren to watch planes land and take off," she said.
The airport was designed by Stanley Roush, whose other projects – Downtown Pittsburgh's County Office Building and the Clemente, Carson and Warhol bridges – are a who's who of Pittsburgh landmarks.
When it opened, AGC, as it's designated, was cutting-edge – the country's third-largest airport and among the first with a hard surface.
First called Pittsburgh-Allegheny County Municipal Airport, it was built for $3.5 million – the equivalent of about $59 million today.
The airport was "formally dedicated … in the presence of a throng of close to 100,000 persons. The greatest gathering of nationally known speed and stunt fliers, army and navy planes and commercial craft … with races, stunting exhibitions, parachute jumps, and formation flying filling the day's program," the Pittsburgh Post-Gazette wrote the day the airport opened.
It was replaced as the region's primary airport when Greater Pittsburgh Airport opened in 1952.
Since then, AGC has handled only private flights and is the base for tenants like the Pittsburgh Flight Training Center, Stat MedEvac, Allegheny Flying Club and Pittsburgh Institute of Aeronautics.
The airport is owned and operated by the Allegheny County Airport Authority, which also operates Pittsburgh International Airport, about 26 miles away.
Witness to History
In its nine decades, a parade of notables has landed at the airport, including Presidents Harry Truman, Jimmy Carter, George W. Bush and Barack Obama.
In September 1941, Eleanor Roosevelt landed at the airport before meeting with Pittsburgh's African-American leaders, visiting a new housing development and speaking on behalf of stepped-up defense manufacturing months before the Japanese attack on Pearl Harbor.
"I just think of Eleanor Roosevelt sitting on that same bench," said Paul Hoback, the Airport Authority's chief development officer. "The airport tells the history of aviation in Pittsburgh."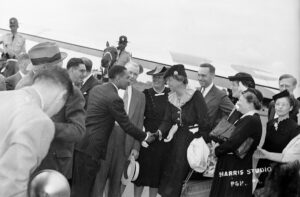 Fifteen years ago at the airport's 75th anniversary celebration, the late Steelers owner Dan Rooney recalled visiting the airport at age 5 in 1937 to bid farewell to an uncle who was leaving to work as a missionary in China.
"It really still looks pretty much the same," he said that day. Rooney became an amateur pilot who kept his Beechcraft Bonanza A-36 at the airport and often flew to New York.
Mary Garber, a retired history teacher, took her first flight to New York's LaGuardia Airport from AGC in the early 1950s.
"I went to New York with my aunt on a TWA Constellation, a propeller plane," Garber said. "It was exciting to see my own schools and neighborhood from the air."
Charles "Teenie" Harris, whose vast trove of photos often ran in the Pittsburgh Courier, one of the nation's premier African-American newspapers, photographed many celebrities at the airport, including iconic entertainer Lena Horne at the airport in 1938, when she was 21.
The airport has also appeared as a setting in several films, including "The Mothman Prophecies," "Gung Ho" and "Last Flag Flying."
On Sept. 25, the airport's anniversary will be celebrated from noon to 7 p.m. in partnership with the Mon Valley Arts Festival. The event at the airport is open to the public.
The event's opening ceremony will start at 1 p.m. featuring state, county and local officials. The Civil Air Patrol Honor Guard and the West Mifflin High School Marching Band are part of the ceremony, as well as state Sen. James Brewster, Reps. Nick Pisciottano and Austin Davis, County Executive Rich Fitzgerald, County Councilman Bob Macey and West Mifflin Mayor Chris Kelly.
"Allegheny County Airport continues to be a key community asset as one of the busiest airports in the state," Fitzgerald said. "From its storied history to its present-day importance, AGC has been an economic generator for the Mon Valley and beyond for nine decades."