Pittsburgh International Airport embarks this week on construction of its $1.39 billion terminal, the first in the country to be built from the ground-up post-pandemic.
The project, delayed for a year because of COVID-19, will create thousands of jobs and generate billions for the regional economy. Once complete, it will lower operating costs and make the airport more efficient and user-friendly.
According to an economic impact report created by EBP US Inc., the new terminal, expected to open in 2025, will generate $2.5 billion for the local economy and add some 5,500 local construction and skilled labor jobs, along with 8,500 other jobs. It will generate $27 million in local tax revenue.
"The economic impact is huge. This work may be coming at the right time, at the end of the pandemic," said Paul Hoback, Chief Development Officer for the Allegheny County Airport Authority, which operates Pittsburgh's airports.
Modernization of the airport involves construction of a new 700,000-square-foot terminal that will include ticketing, security checkpoints and baggage claim. An adjacent complex includes a new 3,300-space parking garage, rental car facilities and new roadways.
Key design features of the new terminal and parking facilities are centered on elements of nature and sustainability, leading-edge technology and innovation in the community.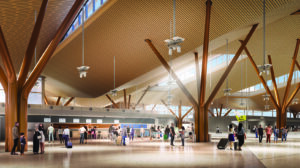 ''The new Pittsburgh International Airport will be built for and by the people of this region," CEO Christina Cassotis said. "This new terminal represents the region's DNA and it will mirror Pittsburgh and our many rich cultures."
The project will require more than 12,000 tons of steel, 94,000 tons of concrete and more than 354,000 square feet of wood materials, much of which the airport hopes to source locally. It is among the largest infrastructure projects in the history of the Pittsburgh region.
In June, the Airport Authority awarded Mascaro Construction, one of the region's leading contractors, the project's largest construction contract ($124.3 million for structural steel and concrete decks).
Mascaro plans to work with subcontractor Sippel Steel in Ambridge, Pa., to procure approximately 16,000 tons of raw steel and then fashion it into the specific forms that will be used to construct the bones of the new terminal.
Lumber and wood materials may also be sourced locally, and workforce diversity goals will be increased across the project.
Time to 'right-size'
Pittsburgh International is one of 10 U.S. airports now undergoing infrastructure work costing more than $1 billion. Others include the three New York City area airports as well as facilities in Orlando, Chicago, Kansas City and New Orleans.
But the Pittsburgh project is unique, Hoback said. While other airports are adding space, Pittsburgh International is "right-sizing" to align with its role as an origin and destination airport.
Built with a focus on public health and technology, the new facility will incorporate clean air technology and more space for social distancing. It will also feature outdoor terraces—both pre- and post-security—to ensure access to fresh air, a rarity for U.S. airports.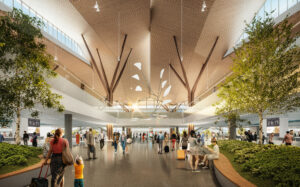 The project, known as the Terminal Modernization Program, will also be among the most sustainable in the industry as officials seek LEED certification at the silver level or beyond. It will be completely powered by the airport's microgrid, which is comprised of 10,000 solar panels and five natural gas generators fueled by onsite wells.
During construction, a minimum of 75 percent of waste generated will be recycled or reused, including concrete from existing airfield ramps that will be reused for new roads. Additional plans include rainwater harvesting and other water conservation efforts.
Airlines on board
First announced in 2017, the new terminal is designed to provide high-quality, cost-efficient and flexible facilities for the future, with new public health and safety features that improve the passenger, staff and visitor experience throughout, as well as reduce the escalating maintenance costs of an aging facility and systems.
The terminal project will be paid for with bonds, primarily backed by revenues generated by airline fees and charges. Prior to selling the bonds, three financial ratings agencies gave favorable long-term investment grade ratings to the Airport Authority. No local tax dollars are being used to fund the project.
Airlines signaled their support by signing a new seven-year operating agreement in June that allowed the Airport Authority to secure long-term bond financing.
"Southwest Airlines appreciates the continued partnership with the Allegheny County Airport Authority," said Mike Gillock, airport affairs regional leader at Southwest Airlines. "We've had a home at PIT since 2005, and we look forward to the enhancements and added conveniences which the Terminal Modernization Program will provide for Southwest's employees and customers.
"We're excited about the changes and work ahead, and we'll be ready to welcome Southwest customers to the future PIT travel experience."
Patrick Bowes, manager of corporate real estate for American Airlines and chair of the Airport and Airline Affairs Committee, said the company is "thankful for the continued partnership and support provided by the PIT Airport throughout the pandemic, and for their vision and ongoing work to move the Terminal Modernization Program forward."