A concrete beam buckled. A crane collapsed. A worker was struck by a winch assembly.
Between August 1990 and July 1991, three men—husbands, fathers, friends—lost their lives while building Pittsburgh International Airport's current terminal.
Construction sites carry a certain inherent risk, but airport officials are taking innovative steps to keep workers safe during the next four years of construction on PIT's new $1.39 billion Terminal Modernization Program.
In fact, the safety and well-being of workers who aren't even on the job yet began long before the project officially broke ground on Thursday.
During the event, airport and construction officials joined representatives of the Occupational Safety and Health Administration and the Pittsburgh Regional Building Trades Council to announce a first-of-its-kind regional partnership.
Their alliance is dedicated to reducing construction site hazards, increasing sustainability and advancing an overall safe, green jobsite for more than 5,500 workers over the next four years.
At the groundbreaking ceremony, officials noted that the new terminal and its adjoining transportation complex are the first to be built from the ground up in a post-pandemic environment, with uncompromised values of public health, safety and security across the board.
"Our vision to redefine and transform what an airport can be starts with our unwavering commitment to safety every day, from the CEO on down to the individual trades workers who will begin digging the foundations and erecting steel in a matter of weeks," said Chief Development Officer Paul Hoback.
Hoback said the Airport Authority is building new relationships throughout the community to increase access to opportunities and make the TMP the project of choice for workers in the region.
Innovative products, practices
Innovative elements of the environmental health and safety program include close-in parking for all contractors, daily stretch and flex activities, weekly site safety walk-throughs, rewards for safe behaviors and site conditions, enhanced housekeeping standards, an internet platform to track safety trends and use of state-of-the-art products, such as Kask helmets.
Airport and OSHA officials have been working on the program since the new terminal was in early design phases, assembling a dedicated safety team more than a year ago.
They integrated the design team, construction managers, prime contractors and operational readiness teams with airport staff to identify and mitigate safety and health concerns. And they made safety the top priority from drawings on paper to actual construction on site, efforts known as Prevention Through Design.
The airport has also provided full-time, on-site mobile medical services and emergency response personnel, as well as a comprehensive safety training plan for airport staff and contractors. To date, more than 600 safety orientations have been conducted, and 30 members of the TMP management team are OSHA 10/30 certified.
In turn, OSHA will evaluate the airport's safety plans and its leading and lagging safety indicators including completed trainings (first aid, CPR, etc.) and safety incidents, designate a program safety liaison, meet with program officials on a regular basis and provide training resources.
OSHA has established similar partnerships in Pittsburgh before, but never on a project of this size and scope, with multiple prime contractors.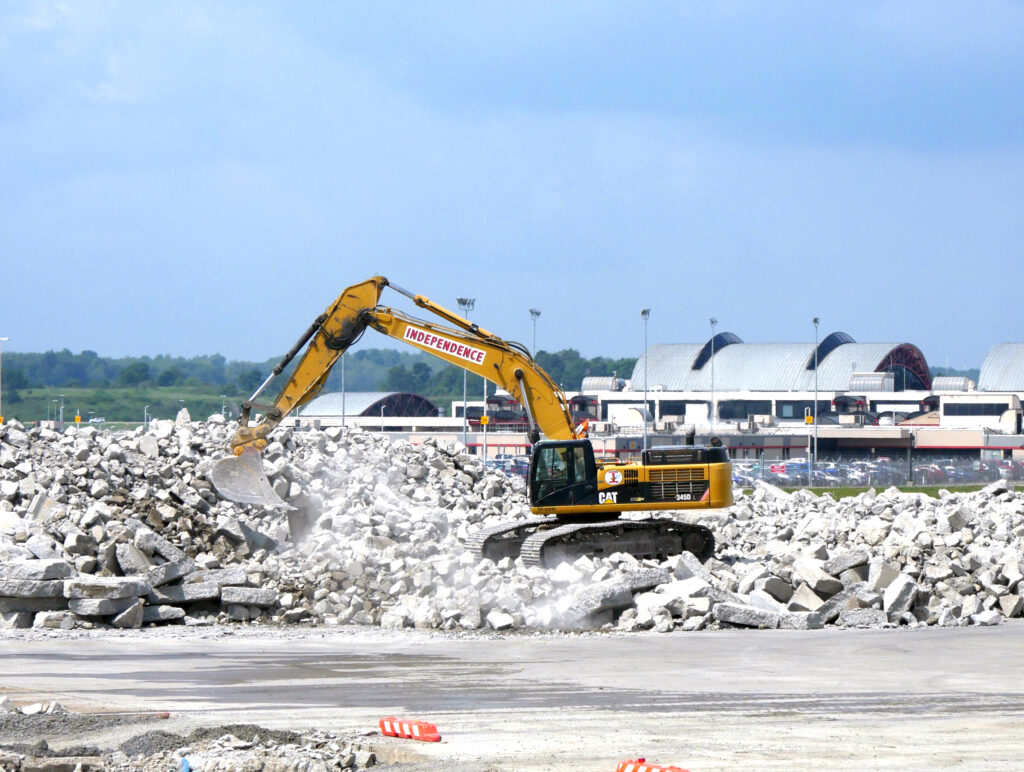 Christopher Robinson, director of the Pittsburgh area OSHA office, said the partnership helps strengthen overall worker safety on the TMP and provides avenues to develop cooperative solutions to issues before they arise.
"The goal of this partnership is to encourage joint cooperation between OSHA, the Airport Authority, prime and trade contractors and the Pittsburgh Building Trades Council to foster a safe work environment for all project workers," Robinson said.
Jason Timmerman, ACAA's Vice President of Environmental and Workplace Safety, said the efforts are only the beginning of a comprehensive environmental health and safety program for the TMP over the next four years.
"Safety has to be a mindset, a culture of caring for our people. It is essential to the daily operation of the entire airport and specifically to this program," Timmerman said.
"We want everyone to go home safely to their families and friends every day, proud of what we are building: a smarter airport that will bring Pittsburgh closer to the world for generations to come."