When British Airways resumes its nonstop flight to London from Pittsburgh on June 3, it will re-connect the region to not just the United Kingdom, but the rest of Europe and beyond.
Through year-round flights scheduled to operate four times a week, Pittsburgh will rejoin British Airways' global network. Travelers will be able to connect quickly to more than 100 destinations worldwide throughout Europe, India and Asia.
British Airways operates all its flights at London Heathrow Airport from Terminal 5, allowing passengers to transit without changing terminals. Since opening in 2008, Terminal 5 is regarded as one of the largest, most modern gateways in the world, handling 32.8 million passengers on more than 210,000 flights in 2018.
"We are thrilled to welcome British Airways back to Pittsburgh," said Bryan Dietz, senior vice president of air service and commercial development. "This convenient nonstop flight connects residents and businesses in the Pittsburgh region with key markets in Europe, Africa, the Middle East and Indian subcontinent, while facilitating inbound tourism and international commerce."
Airline Allies
Not only does British Airways itself offer a wide variety of destinations, but it also boasts extensive partnerships with other carriers that effectively makes its network much larger.
The airline is a founding member of the Oneworld Alliance and interlines with its 14 member airlines, including major carriers such as American Airlines and Qatar Airways. Combined, Oneworld carriers serve nearly 1,000 destinations in more than 150 countries around the world.
An airline alliance is a conglomerate of carriers with varying levels of agreements that create an interconnected network for travelers worldwide. Typically, alliances involve airlines collaborating with each other to bring a consistent level of service for travelers.
Depending on status with their alliance, passengers are offered perks that include shared lounge access and earning and redeeming frequent flyer miles on member carriers. In addition, passengers do not have to check in separately for each airline and can be rebooked on another partner carrier with ease in the event of a delay or cancellation.
"It's crucial that travelers understand the benefits that come with airlines that coordinate with each other to improve the flying experience," said Christina O'Toole of Pittsburgh-based Avenue Two Travel.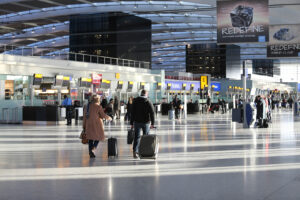 British Airways also is part of the Oneworld transatlantic joint venture that includes American, as well as Spanish and Finnish flag carriers Iberia and Finnair. All four carriers are full members of Oneworld and have codeshare agreements in place. (A codeshare allows multiple airlines to share a single flight.)
The Pittsburgh-London route falls under the transatlantic joint venture. This means that while travelers can book tickets on British Airways' website, customers can also select the flight for purchase on American, Iberia or Finnair's websites.
And passengers can book connections to other European cities, such as Madrid or Helsinki, with ease.
"The most important thing is that the booking process is streamlined through all the partner carriers," said O'Toole. "For anyone that is connecting onto another British Airways flight or one of its partners beyond London, it makes planning itineraries a more seamless process."
Departure and arrivals boards always display the operator's fight number and any codeshare number tagged with that particular flight. For PIT-LHR, passengers will see British Airways' departure flight number of BA170, along with each code for American, Iberia and Finnair.
In late 2020, Ireland's national airline, Aer Lingus, joined the transatlantic partnership. Aer Lingus also will codeshare on the Pittsburgh-London route operated by British Airways.
In addition, Aer Lingus and American both announced an expanded codeshare agreement on Jan. 12 for flights between the U.S. and Europe.
O'Toole views the London flight as an excellent connecting option for travelers and is optimistic it will be a popular method to reach other major international cities for both business and leisure travel.
"British Airways has a special place in Pittsburgh and has for a long time. It's important for the region to have nonstop service back to Europe," she said. "The options the London flight offers through connections gives Pittsburghers the opportunity to get back out into the world and start traveling again."