Need to relax before boarding a flight to Europe?
British Airways and American Airlines offer a quiet refuge for passengers traveling nonstop from PIT to London Heathrow at American's Admirals Club at Pittsburgh International Airport.
The two carriers are members of the Oneworld Alliance and have an extensive partnership via the alliance's transatlantic joint venture. Through their partnership, British Airways and American promise a consistent level of service, such as codesharing and the ability to redeem frequent flier miles on each airline.
(Codeshares are varying levels of agreements that allow airlines to share a single flight. This involves airlines adding their flight numbers to a partner carrier's own flight with the goal of achieving a more seamless travel experience.)
American provides its codeshare on the British Airways nonstop to London. Other carriers that codeshare on the route include Iberia, Finnair and Aer Lingus.
The BA-AA partnership also brings shared lounge access, where British Airways passengers can use American's Admirals Clubs and vice versa worldwide, including at PIT.
American acquired and rebranded the Admirals Club at PIT following its merger with U.S. Airways in 2013. The lounge was formerly a U.S. Airways Club held over from the airport's time as a hub for the airline.
In April 2019, American completed major renovations that modernized the space, including a redesigned lobby and updated décor. Coincidentally, British Airways, that same month, resumed its service to Pittsburgh from London after a 20-year hiatus.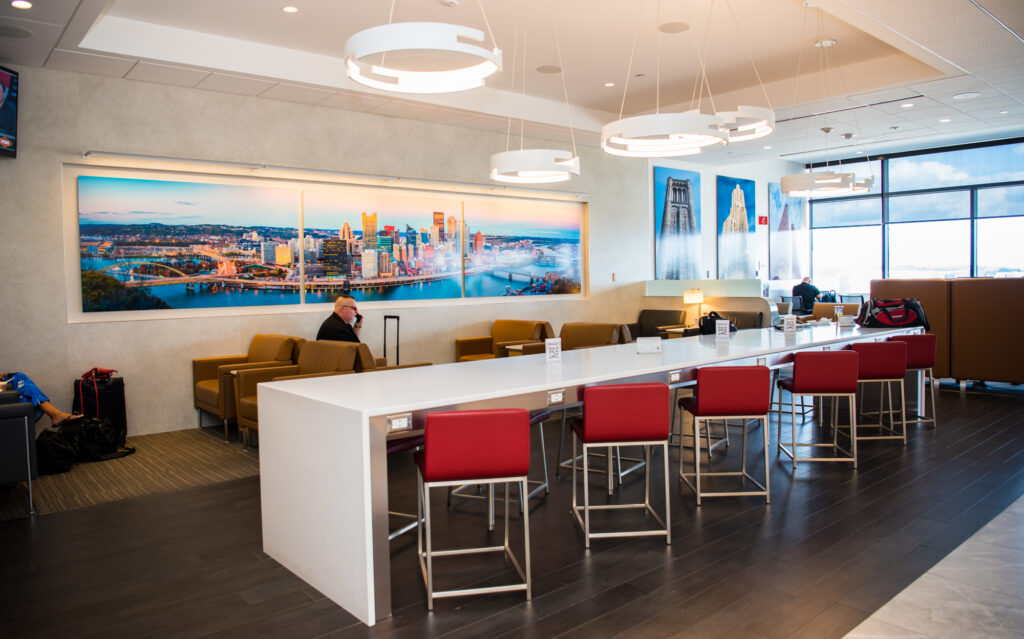 Located on the Mezzanine Level at the Airside Terminal, the Admirals Club at PIT features more than 4,700 square feet of space and can hold up to 90 guests.
The lounge offers complimentary high-speed Wi-Fi, privacy seating and charging stations for passengers as well as large windows with clear views of the airfield for travelers that enjoy watching planes.
Additionally, the lounge features an expanded self-serve food and beverage station and communal seating area. A wide variety of snacks are available to guests including fruit, baked goods, cookies and beverages such as coffee and a soda fountain.
How to get in?
Although Admirals Club access is exclusive, there are several ways passengers can access the PIT lounge when flying American or British Airways:
Qualifying first and business class passengers departing or arriving on American or British Airways
Members of AAdvantage, American's frequent flier program, with Executive Platinum, Platinum Pro and Platinum status. This includes members flying the PIT-London route on British Airways.
Non-AAdvantage members who have Oneworld status regardless of cabin, including Oneworld Emerald and Sapphire members. In addition, access is granted to all members of any other Oneworld frequent flier programs when traveling on American and British Airways.
One-Day passes are available for purchase to passengers online or on-site for $59 or 5,900 AAdvantage points. This includes domestic and international travel.
Authorized AAdvantage credit card holders flying domestically or internationally on American or British Airways.
To enter, travelers must provide a same day boarding pass and a government-issued photo ID. AAdvantage and Oneworld members will also need to provide their frequent flier numbers while card holders will need to show their AAdvantage Executive credit cards.
Eligible Admirals Club passengers are permitted to bring a limited number of guests. Most qualifying passengers are limited to one guest over the age of 2. One-Day pass holders, however, can bring up to three children under 18 years of age and Executive Card holders can include immediate family or up to two guests.
Other airlines at PIT also offer passengers Admirals Club access, but with restrictions.
Alaska Airlines, which operates daily flights between PIT and Seattle, became a full member of Oneworld in 2021. Passengers traveling on Alaska can be admitted into the Admirals Club only if they have Alaska Lounge membership, however.
Additionally, JetBlue Airways and American launched a limited partnership last year with both airlines codesharing on select routes in the northeastern U.S. Passengers on JetBlue's flights between PIT and Boston have Admirals Club access only through a codeshare ticket purchased through American.
The Admirals Club at PIT is open 5 a.m.-9:30 p.m. on Tuesdays, Wednesdays and Fridays, 1:30 p.m.-9:30 p.m. on Sundays and 5 a.m.-8 p.m. on Mondays.