Need a skateboard or a scooter? How about a laptop or an Apple watch? Jewelry? A 2019 Hyundai Sonata?
You can bid on those items and many more at the Allegheny County Airport Authority's annual auction, which returns this year on Saturday, Oct. 22.
Around 8,000 items are up for bid, including 300 pieces of electronics ranging from computers to Kindles. Jewelry bargain hunters will find 350 bracelets, rings and necklaces.
DIYers may be interested in the wide variety of tools, and budding musicians can bid on a Yamaha flute or a mandolin.
Bidding begins at 10 a.m., with doors opening at 8:30 a.m. at the Heavy Equipment Building on Cargo Road. Licensed auctioneer Joe R. Pyle will again lead the proceedings. Food trucks The Kabob Mob and Divine Swine will be selling breakfast and lunch foods at the auction.
'The Big Sort'
Items left behind by travelers at Pittsburgh International Airport that are turned into the lost and found are held for 30 days. When an item isn't claimed, it goes to the auction, which ACAA has held since 2011.
Emptying the lost and found and getting ready for the auction requires a Herculean team effort. Volunteers set up shop in the airport's Heavy Equipment Building and sift through dozens of boxes while they categorize items. The "Big Sort" takes two days.
"Every year there are common items travelers leave behind, things like keys, jewelry and laptops," said Elise Gomez, Manager of Customer Experience.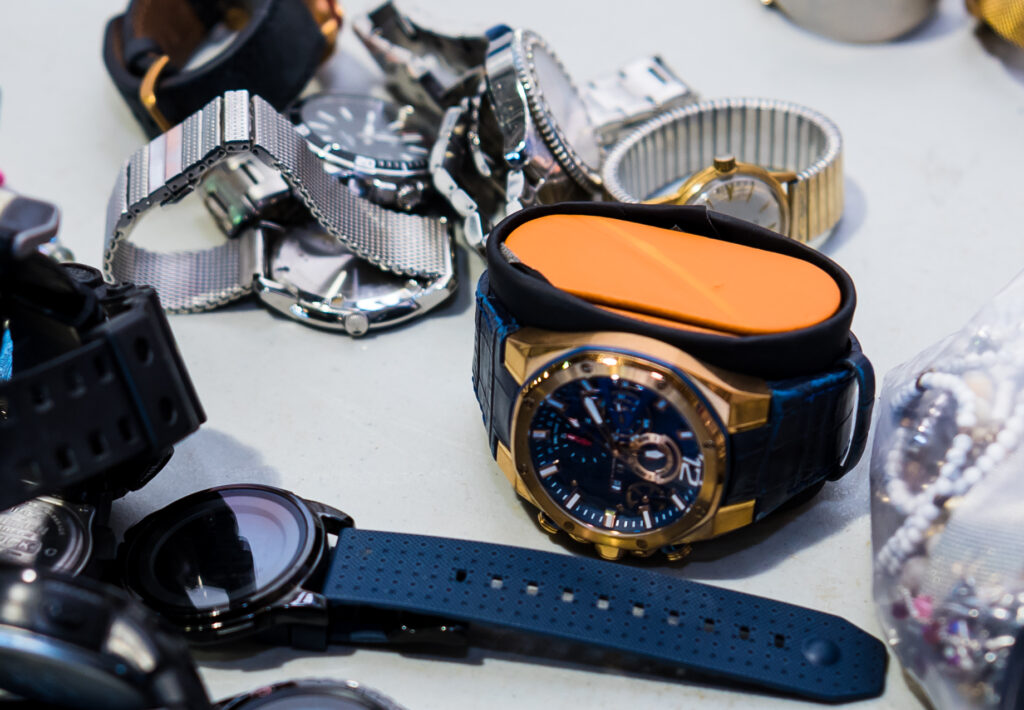 Passengers forgetting books, hats and water bottles is expected, given the often-rushed nature of travel, but a surprising number of unexpected items also turn up. This year, that includes extreme sports helmets with GoPro cameras, a security surveillance system, a baker's rolling pin and apron, flippers and goggles.
Other items for sale this year include a rice maker, car seats, a Canon camera, an Alienware game system and golf clubs.
"There's a wide variety of items sold at the auction that tailor to different people's interests, such as vehicles, electronics, tools, jewelry and maintenance equipment," said Gomez. "So there is something there for everyone. Many people like to come out to see what has been left behind by travelers."
Abandoned cars
In addition to personal items, travelers also leave vehicles behind at PIT. This year 11 are up for bid, including the Sonata, two Honda Civics and a Nissan Ultima.
Airport staff make multiple efforts to reach car owners. If they're unsuccessful, that task is turned over to police and state government, which can ultimately declare the vehicles abandoned.
The ACAA collects parking and storage fees from abandoned vehicles that are auctioned off; whatever money is left goes to the state.
Giving back
Proceeds from personal items left behind go to the ACAA Charitable Foundation, which helps support the airport's Art in the Airport program, aviation scholarships and workforce development. Last year, the auction raised more than $75,000 for the foundation.
Not everything left behind goes to the auction. The authority donates most clothing to Circles of Greater Pittsburgh, a nonprofit that assists individuals living in poverty. Unclaimed prescription eyeglasses are donated to the Pittsburgh chapter of the Lions Club.
For bidders, there will be a 15 percent buyer's premium with 5 percent waived for cash or check purchase. Cash, checks and credit cards will be accepted. Payment, inclusive of any taxes and fees, must be made in full at the auction.