Pittsburgh International Airport is getting a new neighbor – and it just so happens to be one of the largest companies in the world.
Last week, Amazon announced plans to build a new 1 million-square-foot fulfillment center in Findlay Township, about three miles from PIT. The facility is expected to create more than 800 full-time jobs in the region.
As the world's largest online retailer continues to expand and evolve, proximity to airports makes sense, said William Lauer, an aviation analyst and principal and chief investment officer for Allegheny Capital Inc.
"They are essentially a freight forwarder – they are moving goods all over the country," said Lauer. "As that kind of business gets larger and becomes more prominent, I expect that something like a very large warehouse connection with air freight is probably a critical next step."
The Seattle-based company operates more than 175 fulfillment centers worldwide, where employees pick, pack and ship products. Hillwood Group of Dallas and Chapman Properties, located in nearby Leetsdale, Pa., will lead construction on the new facility.
While there currently aren't any plans for Amazon's Prime Air to launch cargo service at Pittsburgh International, the new fulfillment center is a step in the right direction for the area surrounding the airport, said Vince Gastgeb, PIT's vice president of government and community affairs.
Prime Air recently announced plans to expand beyond its current fleet of 40 cargo aircraft at more than 20 airports.
"[Amazon is] probably going to be even more culturally integrated with the air freight business than what it is right now," Lauer said. "It's a logical evolution – it could become significantly larger than 800 jobs."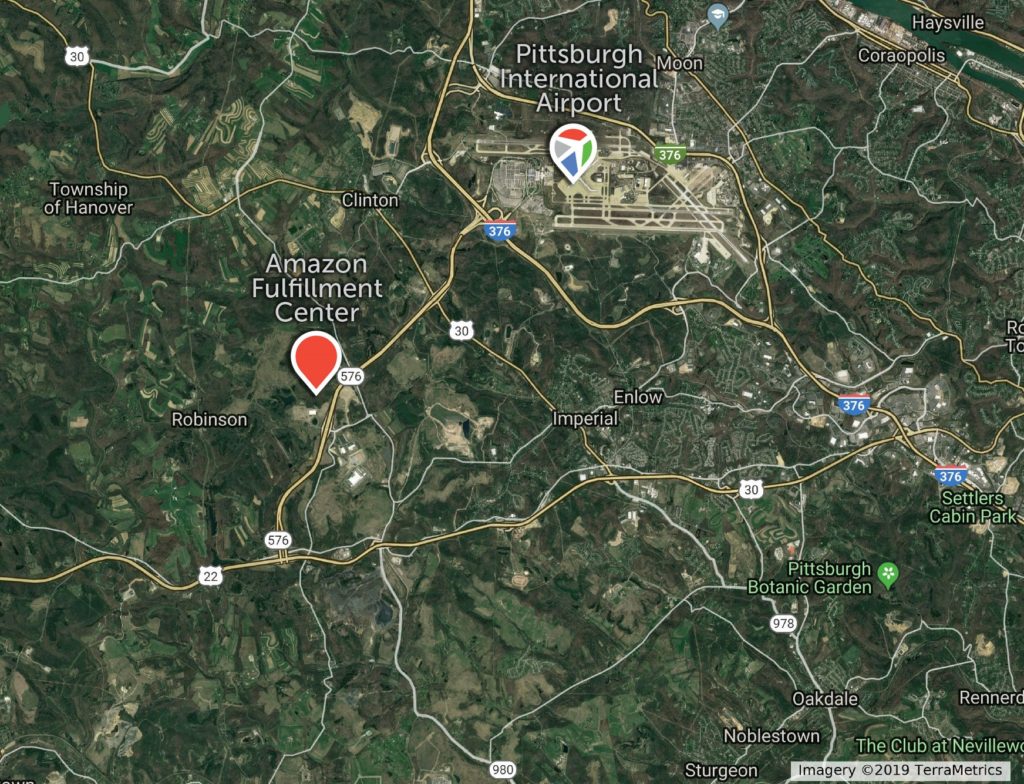 Having a shovel-ready site near the airport was an attractive feature for Amazon, said Tony Rosenberger, president and chief operating officer of Chapman Properties, noting that the air and highway access, as well as the nearby booming natural gas industry, increased the appeal.
"The fact that anybody that comes and goes out of a corporate charter, either the developer or the owner, has access to an airport three miles away is wonderful," he said. "Everything that is going on between the airport and our proximity to it is just about everything that is needed to make growth happen."
In addition to the Amazon facility, the airport broke ground on a 195-acre parcel, the Pittsburgh Airport Innovation Campus, in Dec. 2018. The site will feature office space, research and development laboratories, warehouses and industrial manufacturing. It is expected to open in conjunction with the airport's Terminal Modernization Program in 2023.
Other recent news for the airport corridor is the announcement that EFL, a global freight forwarding company, is partnering with Qatar Airways Cargo to use PIT as its next major North American distribution point.
"This is creating jobs, economic development opportunities and it's maturing our transportation from a multi-modal perspective," said Vince Gastgeb. "We have air service, Amazon will have truck service and a lot of times they intersect."