A Blue Sky investigation has uncovered a major case of nepotism at Pittsburgh International Airport.
Gracie, the apparent ringleader of this patronage scheme, has managed to secure employment for her two children and nephew.
All four airport workers are golden retrievers, Blue Sky has learned. And by every indication, they are all earning their keep.
Gracie is a valued member of the airport's PIT PAWS therapy dog team, roaming the terminals to provide a warm welcome to passengers and employees alike. Also serving on the team are her pups, Hollie and Clancey, and nephew Sunny.
And there are even more goldens in the PIT PAWS program: Radar is a distant relative of Gracie's family, and Caleb is a lifelong friend of the group.
Gracie, Hollie, Clancey and Sunny come from the same breeder, Anne Pittman, who owns Brianne Goldens in Valencia, Pa., and has been breeding golden retrievers for 22 years.
Goldens make great therapy dogs, Pittman said, and she begins working with them days after they're born. Before they leave her house, she gets them accustomed to loud noises, such as thunderstorms. She plays with their paws, looks in their ears and mouths and even has her young grandchildren do what they do best: lovingly torture the pups.
"I socialize my puppies the moment they open their eyes and do everything I can to ensure they are well-mannered and well-adjusted when they leave my house and go to their new family," Pittman said.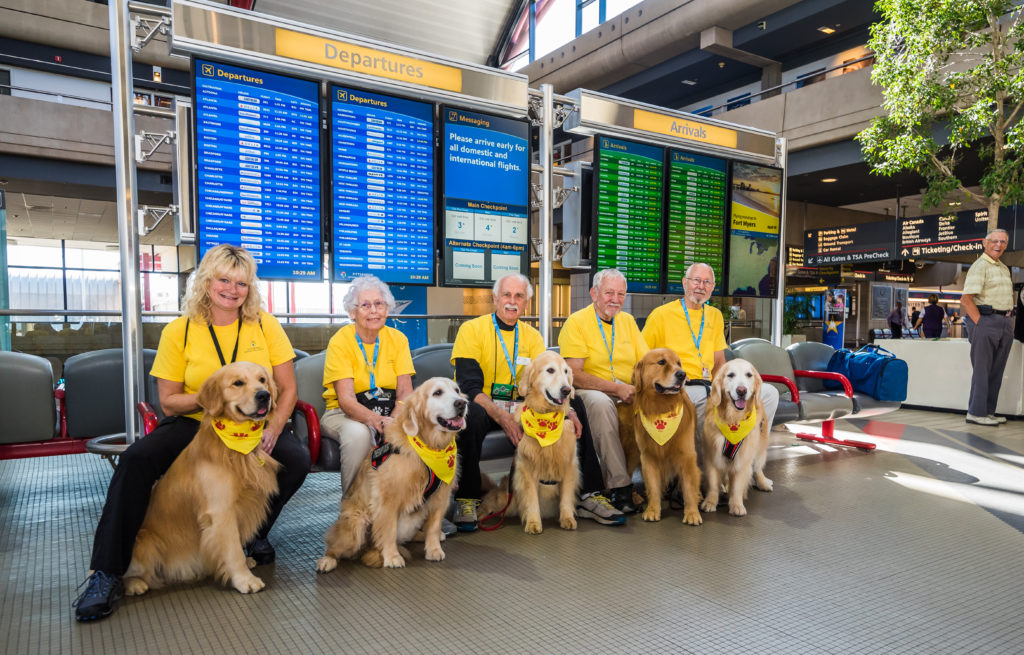 Club Golden
The four golden retrievers live with three different owners: Clancey is owned by Jim Kushner, John Osheka is the proud owner of Sunny, and Ray and Shirley Koper are the owners of Gracie and Holly.
The owners are all airport volunteer ambassadors who initially met and became friends through the Greater Pittsburgh Golden Retriever Club, a non-profit organization founded in 1973. The 71 members commit themselves to enhancing the natural abilities of golden retrievers through training and educating the community about the breed.
Members of the club are responsible for ensuring their dogs are kept safe and under control at all times, and trained so that they are an asset to their communities. Dogs must be maintained with their safety and good health in mind, including adequate and appropriate attention, socialization, grooming, feeding, veterinary care, housing and exercise.
The club offers members and their goldens courses on agility, conformation (show dogs), field work for hunting, therapy work, search and rescue and drug-sniffing.
"I think the golden retrievers work so well with passengers at the airport because they have a great temperament and are very outgoing," said Patricia Depp, the club's president. "They are very laidback, family-oriented and would rather sit there like couch potatoes being loved than going out and getting in trouble."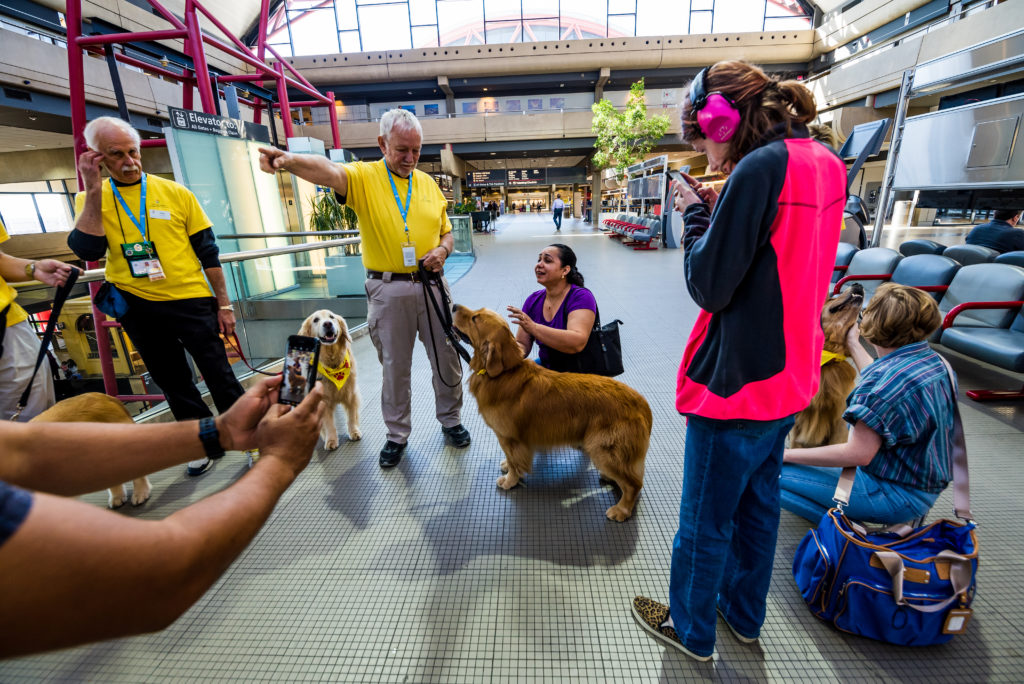 The dogs are certified through Therapy Dog International and are required to log other volunteer hours. In addition to their work with PIT PAWS, the goldens keep busy by volunteering their services at different facilities around the Pittsburgh area. But passengers and employees can find at least one golden family member in the airport a few times per week.
Sunny, one of the most active members of the team, goes to universities to help relieve stress for students during exams and visits hospitals to nurture the sick. A former show dog and winner of the prestigious American Kennel Championship in 2018, Sunny also is a part of the Butler County Sheriff search-and-rescue team, helping to search for missing people lost in the woods or after a building collapses. His strong nose enables him to pick up a human scent within an 80-acre radius.
Sunny has also worked in court, helping to comfort children during divorce and child abuse cases.
Therapy dogs Gracie and Holly can be found in the terminal every Monday morning.
"We really enjoy the number of children that are traveling and they go straight to the dogs as soon as they see them," said owner Ray Koper. "It is fun for the dogs. Almost everyone that comes up to visit has a dog of their own and mentions how upset they are to be leaving them behind."
Proving once again that there is no better place for a family reunion than Pittsburgh International Airport.