We'll keep the light on for you.
In the wake of several high-profile airport power outages that cancelled thousands of flights and disrupted travel plans across the country, Pittsburgh International Airport announced plans Friday to build a first-of-its-kind microgrid that will completely power the facility.
The microgrid is unique because not only will it power both terminals, the airfield, the Hyatt hotel and a Sunoco gas station, it will be fueled in part by the airport's own natural gas wells drilled on-site and nearly 8,000 solar panels across eight acres.
"Part of our mission is to be a world leader in aviation innovation and this project is about powering airports into the future," said Pittsburgh International Airport CEO Christina Cassotis. "This project will bring power resiliency and redundancy to enhance safety and ensure continued operations for the traveling public."
A microgrid is an independent electricity source that can operate autonomously. The airport's microgrid, which will be built, operated and maintained by Pittsburgh-based Peoples Natural Gas, will be its primary power source but will remain connected to the traditional electrical grid as an option for emergency or backup power when needed due to extreme weather events or other grid interruptions. The microgrid is expected to be operational by summer 2021.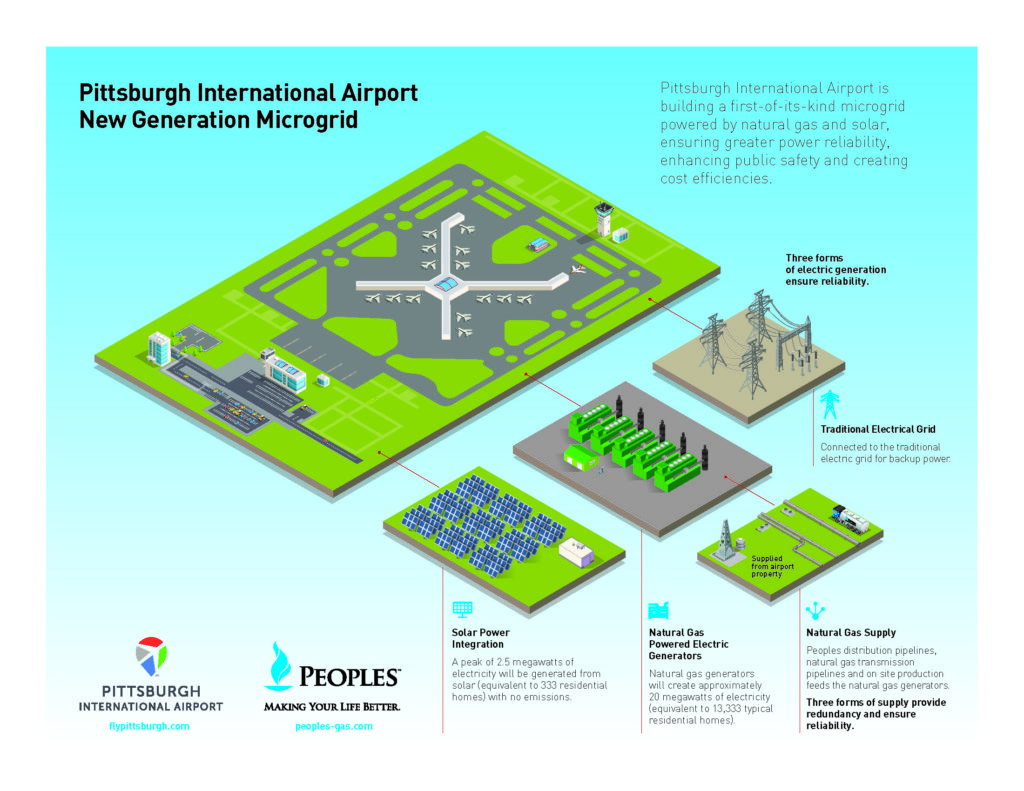 Seeing the effect a power outage can have on a major airport – including recent incidents at Los Angeles' LAX and Atlanta's Hartsfield-Jackson — were a main driver in deciding to build a microgrid on airport property, Cassotis said.
Airport officials said the microgrid will make Pittsburgh International one of the most resilient airports in the world.
Other major U.S. airports evaluating the possibility of building microgrids include San Diego, Los Angeles and Atlanta. Denver International Airport is also considering plans for a full airport microgrid to bolster its energy reliability, after the city built a microgrid to power a transit center between the airport and the downtown area. Additionally, a microgrid powers the TWA hotel on property at New York's JFK airport.
A Growing Trend
Airports are among several other public and private institutions to deploy microgrids as a source for reliable, clean and resilient power, said Jared Leader, Manager of Industry Strategy for the Smart Electric Power Alliance.
"With the threat to operations from natural disasters, it is important for critical facilities, like airports, to explore the concept of installing local clean distributed energy resources that are able to serve critical loads if the grid goes down," Leader said.
According to energy research firm Navigant, there are more than 2,000 microgrid systems worldwide, with North America having the largest capacity of grids followed by the Asia Pacific region, the Middle East and Africa.
The Allegheny County Airport Authority board, which operates Pittsburgh International Airport, approved a 20-year contract with Peoples Natural Gas as part of the agreement with no cost to the airport, other than its electric bills. Airport officials estimate more than $500,000 in savings in the first year alone.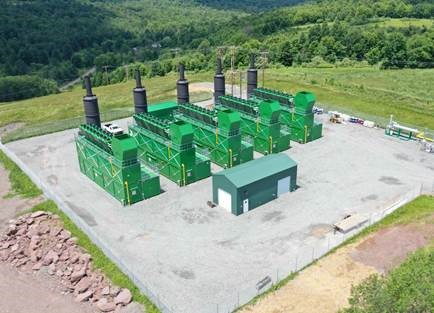 Plans for the microgrid include five natural gas-fueled generators and approximately 7,800 solar panels that will produce more than 20 megawatts of electricity, or the equivalent of powering more than 13,000 residential homes. The airport's current peak demand is approximately 14 megawatts.
For Peoples, the microgrid project is an opportunity to help the airport develop an innovative solution to produce cleaner, more sustainable energy at a lower cost, and to support future growth and development at Pittsburgh International, according to Morgan O'Brien, President and CEO of Peoples.
"Energy is quite literally part of the bedrock of our region," O'Brien said. "This project illustrates our region's ability to show the world how to combine innovation and technology to be more responsible to our environment while creating a modern state-of-the-art airport that people will celebrate and that will help power this region's growth into the future."
The microgrid will be powered by natural gas drilled on-site by CNX Resources, in addition to gas from the interstate pipeline system and solar generation.
"The public and private sectors coming together to strengthen an important regional asset and utilizing our abundant, home-grown natural resources to make it happen — this is exactly the kind of pragmatic thinking and leadership that can drive our region forward across the board," said CNX Resources President and CEO Nick DeIuliis.