Months into a global crisis, the aviation industry continues to face an uncertain future.
One change, however, is becoming increasingly evident: airlines will likely be smaller as a result of the drop in travel demand caused by the coronavirus pandemic.
On May 15, Air Canada announced it will reduce its workforce by 50 to 60 percent in June. Other carriers that expect to experience significant reductions in the coming weeks and months include United—which has projected it could be 30 percent smaller by the fall—American Airlines and Delta Air Lines.
Downsizing operations
Dallas-based aviation consultant Rhett Morgan explained that industry professionals expect the pandemic to reduce the scale of airlines' operations in a number of ways.
"I think it's in the size of their fleet, the number of employees, and ultimately that means their capacity and overall footprint," said Morgan.
Since March 24, the average combined total of daily travelers at U.S. airports has yet to exceed 350,000, according to data provided by the Transportation Security Administration. While daily traveler counts are beginning to increase slightly, they remain roughly 90 percent below the average of more than 2.3 million passengers per day this time last year.
In response to the drop in travelers, airlines were forced to make significant cuts to their networks. By mid-April, the number of daily commercial flights in the U.S. had dropped as low as 24,000—a 76 percent decrease compared to the month before.
With the flight reductions came other changes for airlines, including voluntary furlough and early retirement programs for employees, hiring freezes, parked planes and deferred deliveries and acquisitions of new aircraft.
A report produced by Airlines for America shows that through May 19, more than 3,000 aircraft remain idled in the U.S.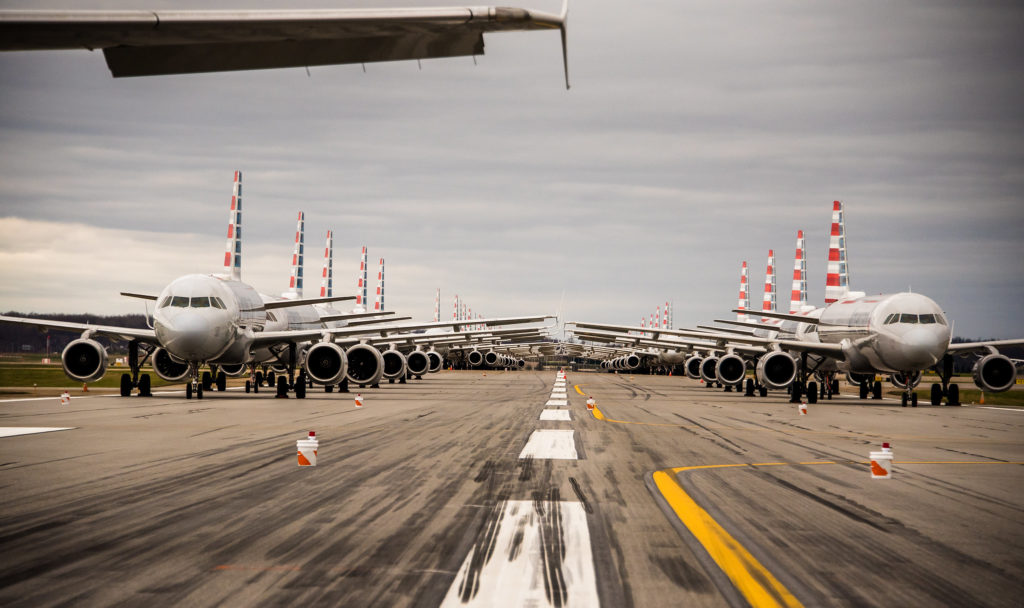 A number of those idled aircraft will be phased out entirely, as airlines are accelerating the retirement of parts of their fleet. Examples include American's fleets of Embraer E190 aircraft, Boeing 757, Boeing 767 and Airbus A330-300s. Additionally, Delta is retiring its remaining McDonnell Douglas MD-88/MD-90 planes.
Brett Snyder, editor of the Cranky Flier aviation blog, explained that airlines project it could take years to recover from the crisis, so it makes sense that they would retire parts of their fleets.
"All of the airlines have parked a certain number of airplanes, even if it's not an entire fleet," said Snyder. "They may have not announced a retirement yet, but for some, it's for sure going to happen. The reality is that nobody is buying airplanes new right now, so you might as well get [some] out of your fleet. You can always pick up new airplanes down the line."
Currently, airline schedules show that significant capacity reductions will continue through next month. For domestic routes in June, schedules show a 66 percent reduction for American Airlines, 82 percent reduction for United and 78 percent for Delta.
However, as states across the country are lifting stay-at-home orders, the industry is anticipating an upward trend in leisure bookings during the summer months.
"Right now, the numbers are showing that people are starting to fly again, for leisure," said Morgan. "I don't know if they are necessarily going on vacations, but likely to visit friends and relatives. We are seeing an upward trend in bookings, though, and we're hoping that continues."
Morgan and Snyder each noted that the tipping point for airlines will likely come in the fall.
As part of the $2.2 trillion CARES Act package passed by Congress in March, many airlines applied for a payroll assistance program. In order to accept the federal aid, airlines are required to adhere to specific guidelines, including maintaining a percentage of flights at airports the airlines currently serve and retaining employees through the end of September.
So, what will happen when the CARES Act expires?
It's all dependent on demand, Snyder said.
"No one knows, but hopefully capacity will be closer to 50 percent instead of 20 percent," Snyder said. "It all depends on what happens with the virus. It's absolutely going to be much lower than it was last October, and what that means, we just don't know."