People are starting to travel again. For the first time since March 21, TSA checkpoints saw more than 500,000 travelers move through U.S. airports on a handful of days in June.
While numbers remain significantly low compared to the same period last year, the slight uptick is a step in the right direction for airports and airlines.
Last Friday, PIT had about 5,000 people move through the checkpoint, the highest number since the pandemic caused travel to nosedive in mid-March. Normally, PIT would see more than 15,000 people through the checkpoint daily. For Pittsburgh International, which is averaging about 3,509 passengers per day in June, the gradual return of travelers will be accompanied by the reopening of some concessions and other facilities throughout the terminals.
This week, officials announced the airport will roll out the second phase of the "PIT Safe Travels" program, which was launched last month to prepare the terminal for the return of travelers. The new initiative includes face covering requirements for passengers and staff, social distancing guidelines, and protective shields in areas like airline ticketing counters and TSA checkpoints, among other safe practices.
READ MORE: Airports Ready as Passenger Numbers Rise
READ MORE: TSA Making Changes for Health of Travelers, Staff
While the airport continues to implement other health and safety measures, the second phase of the PIT Safe Travels program is focused on reopening parts of the terminals that have not been in use since the start of the pandemic.
"It's a gradual increase, but we are starting to see more and more passengers pass through the terminal," explained April Gasparri, PIT's Senior Vice President of Public Safety, Operations and Maintenance. "With the return of travelers, we want to make sure we have a reasonable amount of concessions options and parking spaces open for them. Most importantly, though, we're focused on ensuring their health and safety throughout their journey."
Additions include:
Concessions – A number of airport shops and restaurants are expected to reopen, using a phased approach based on passenger traffic numbers.
Parking – The airport's long-term parking lot will reopen Thursday, June 25, while the Extended Term lot will remain closed.
Security Checkpoints – PIT's Alternate Security Checkpoint is expected to be open during limited hours (Sundays, Mondays, Thursdays, Fridays and Saturdays, 4:30 a.m. to 6:30 a.m.)
Global Entry Enrollment: The CBP Global Entry enrollment office, located on the third floor of PIT's Landside Terminal, will reopen for in-person interviews beginning July 7.
At this time, two of Pittsburgh International's restaurants are open for dine-in seating: local eateries Primanti Bros. and Penn Brewery. However, a handful of other shops and restaurants are available for grab-and-go items. A full list of open concessions can be found here.
Along with reopening parts of the airport facility, PIT is expanding upon the first phase of the PIT Safe Travels program with new safety measures to help prevent the spread of COVID-19.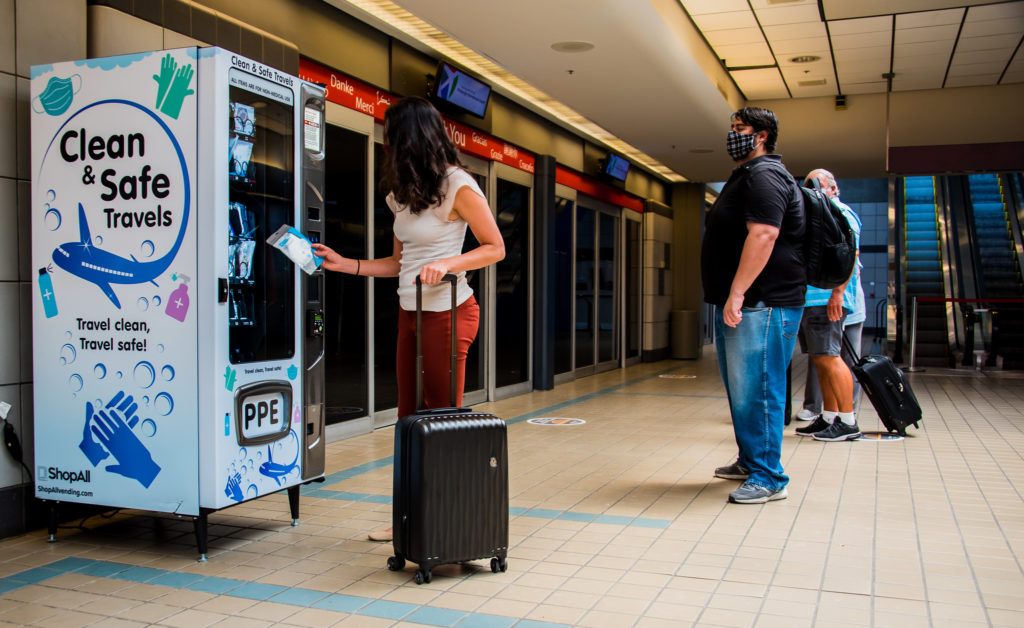 Recently, the airport added two personal protective equipment vending machines in its Landside Terminal for travelers to purchase masks, gloves and hand sanitizer. Additionally, airport crews are working to reconfigure seating in gate areas, restaurants and the food court in the Airside Center Core.
Gasparri added that the airport will continue to evolve the program using technologies including touchless transactions and UV cleaning to benefit travelers and staff.