While the pandemic has greatly slowed air travel, both airlines and flyers are making the most of carriers' loyalty programs.
Passengers are using their rewards points to book great deals on flights, including first-class seats, as airlines try to attract flyers with great values, The Wall Street Journal reported.
"First and foremost, loyalty programs in today's world are not just focused on distance travelers," said Sid Krishna, head of loyalty and cobranding with Spirit Airlines. "In the older days, distance meant something, frequency meant something. Today's programs are more focused on loyalty and supporting our guests who are investing their time and money with us."
At the same time, several airlines are using their loyalty programs as collateral for billions of dollars in loans.
United Airlines pledged its MileagePlus program in June for $5 billion in loans, while Delta Air Lines used its SkyMiles program in September to raise $6.5 billion, later increased to $9 billion.
That same month, Spirit raised $850 million in financing by leveraging its loyalty program. The airline also announced it no longer intended to participate in the U.S. Treasury's secured loan program under the CARES Act.
"We've spent the past six months confronting the COVID-19 crisis head on and taking major steps to ensure our financial viability. We owe that to our valued team members, guests and investors," said Ted Christie, president and CEO of Spirit, in a news release. "Our low fares and top-class reliability present a great value to consumers as travel demand builds and the economy recovers. We'll be at the forefront of that recovery."
Program redesign
Most people no longer carry BlackBerry phones or mail DVDs back to Netflix, although both were popular in 2006 when Spirit first created Free Spirit, its loyalty program. Now, the airline has announced a ground-up redesign of the program to reflect fliers' needs.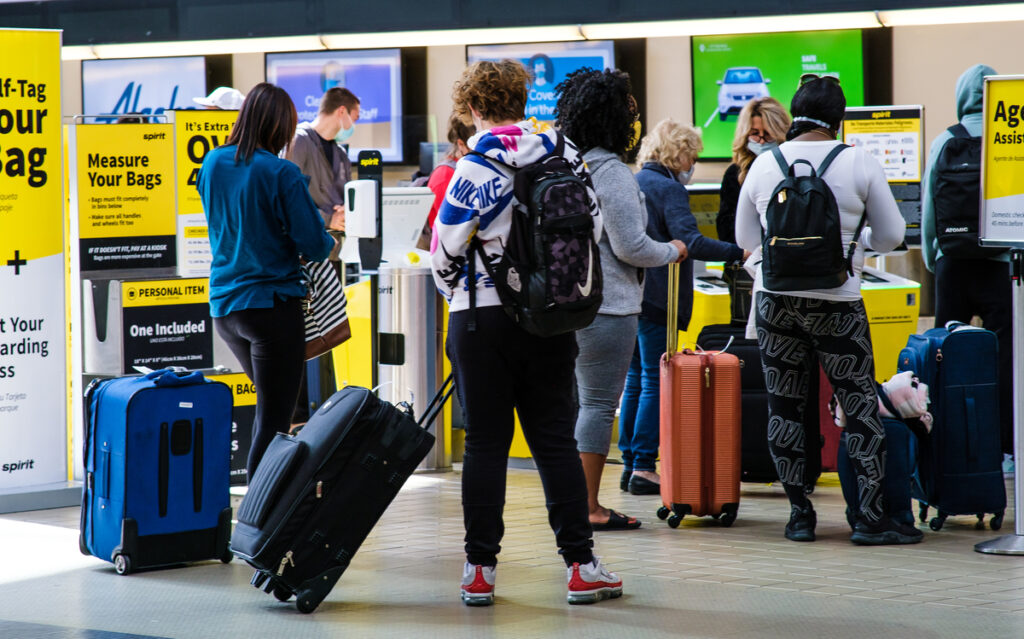 "Loyalty programs should work for travelers whether they fly once a year or once a week. You should be rewarded either way," Christie said in a news release. "We decided to start with a clean sheet of paper and re-imagine what Free Spirit could be. Points don't mean anything unless you can actually use them."
The program is built around points with rewards based on dollars instead of miles, so that it can benefit someone flying short, frequent trips from Fort Lauderdale to Pittsburgh just as much as it benefits someone taking one trip from Burbank to Boston.
How it works
Every member of the program gets at least six points for every dollar spent on fares and earns at least 12 points for every dollar spent on options like seats and bags. Reward redemptions start at 2,500 points.
The program has no blackout dates, with fliers able to choose "every seat on every plane" using rewards, Krishna said.
Other features include:
Points pooling, which allows up to eight friends or family members to combine points and earn reward flights faster.
Redeeming points and cash together, using as few as 1,000 points, then paying cash for the remainder of the fare.
No expiration date on points, when completing at least one qualifying transaction per year.
The airline has been working on the redesign of this program for two years, and its new features were unaffected by the pandemic, Krishna said.
"We feel we have created a program that can survive and sustain in any of these kinds of conditions, because leisure travel and value-conscious travel are the things that will come back to normalcy quickly," he said.
The release date of the program was originally scheduled for the fall, but now it will begin Jan. 21, when Spirit hopes fliers can start taking advantage of these benefits, Krishna said.
The new program also features silver and gold status levels and the Free Spirit credit card, which offer extra perks and allows holders to earn extra points.
Additionally, the airline's subscription-based $9 Fare Club is getting a new name—the Spirit Saver$ Club—and new added perks, such as discounts on seats and priority boarding.
"We wanted to create real value for those points, we wanted to create rewards that are actually rewards that you can use," Krishna said. "We didn't want it to be something where you just keep collecting points that could never be used for something."