Typically, spring break travel means trips for college students, families with school-age children, or older folks squeezing in vacations before peak summer season. And although most colleges have eliminated or shortened spring break, it seems the annual travel surge may not be entirely absent this year.
Baby Boomers who have received both doses of the COVID-19 vaccine are feeling safer, said Bob Thompson, partner at Ambassador Travel agency.
"We have seen a trend in the last 10 days," he said. "All of a sudden, like somebody turned the spigot and we're getting calls every day from clients."
Bargain hunters are also active of late.
"Price right now is dictating that travel business—and the prices are so low," said Steve Lange, owner and agent with Pittsburgh-based Travel Sharks, noting that fares to popular destinations such as Florida are $59 each way.
Overall, travel remains far below pre-pandemic levels. Across the country, daily passenger numbers as a whole have topped 1 million several times in the last few weeks, compared to numbers between 500,000 and 800,000 in January, but the average number of passengers per day during the last week in February was down 56 percent compared to the same time period prior to the pandemic.
In 2019, an average of about 2.18 million passengers per day took to the skies during the last week in February, while the average per day for the same week this year was only 951,500, according to the Transportation Safety Administration.
However, in a recent poll of 1,200 travelers, about 12 percent said they had spring break plans, with half opting for air travel and going more than 500 miles away from home, according to market research firm Destination Analysts.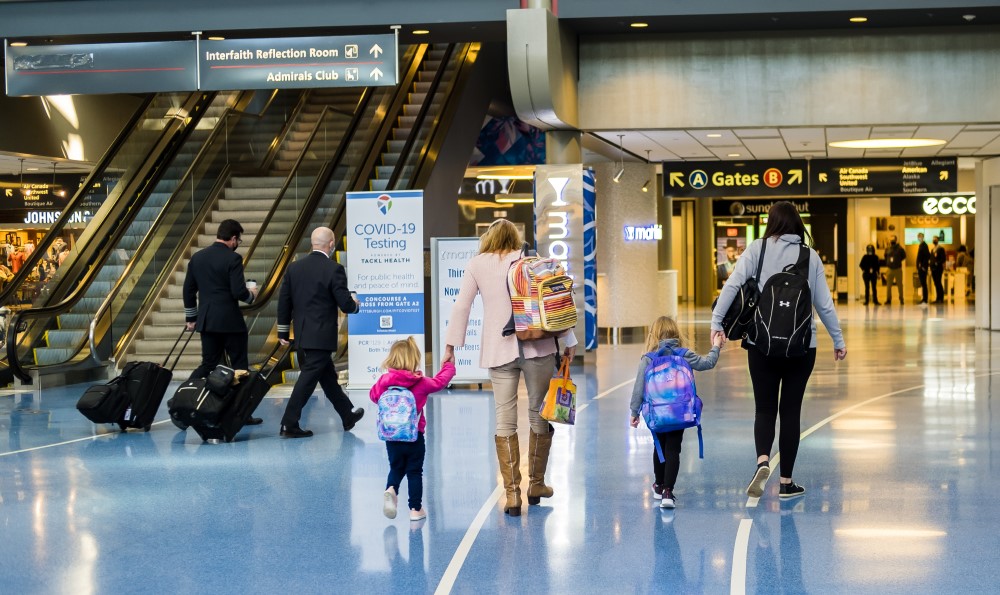 Ultra-low cost carriers such as Spirit and Allegiant that fly to vacation destinations, especially domestic ones with smaller airports, seem to be best positioned to capture the share of fliers who are taking off, said Brett Snyder, founder of the Cranky Flier website.
"[The ULCCs are] feeling bullish they're going to get a lot of people. We'll see if they succeed or not," he said.
Although a new federal mask mandate went into effect Feb. 1, with the Centers for Disease Control and Prevention ordering masks on airplanes and all other forms of public transportation, some states have eased mask mandates.
In Florida, statewide fines and penalties were suspended Sept. 25, while city- and county-level mandates are still being enforced. Texas Gov. Greg Abbott lifted that state's mask mandate on March 2. Other travel destinations without mask mandates include Arizona, South Carolina and Georgia.
With the proper precautions, including masks and handwashing, air travel is relatively safe, Snyder said, but that's only part of any vacation.
"The bigger concern in my mind is what happens when you get somewhere," he said.
Travelers are still being cautioned to avoid travel altogether by the CDC, which encourages negative COVID-19 tests one to three days before traveling. The TSA reminded travelers of its increased safety measures, touchless technology and efforts to vaccinate personnel during the busier period.
Mexico has eased restrictions for popular coastal cities beginning in March, allowing 60 percent capacity, but some countries are still not allowing American travelers. And, all air passengers traveling to the United States are required to provide a negative COVID-19 test result upon return, according to the CDC.
Some travelers who otherwise might have gone overseas or to the Caribbean for spring break instead may be sticking closer to home, as evidenced by busy airports in the Florida panhandle such as Panama City and Pensacola, Snyder said.
"That is very traditionally more of a drive market … and now we've seen a lot of growth on the air service to that area," he said.
If anyone is wary that their attitude might change, the best thing to do is pay extra for travel insurance, especially if a "cancel any reason" policy is available, from 24 hours up to one hour before a flight.
"It's expensive, but it does put you in the driver's seat if you feel that you want that peace of mind, but it isn't available for every kind of product," Thompson said.
With Apple Vacations' private charters through Allegiant from Pittsburgh to Punta Cana and Cancun beginning again on March 20, Thompson said he's seen about 5 percent of his business return. The cruise industry, however, is still under a no-sail order until at least Sept. 30.
Lange said he's still waiting for a light at the end of the tunnel.
"I'm anticipating the phone calls," he said. "Usually, by now, I would have booked a dozen trips already for the summer."
As for how spring break could forecast summer travel—especially international travel—is still anyone's best guess, dictated mainly by governmental restrictions, Snyder said.
"I think that by summer there should be some more opportunities," he said.