When you want to reinvent a transportation industry, Pittsburgh is always a good starting point.
The home of AI-powered autonomous vehicles will be one of 16 cities initially served by Breeze Airways, a new U.S. airline that launched Friday with the goal of "merging technology with kindness," according to its founder, David Neeleman.
Positioned as a hybrid between low-cost carriers and legacy airlines, Breeze will begin offering nonstop flights from Pittsburgh to four cities in the eastern U.S., including new service to Hartford, Connecticut, and Providence, Rhode Island.
"The fact that Breeze selected Pittsburgh as one of its initial markets to launch flights is a testament to our strong regional economy and demand for air service as we rebound from the pandemic," Allegheny County Executive Rich Fitzgerald said. "We welcome Breeze to Pittsburgh, and I'm pleased that local travelers will have another option for nonstop service, including to markets not currently served."
Salt Lake City-based Breeze is Neeleman's latest airline startup, following charter company Morris Air (later acquired by Southwest), WestJet, JetBlue Airways and Azul Brazilian Airlines.
"David Neeleman is a global leader of innovation in aviation and as the industry continues to gain momentum it's important to keep expanding our air service portfolio," said PIT CEO Christina Cassotis. "We're excited to be among the first cities that Breeze will serve."
In addition to Hartford and Providence, Breeze will operate routes from PIT to Charleston, South Carolina (also served by Allegiant and United) and Norfolk, Virginia (also served by Allegiant).
While the COVID-19 pandemic devastated much of the aviation industry, Neeleman said the turmoil actually created opportunities for his company.
"The effects of the pandemic on the nation's air service has meant many secondary and tertiary markets have seen a significant reduction in flights," he said. "There are so many city pairs needing nonstop service around the country, we have a further 100 cities under consideration."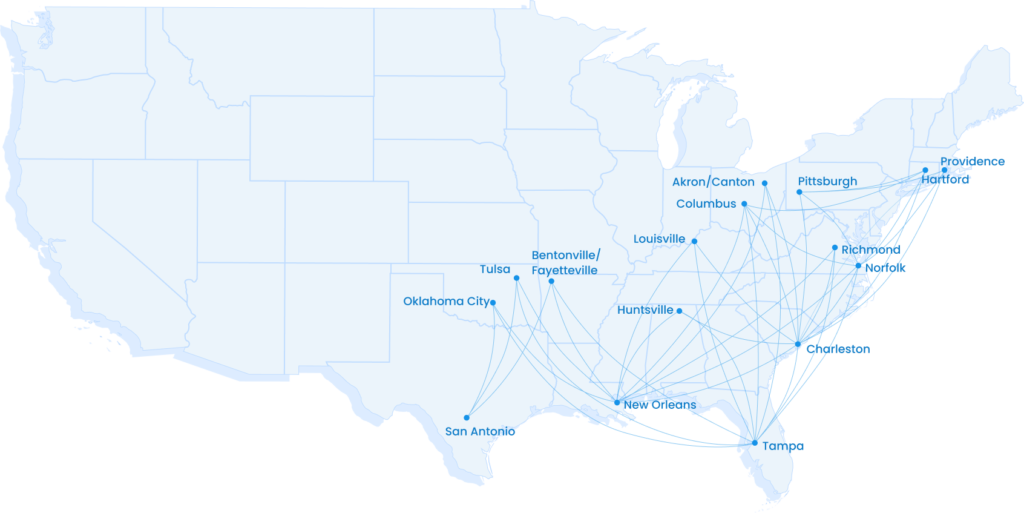 Breeze's service will begin on 13 single-class Embraer jets this summer, with plans to expand the fleet beginning in October with a new Airbus A220-300 each month over the next five years. Passengers initially will be able to choose from fares that include "Nice" regular seating or "Nicer" seats with extra legroom, with the A220s offering a premium "Nicest" cabin.
The airline's rollout comes with fares as low as $39, with no change or cancellation fees. Seat assignment and baggage fees vary depending on the level of fare chosen.
"Breeze provides nonstop service between underserved routes across the U.S. at affordable fares," Neeleman said. "A staggering 95 percent of Breeze routes currently have no airline serving them nonstop."
Travelers out of PIT will be able to take nonstop Breeze flights beginning July 8.
The new partner exemplifies PIT's approach to building its air service portfolio, prioritizing diversification of airlines, creating a variety of nonstop choices and price points for travelers.
Breeze's unique business model fits well into that philosophy, Cassotis said.
"Adding this airline to our portfolio strengthens our ability to give customers convenient and cost-effective travel options," she said.
To learn more about Breeze or book tickets online, go to http://www.flybreeze.com.