Three years after launching nonstop service between Pittsburgh and Seattle, Alaska Airlines is adding another flight between the Steel City and the Emerald City.
Beginning June 16, Alaska is adding a second nonstop flight between Pittsburgh International Airport and Seattle/Tacoma International Airport. The additional flight will be added in time for the peak summer travel season, allowing for additional travel options to Seattle as well as popular connections through Seattle to the Pacific Northwest, Hawaii and Alaska.
The second daily flight will depart Seattle at 10:05 p.m. Pacific Daylight Time and arrive in Pittsburgh the next morning at 5:45 a.m. Eastern Daylight Time. The return flight will depart Pittsburgh at 7 a.m. local time and land in Seattle at 9:14 a.m. The morning flight will supplement the existing afternoon arrival and departure from PIT.
Alaska launched daily service between Pittsburgh and Seattle in September 2018 fueled, in part, by the growing technology sectors both cities have in common. The airline has carried over 249,000 passengers to and from PIT as of October 2021.
"Since launching service to Pittsburgh in 2018, the community has responded well to our once-daily flight to Seattle," said Brett Catlin, vice president of network and alliances at Alaska Airlines. "As we emerge from the pandemic, we think the greater Pittsburgh region is well positioned to support increased air service and we're excited to double our flights as of next June."
Alaska first planned to add additional flights to the PIT-SEA route to twice daily prior to the pandemic but paused those plans until the airline industry recovered.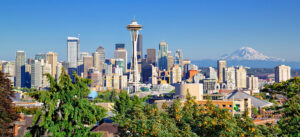 "Alaska Airlines has been a tremendous partner since their first flight from Pittsburgh International Airport more than three years ago," said Bryan Dietz, senior vice president of Air Service & Commercial Development. "The addition of a second daily flight to Seattle is a testament to the strength of the Pittsburgh region for leisure and business travelers alike and will significantly bolster the tech connection shared between these two markets."
The technology industry driving demand continues to grow rapidly. Household names like Amazon and Microsoft, both headquartered in Seattle, operate large regional offices in the Pittsburgh region. In addition, Pittsburgh-born companies like Panopto and Duolingo have added space in Seattle as they've expanded operations.
"We are excited to see Alaska Airlines build this vital connection for Pittsburgh's technology ecosystem," said Audrey Russo, president and CEO of the Pittsburgh Technology Council. "A nonstop connection to Seattle makes it easier not just for our tech companies to access capital, talent and customers, but for companies on the West Coast to access Pittsburgh. Without connections to premiere innovation centers, our tech industry cannot thrive."
The technology sector isn't the only quality shared by Pittsburgh and Seattle. Both are among the top five cities in the U.S. when it comes to the largest concentration of philanthropic foundation assets per capita.
Additionally, Pittsburgh and Seattle share strong healthcare sectors that use the booming technology scene for innovations in life sciences research and development.