World traveler. Pioneering female journalist. Pittsburgh native.
It was only fitting that Nellie Bly became the third lifelike figure greeting travelers at Pittsburgh International Airport. Officials from PIT and the Sen. John Heinz History Center held a welcoming ceremony for the trailblazer in the Airside Terminal on May 5—her 158th birthday—where she joined fellow notables George Washington and the Pittsburgh Steelers' Franco Harris.
Don't know Nellie Bly? Born Elizabeth Jane Cochran (Nellie Bly was her pen name), she pioneered a new kind of investigative journalism in 1887 when she went undercover to expose the horrific conditions at the Women's Lunatic Asylum on what is now New York's Roosevelt Island.
Two years later, at age 26, Bly set out on a trip around the world inspired by the fictional character Phileas Fogg in Jules Verne's book Around the World in 80 Days. Her 25,000-mile journey required her to mostly rely on trains and huge ocean liners that took weeks to cross the ocean and were prone to dangerous weather.
Much has changed in 130 years. In honor of her arrival at Pittsburgh International Airport, we thought we'd give Nellie the ultimate travel upgrade: traveling in comfort and style around the world in a mere seven days, beginning and ending her journey in her hometown of Pittsburgh.
Here's Nellie's itinerary:
Flight #1: Pittsburgh to London
As Nellie did more than 130 years ago, she will kick off her trip with a visit to the United Kingdom, this time aboard British Airways' nonstop flight from PIT to London Heathrow. The airline's Boeing 787 Dreamliner will take Nellie to London in seven hours, much faster than the eight days it took her to cross the Atlantic. In addition, the Dreamliner's lower altitude cabin pressure will make Nellie considerably more comfortable than she was in 1889.
Leaving at 9:50 p.m. from PIT, Nellie will arrive in London at 10:10 a.m. the next morning. She'll have nearly two full days to experience The Swinging City. On her first trip, she visited the Houses of Parliament and the London Offices of the World.
This time, Nellie will check off some new attractions on her bucket list, including Big Ben, Kew Gardens and St. Paul's Cathedral. She'll dance in the streets at the Platinum Jubilee—a celebration of Queen Elizabeth II's 70-year reign—and find time for a pint or two at a London pub.
Flight #2: London to Sydney, Australia
After a busy two days in London Town, Nellie will board British Airways' longest international route, from London Heathrow to Sydney, Australia, with a fuel stop in Singapore. Also on a Boeing 787 Dreamliner, it is a flight so long that Nellie will land two days ahead of her departure and add another accomplishment to her impressive resume: time traveler.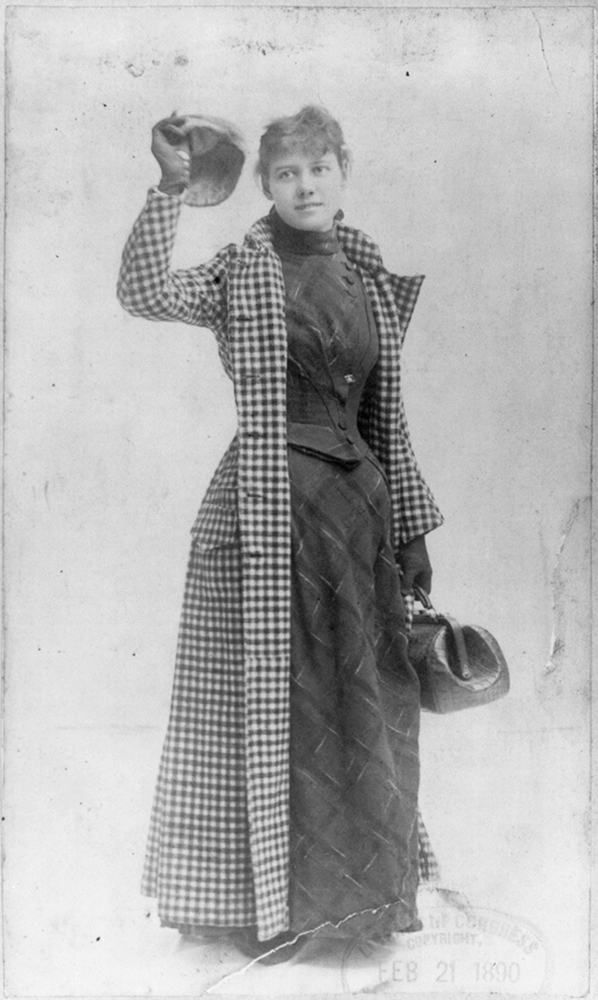 The Land Down Under will be a new continent for Nellie and it will be a busy couple of days. Nellie will of course hit up the famous Opera House and visit the Sydney Tower Eye to document its amazing views.
Later, she'll visit the Taronga Zoo, Australia's largest zoo, and experience the country's unique wildlife. Knowing Nellie, she will likely land an exclusive interview with a kangaroo.
Flight #3: Sydney to San Francisco
Nellie's next journey will take her back stateside, flying United's nonstop service from Sydney to San Francisco. Despite being a whopping 14-hour flight, Nellie will time travel backwards and arrive in Northern California the same morning. Fear not for jet lag, though, as Nellie will have caught up on much-needed sleep in United's new lie-flat Polaris business class suites.
As thankful as she is for planes to speed up her journey, Nellie will slow things down a bit in San Francisco, riding the city's famed cable cars and walking down Lombard Street, the "crookedest street in the world." Later, she'll enjoy a bowl of chowder at Fisherman's Wharf and take a sunset drive across the Golden Gate Bridge.
Flight #4: San Francisco to Pittsburgh
Following a busy day in San Francisco, it will be time for Nellie to hop on United's daily nonstop between SFO and PIT. After a quick four-hour flight, Nellie will be reunited with her friends, George and Franco, who no doubt will want to hear all about her adventures.
Welcome home, Nellie!