Pittsburgh International Airport's cargo business has boomed in recent years, and its capacity to handle freight from around the world is about to get a whole lot stronger.
Crews broke ground on a 77,000-square-foot facility that will create much-needed space for expansion and introduce new technology and cargo-handling capabilities to PIT.
RELATED STORY: Feds Give PIT Cargo Operation $18 Million Boost
Scheduled to open in 2024, the project dubbed Cargo 4 will enhance the airport's ability to accept international freight and distribute it throughout the U.S. and North America, making Western Pennsylvania more competitive in a rapidly growing industry and positioning the airport as a gateway for international logistics, officials said.
And its benefits are expected to extend beyond the airfield: the new facility will generate an estimated annual economic impact of $229 million for the region, according to the airport.
"The expansion of cargo at Pittsburgh International Airport continues to be another example of the strong and growing economy of our region," said Allegheny County Executive Rich Fitzgerald. "More cargo means more jobs, and I thank our federal delegation for their work in securing the grant that helped get this project to where we are today."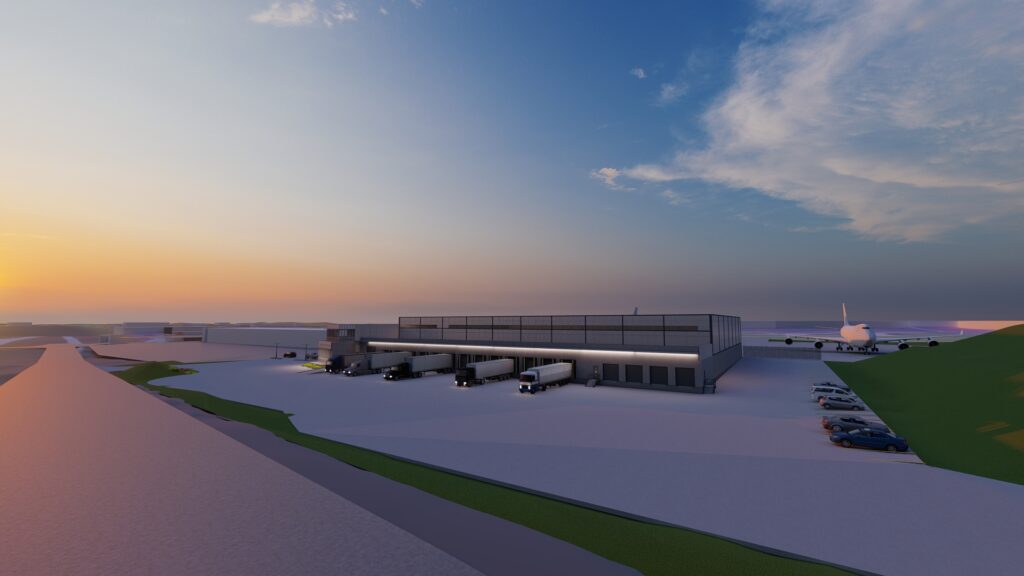 The Cargo 4 project is being funded in part through the U.S Department of Transportation's BUILD (Better Utilizing Investments to Leverage Development) program, which supports investments in transportation infrastructure.
In November 2019, the agency awarded an $18.69 million grant to PIT to support the construction of the facility on the northwest side of the airfield. Earlier this year, the agency awarded an additional $5.8 million to support the project.
The facility includes 69,000 square feet of warehouse space and 7,300 square feet of office space across two floors. The building will feature 17 loading docks for trucks; most will come with dock levelers, while others will be used specifically for Unit Loading Devices (ULDs).
Flatbed trucks will be able to access the interior of the warehouse with a dedicated loading dock, which is advantageous in poor weather.
Dedicated areas in the facility will be able to house goods deemed valuable, vulnerable or hazardous. It will also have expansion capabilities to hold more equipment for special cargo and accommodate temperature-controlled goods.
In addition, the building's design includes additional space for security screening, particularly for international cargo.
"This facility is a major step in growing Pittsburgh International Airport into an international logistics center," said Allegheny County Airport Authority CEO Christina Cassotis. "Cargo continues to be a major focus for us, and the downstream economic benefits are substantial for the region. We are appreciative that our federal officials understand the importance of air cargo as national critical infrastructure."
The facility will be able to handle any cargo aircraft flying today. Its expanded apron will be able to serve two Boeing 747-8 Freighters side by side, or up to four Boeing 757-200s at once.
More cargo passed through Pittsburgh International Airport last year than at any point since 2004, meaning more jobs for the region as the industry capitalized on the airport's speed and efficiency.
Nearly 250 million pounds of cargo shipped from around the world touched down at PIT in 2021, a 30 percent increase over 2020 and a 26 percent increase from 2019, as demand for air cargo soared amid global supply chain disruptions.
Year-to-date through July, cargo is up 2.5 percent at the airport.