It's no secret: U.S. airports have struggled to keep up with security, design and sustainability updates—and technology that seems to evolve every day—in the face of aging infrastructure.
Last year, Airports Council International-North America said airports were facing more than $115 billion in documented infrastructure needs by 2026, an issue exacerbated by tens of billions in losses resulting from the COVID-19 pandemic.
"These projects would help address critical needs while improving the passenger experience, increasing convenience, fostering competition, and hardening our health infrastructure to handle future health and safety challenges," said ACI-NA president and CEO Kevin Burke in a report detailing the issues.
The federal Bipartisan Infrastructure Law passed last year—which authorized more than $100 billion for public transportation—is helping to fund improvements in some cases. The Federal Aviation Administration announced that 85 U.S. airports across the country—including Pittsburgh—will get a total of $1 billion in federal funding for improvement projects.
Still, the vast majority of terminal project budgets are not funded with federal money.
For instance, the Sante Fe Regional Airport has been struggling with limited space in a terminal that opened in 1957. In recent years, the airport saw a steep rise in traffic, more than tripling the number of passengers it served annually between 2011 and 2019, when more than 280,000 people moved through the terminal.
In March, the airport broke ground on a $21.5 million project that will remodel and expand the terminal, including adding a third gate, and improve and expand parking. The cost is being split between city and state funding sources, and there are plans for another $20 million in improvements in the future.
"A lot of good money, a lot of good work, a lot of design to make the airport grow and grow in a way that reflects our history (and) our tradition," Santa Fe Mayor Alan Webber said at the groundbreaking. "(We want to) make sure our historic building is preserved and protected and the customer experience is upgraded and improved."
NYC overhaul
Dozens of other airports nationwide are undergoing major renovations or completely new construction, underscoring the long-overdue need to address aging infrastructure.
All three major airports in the New York City area are in the middle of upgrading their facilities as part of a $25 billion investment by the Port Authority of New York and New Jersey.
Leading the way is LaGuardia Airport's $8 billion Terminal C, home of Delta Air Lines, which opened in June; the final two gates of its new $4 billion Terminal B opened in July. Work on the $9.5 billion New Terminal One at John F. Kennedy International Airport began last month and is expected to last until 2026.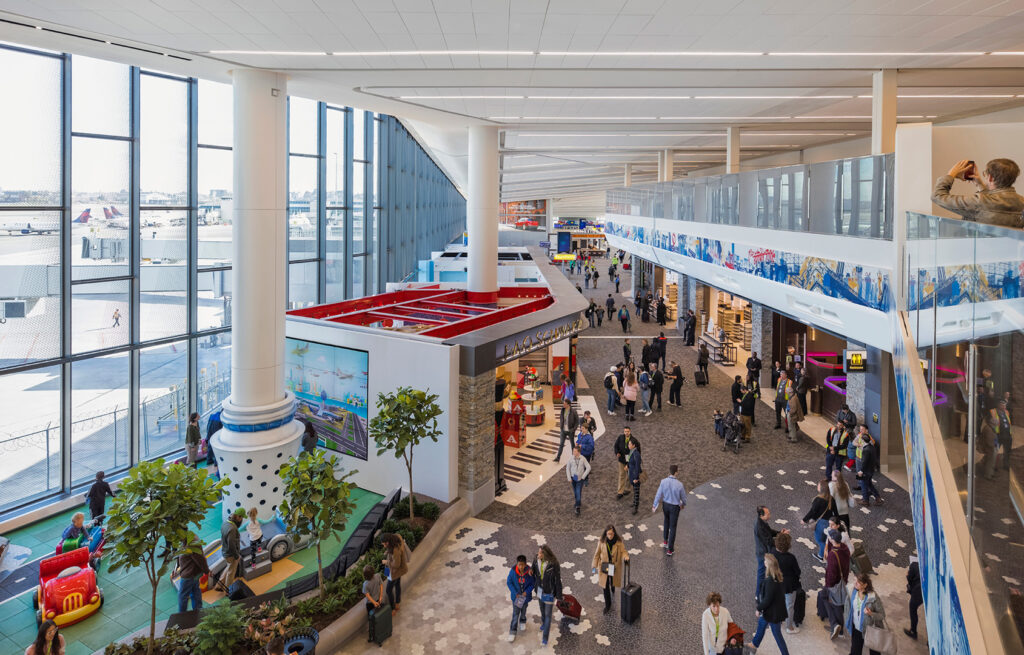 At Newark Liberty International, which is three times the size of LaGuardia and handles millions more passengers, a $2.7 billion construction project to overhaul the nearly 50-year-old Terminal A is almost complete.
The new terminal will be 1 million square feet with 33 new gates to accommodate more passengers, along with 3,000 additional parking spaces and a new high speed Airtrain to replace the aging transport currently in use.
Besides the addition of some much-needed utilitarian features, the new Terminal A focuses on the customer experience, with massive windows that will offer views of the iconic Manhattan skyline. It will also have the world's largest American Express Centurion Lounge and will showcase almost 60 retail and concession brands.
"The Port Authority is transforming Newark Liberty and its other airports into a world-class operational system with best-in-class customer amenities,'' said PANY/NJ executive director Rick Cotton when ground broke on the Terminal A project.
"Our New Jersey and New York airports must be 21st century gateways befitting the importance and stature of the metropolitan area, comparing favorably with any airport in the world in providing top-shelf customer experience for all passengers."
Mid-size makeovers
But it's not just the major markets like New York, Chicago and Los Angeles undergoing billion-dollar upgrades. Mid-size markets are building as well:
Salt Lake City International Airport is nearing the end of a $4.5 billion, 10-year plan that will add a new terminal with two linear concourses, a new parking garage double the size of the old one and a variety of new concessions and technology upgrades.
San Diego International Airport, the busiest single-runway airport in the U.S, is in the middle of building a $3.4 billion new terminal that will add 11 new gates, a new access road and meet LEED Gold certification sustainability standards.
Kansas City International Airport expects to open its new 39-gate, million-square-foot terminal in the spring, accompanied by a new 6,200-space parking garage. Once complete, it will be the $1.5 billion project will be the sole terminal for the airport.
The Kansas City construction comes 50 years after the current airport was built to the specifications of Trans World Airlines, a major carrier based in Kansas City that imagined a completely different type of airport layout. Unfortunately, that design very quickly became untenable and TWA ended up moving its base to St. Louis, leaving the city holding the bag.
"We were designed for an era that lasted 26 days after we opened. We modified the terminals as much as we can to comply with the mandate for modern airport security, but the original terminals were designed and built for a time that had long passed," Justin Meyer, Deputy Director of Aviation – Marketing and Air Service Development, told Future Travel Experience.
If that story sounds familiar, you probably live in Pittsburgh.
PIT progress
Pittsburgh International Airport's Terminal Modernization Program is well underway, targeting a 2025 opening. The $1.4 billion project is retaining the pioneering X-shaped midfield terminal built in 1992, although it will undergo extensive renovations as part of the program.
The heart of the construction is a new "landside," or pre-security, terminal intended to dramatically shorten the passenger journey, add many concessions and amenities for guests before the security checkpoint, and give visitors a dramatically upgraded first impression of the region.
"Ten million passengers travel through our airport every year. We want to show them the best from the front door," said Paul Hoback, Chief Development Officer at the Allegheny County Airport Authority, which operates PIT.
The project is currently "going vertical" after months of laying the foundation for the 700,000-square foot building, with beams rising into the air.