You know you're operating a big construction crane when it requires clearance from the Federal Aviation Administration to rise to its full height.
Construction crews call it "Big Red": a fire-engine-red behemoth weighing in at 760,000 pounds and extending up to 290 feet above the site of Pittsburgh International Airport's Terminal Modernization Project.
Just as planes need clearance from air traffic controllers to take off and land, cranes need FAA permission and constant coordination with the tower to operate at airports. The review includes aircraft climb rates (with one engine out), the height and swing radius of the crane boom, and wind direction, among other considerations.
The agency preapproved cranes operating on the site up to 250 feet, said Rob Bramblett, project executive with the terminal construction management joint venture of PJ Dick | Hunt.
"When we get higher than 250 feet, we have to change some airport procedures for the crane to be able to operate fully extended and straight up in the air," Bramblett said.
Every morning, construction crews outline their plans for the day with the air traffic control (ATC) tower. Officials then notify the team of potential weather concerns that may impact airport operations, which always take precedence over construction operations.
"We describe who's going up, who's going down and the tower will tell us in some cases, depending on the weather, that we may not be able to boom up that day because planes may be traveling at lower levels," Bramblett said.
"But that just goes with the nature of building an airport. We know we're going to lose a few days over the course of the program."
High-tech machines
Big Red—officially known as a Manitowoc MLC300 VPC Max—arrived in Pittsburgh in May, trucked in from Texas in several pieces. Once on site, it took a team of eight people two days to assemble it.
At present, Big Red is one of 12 cranes and operators helping build PIT's new terminal, including a crane with an 80-foot reach and cranes that are upwards of 200 feet tall. While cranes do much of the heavy lifting, they are among the most sophisticated machinery used in the construction industry. Each crane has sensors that help calculate how much it can lift under different conditions.
"There's an onboard computer that does the calculation and takes real-time measurements of things like wind and weight of the load just to make sure that nothing strange is happening," Bramblett said. "If you walk in that cab, it looks more like a space shuttle than a backhoe."
Safety First
A dedicated communication channel allows the crane operators to communicate directly with each other.
"Many times, you pick what's called 'in the blind,' where the crane operators may be picking a beam behind something, so they can't see it … It's not like you roll up one day, the truck backs up, and he just starts slinging the steel around," Bramblett said. "It requires a lot of advanced planning and communicating details between us and the tower."
Safety is the top priority of the Terminal Modernization Program and one safety maxim in construction is to never be under a live load. On two occasions this year, PIT had to shut down the automated people movers connecting the Airside and Landside terminals while the cranes lifted massive steel pieces over the tunnel as part of the new terminal's foundation.
A high-tech tunnel monitoring system uses lasers to continuously detect if there are any areas even slightly out of alignment in the tunnel.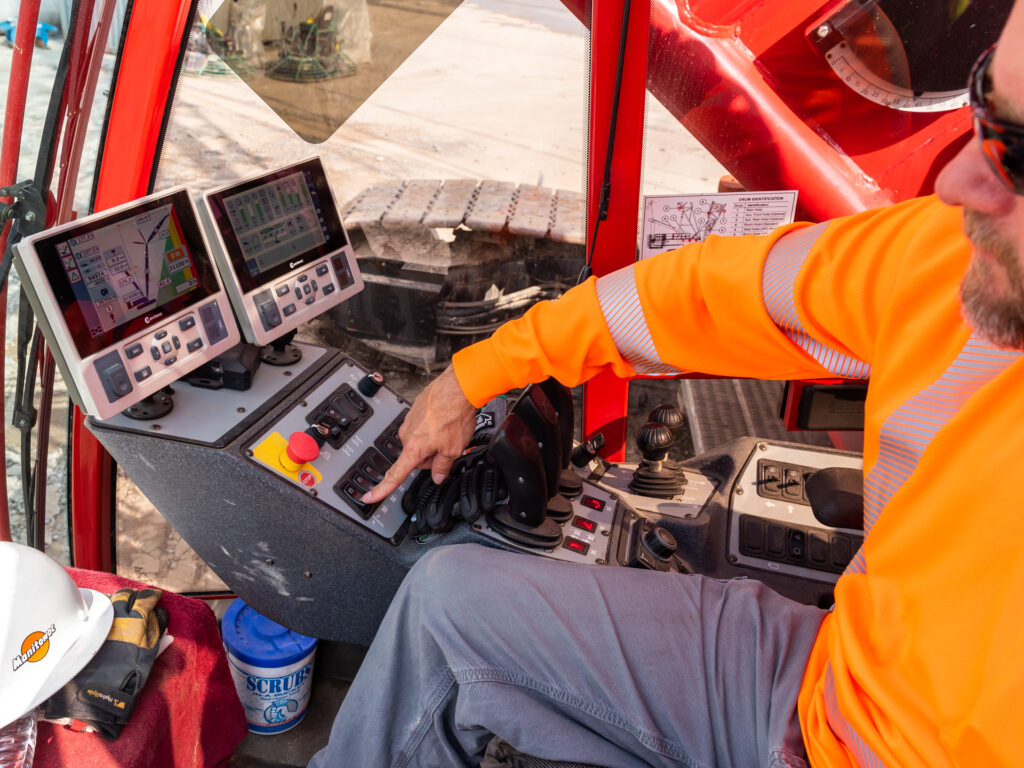 Big Red sits relatively far back from the building under construction to avoid collapsing the airport's existing train and utility tunnels with the combined weight of the crane and the steel it hoists.
High-tech cranes are typically used for large jobs such as stadium construction and large sprawling buildings. In PIT's case, the design calls for open spaces inspired by Western Pennsylvania's rolling hills, rivers and parks.
"Even though the building is only about 100 feet tall, we have to have 290 plus feet of crane height because of how the structure's geometry works. Some of the beams we'll be installing span 120 feet because of the large clear spans inside the building," Bramblett said. "Bigger beams mean they weigh more, which means they need a bigger crane to lift them."