Pittsburgh is known for building things. Now, Pittsburgh International Airport is building the future of additive manufacturing.
On Friday, airport and Allegheny County officials debuted Neighborhood 91, the first development of the Pittsburgh Airport Innovation Campus, a 195-acre business park on airport property devoted to the burgeoning industry of additive manufacturing (AM), the term used for seven specific processes, including 3-D printing, that create three-dimensional objects from a digital file.
Neighborhood 91 will be the first site in the world to contain every element of the AM supply chain, from design to production and distribution. Just as neighbors borrow tools from each other, companies in Neighborhood 91 will share infrastructural efficiencies and resources, including a communal supply of powder materials, such as stainless steel and aluminum, used in the additive manufacturing process.
READ MORE: Airport Innovation Campus Welcomes First Tenant
READ MORE: Training 'New Collar Workers' for Smarter Manufacturing
The site's first tenant will be Arencibia, an industrial gas management firm that invented a method to recycle 95 percent of the gas used in AM production, creating more efficiencies and saving money for companies.
Arencibia will anchor a production ecosystem that will include powder, parts, post-production, testing and analysis.
"It's a great example of when the economies of scale work on both ends. By having a central plant where we process everyone's gas, our economies of scale are better," said company president Joe Arencibia. "And then likewise, smaller additive manufacturing producers who maybe would have normally been too small to take advantage of the gas we recycle, now can participate as a group in a network to actually get the benefits of it and become a lot more competitive."
Talent pipeline
Neighborhood 91 derives its name from Pittsburgh's 90 distinct neighborhoods.
The University of Pittsburgh is a partner in the project, focusing on research and development as well as workforce training for the growing AM and 3-D printing industries.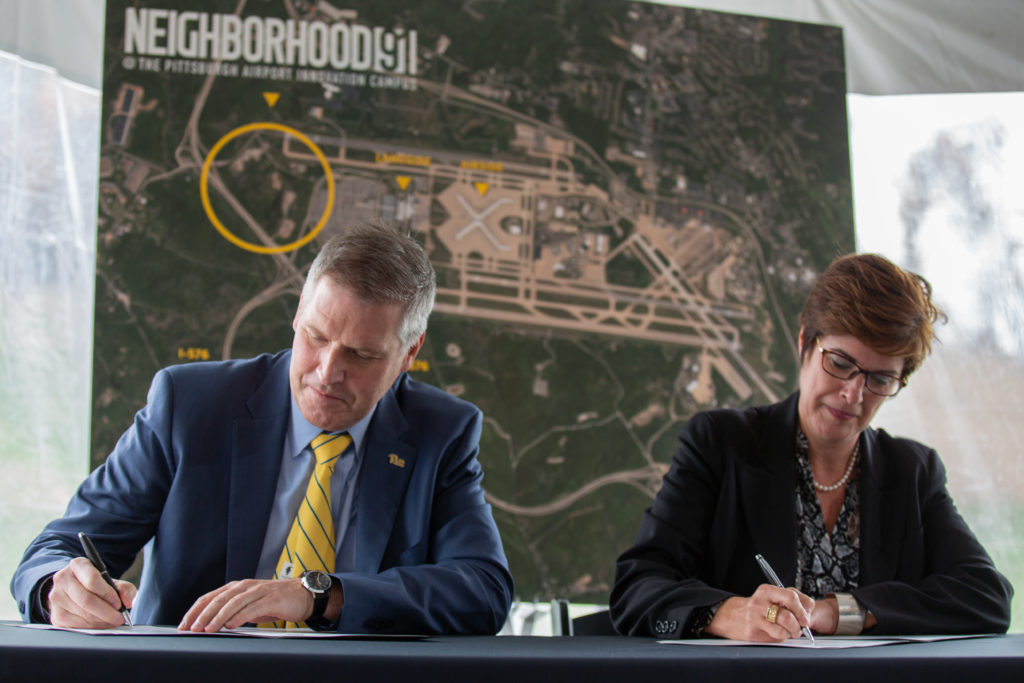 "Neighborhood 91 brings together the kind of collaborative environment needed to lead in today's competitive advanced manufacturing economy," said University of Pittsburgh Chancellor Patrick Gallagher. "It combines the region's strength in additive manufacturing and advanced materials industries with the intellectual capital of its world-class research universities."
Located in the Innovation Campus at the western end of the airport property in Pittsburgh suburb Findlay Township, the site has ready access to highways, rail and rivers, as well as the airport's growing cargo and passenger services, allowing companies to move people and products anywhere in the world within 24 hours.
The site offers companies a multitude of savings: The shortened supply chain will reduce manufacturing lead times by an estimated 80 percent, and transportation costs will be lowered by the site's proximity to shipping avenues. Clients will reduce their amount of expensive unused inventory. And the development will be powered by a planned microgrid, separate from one the airport announced earlier this month, saving tenants money on energy costs.
Ralph Resnick, founding director of America Makes, a national non-profit advocate for the AM and 3-D printing industries, said Neighborhood 91 is a bold step forward for southwestern Pennsylvania.
"I think what this emphasizes is that 3-D printing is not just for making trinkets and bangles, that it is truly an enabling manufacturing production method that is going to change the way that we make things, expand the way that we make things," he said. "And it's appropriate that it be done in the region because manufacturing is so imbedded in our DNA."
The cutting edge
Neighborhood 91 is the latest innovation from the Allegheny County Airport Authority.
Collaboration with researchers at Carnegie Mellon University resulted in the NavCog app, created to help vision-impaired travelers navigate airports, and a partnership with tech firm Zensors resulted in an AI-powered system that estimates TSA wait times to an accuracy unmatched in the airport industry.
Along with a world-class sensory room unveiled this summer and the creation of an "Internet of Things" lab with the help of French company Actility, CEO Christina Cassotis said Neighborhood 91 is another example of how the airport authority is embracing its role as the top economic driver in the region.
"Part of our vision as an airport is to advance the region's role as a world leader," she said. "Additive manufacturing is looking for a place to call home and no one has made that happen – until now. The Pittsburgh region is natural fit based on its history, but more importantly, on its assets of today. And our airport is leading the way to get it done along with our university partners."