In November 2014, junior high students from Plum Borough participated in a holiday tree decorating contest at Pittsburgh International Airport. They brought small plastic ornaments depicting nonstop flight destinations: the Liberty Bell for Philadelphia, the Empire State Building for New York, the Hollywood sign for Los Angeles.
But what set their decorations apart is that the students, led by their technology and art teachers, had designed and made their ornaments using 3-D printing.
Five years later, every elementary, middle and high school has 3-D printers. And during that time, Pittsburgh has emerged as a center for additive manufacturing, the term used for seven specific processes, including 3-D printing, that create three-dimensional objects from a digital file.
Building an industry
As additive manufacturing, or AM, has become a growing sector of the Pittsburgh region's new diversified economy, preparing the workforce to support it is more important than ever.
On Friday, officials announced the evolution of Pittsburgh International Airport's 195-acre Innovation Campus into Neighborhood 91, a site specifically developed to bring all the region's AM resources together in one place.
"Neighborhood 91 is about creating an ecosystem for universities, researchers, companies, workers and others to come together and connect in one place around additive manufacturing," said John Barnes, founder of The Barnes Group Advisors, an AM engineering consultancy. "Pittsburgh has always been a leader in manufacturing. Now we're doing it smarter."
READ MORE: PIT Debuts First-of-its-Kind Advanced Manufacturing Site
READ MORE: Airport Innovation Campus Welcomes First Tenant
According to the Pittsburgh Regional Alliance, the advanced manufacturing sector currently employs about 95,000 people in western Pennsylvania at about 2,800 firms. It already draws heavily on the region's talent pipeline of nearly 4,000 engineering graduates each year from 35 colleges and universities, and some 70 career and apprenticeship programs for workforce training.
"This is an opportunity to match airport resources with the region's designation as a center for additive manufacturing, artificial intelligence, robotics, energy and more," said Allegheny County Airport Authority CEO Christina Cassotis. "We see this as a campus for research and development, production, offices, training – all coming together here."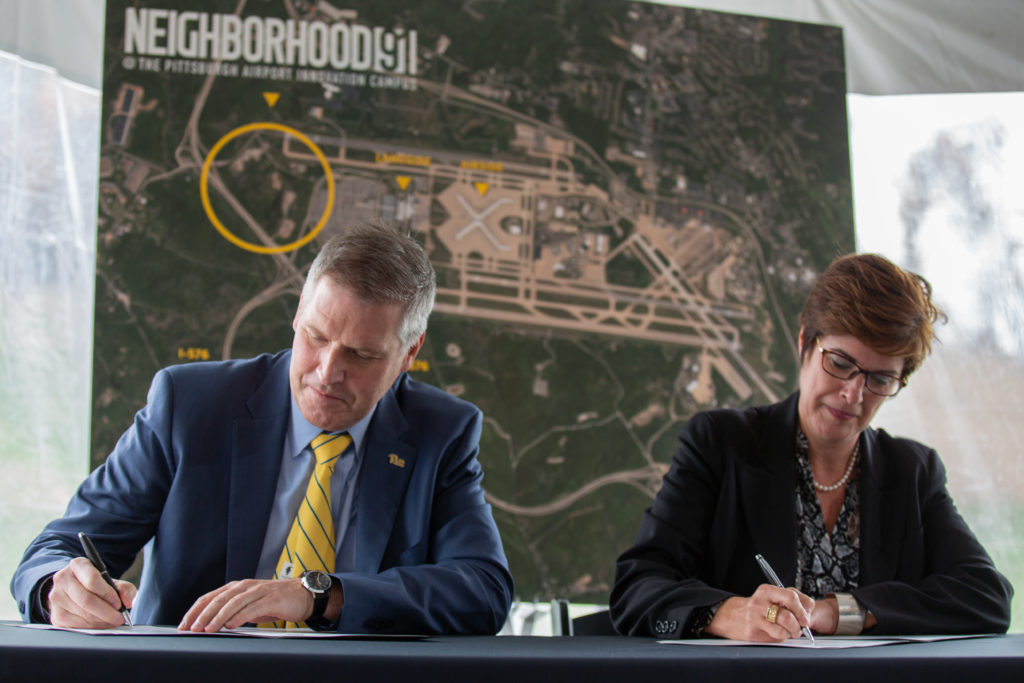 Doing the job
Led by the medical and dental industries, the global 3-D printing market is estimated to top $3 billion by 2020, according to Deloitte. A recent Google search of "advanced manufacturing jobs" led to nearly 34,000 hits on sites like Indeed.com, including companies in western Pennsylvania such as ATI, Ensinger, Kopp Glass and Bayer.
A current job for a production worker at ATI Specialty Metals in Oakdale, Pa., lists the primary function of the position as follows: "Prepare, maintain and operate the atomizing unit including: preparation of the melt chamber and equipment, charging furnace, ensuring heat chemistries are within specification, preparation of liquid prior to atomizing, operation of the atomizer ensuring that assigned parameters are followed during the pour."
Reading that, it's easy to see why AM faces a shortfall of skilled workers over the next few years. That's where the airport's partnerships come in, joining with the University of Pittsburgh, Carnegie Mellon, Robert Morris and other local institutions to develop the "new collar workers" of the future.
David A. Vorp, associate dean for research at the University of Pittsburgh's Swanson School of Engineering, said workforce development in this emerging field is equal parts research and development, application and practice.
"Pittsburgh is producing world-class workers ready to take their place in the advanced manufacturing industry," Vorp said. "The University of Pittsburgh has established itself as a national leader in applied research in materials production, characterization processes, energy technologies and supply chain dynamics, strengthened by a network of industrial, academic, governmental and regional collaborations."
Importance of research
The University of Pittsburgh's Center for Advanced Manufacturing (UPCAM) works to advance the state of manufacturing in society through world-class research, outstanding education, and dynamic industrial, academic, governmental, and regional collaborations. The UPCAM initiative also aims to benefit the local and national economy through research discoveries and the collective strengths of the Swanson School of Engineering departments.
"There's so much that is required in order for AM to reach its full potential, including the need to fabricate new materials, as well as understanding what format materials need to be in for printing," Vorp said.
Typical materials include metals and plastics, but Vorp said emerging components include magnesium and other elements that are bio-degradable. Those "bio-manufacturing" materials may have huge impacts in the medical industry including replacing bone, cells and other tissues.
"That's why research is so important because it helps advance the field to a level of application where we need the new collar workers to take those applications into practice," he said.
It's that ongoing collaborative framework that will complete the continuum of professional workforce development around the advanced manufacturing industry's powerful and complex tools.
"We have to continue investing in people and education and not just materials and products," Barnes said. "The airport's partnerships with the universities and local businesses are key to making Neighborhood 91 work. Workforce development is central to Neighborhood 91 and Pittsburgh will help support that at the campus."