The fur wasn't quite flying at Allegheny County Airport on Friday, but spirits surely were soaring.
More than 1,000 cars lined up through a winding series of lanes in the parking lot of the West Mifflin, Pa., general aviation and executive airport to receive free dog food courtesy of the Pittsburgh Aviation Animal Rescue Team.
In partnership with the Allegheny County Airport Authority, PAART conducted its first-ever no-contact dog food distribution at the airport to help pet owners who have been affected by the COVID-19 pandemic.
"We're grateful for the opportunity to help people in the communities surrounding the airport, and throughout the Pittsburgh region, in a time of great need," said Jonathan Plesset, co-founder of PAART. "As a tenant at county airport, we believed it would be an excellent location for this project."
Just after 10:30 a.m., about 30 minutes before schedule, PAART volunteers began giving one 40-pound bag of dog food to each vehicle. The event began early because the lot was so crowded that organizers became concerned about traffic backing up onto busy roads.
Ninety minutes later, 540 bags had been distributed. When the event ended at 2 p.m., more than 1,000 bags of food, which had been purchased with donations made to PAART, were gone.
"We are so happy to be able to support one of our tenants in such a worthwhile cause for the community," said Traci Clark, Vice President for Allegheny County Airport. "You could tell how much this meant to those in need not just by the number of cars in the lot, but in their eyes and how much they thanked everyone."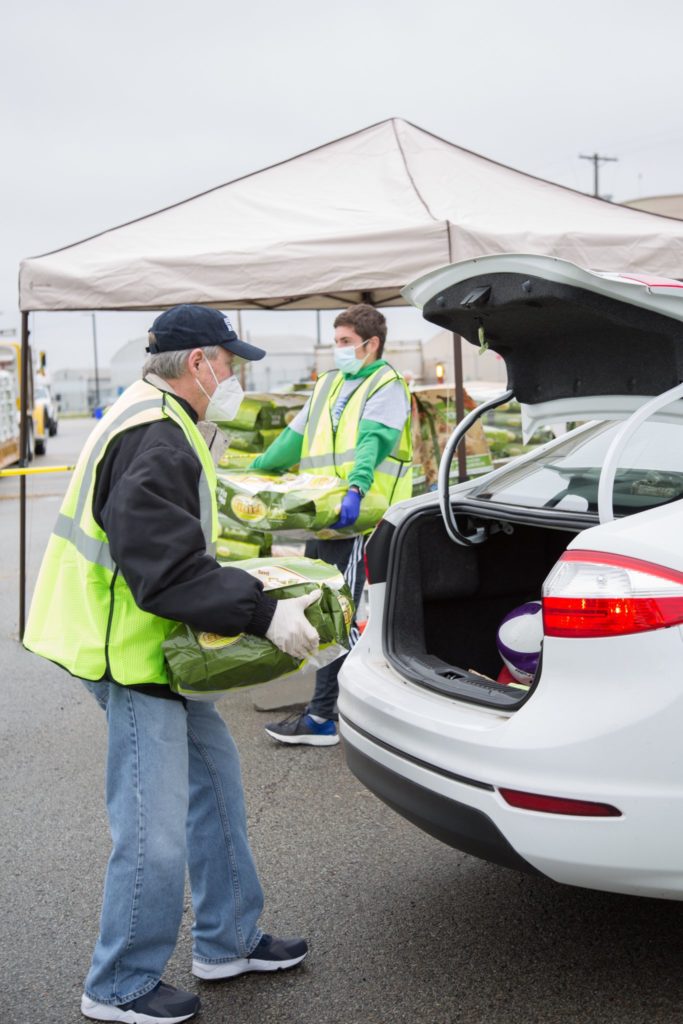 That was never more evident than when a young woman pulled up in a black Volkswagen with her black Labrador retriever sticking his head out the back window. The woman, who declined to be identified, said she had recently been reduced to a part-time job and that it was getting difficult to make ends meet.
"It means so much," she said, fighting tears. "It's been tough, but to see everyone out here and doing what they're doing is just great."
Two days earlier, the ACAA had partnered with the Greater Pittsburgh Food Bank to distribute 1,600 boxes of food in an emergency food distribution in the parking lots of Pittsburgh International Airport.
Both emergency food distribution events reflect a temporary paradigm shift of how the ACAA can perform a crucial role in the region during trying times by providing facilities for something other than aviation-related business.
"With traffic down, we are finding new ways to serve our community," said ACAA CEO Christina Cassotis. "We have the location, space, and facilities where food can be distributed efficiently, quickly and safely. It's always about helping our communities. We are much more than just a place to catch a plane. Our airports are integral parts of our region, in any situation."