Some things in life come full circle. For JetBlue Airways captain Emerick "Rick" Aulicino, it's taken 32 years to close the loop.
"I'm ending my career just the way I started it," he said.
A native of Pittsburgh's East End, Aulicino launched his career as a major airline pilot at Pittsburgh International Airport in 1990, flying a Fokker F100 for USAir. Three decades and several airlines later, the JetBlue captain knew exactly where he wanted to land his final flight as a commercial pilot.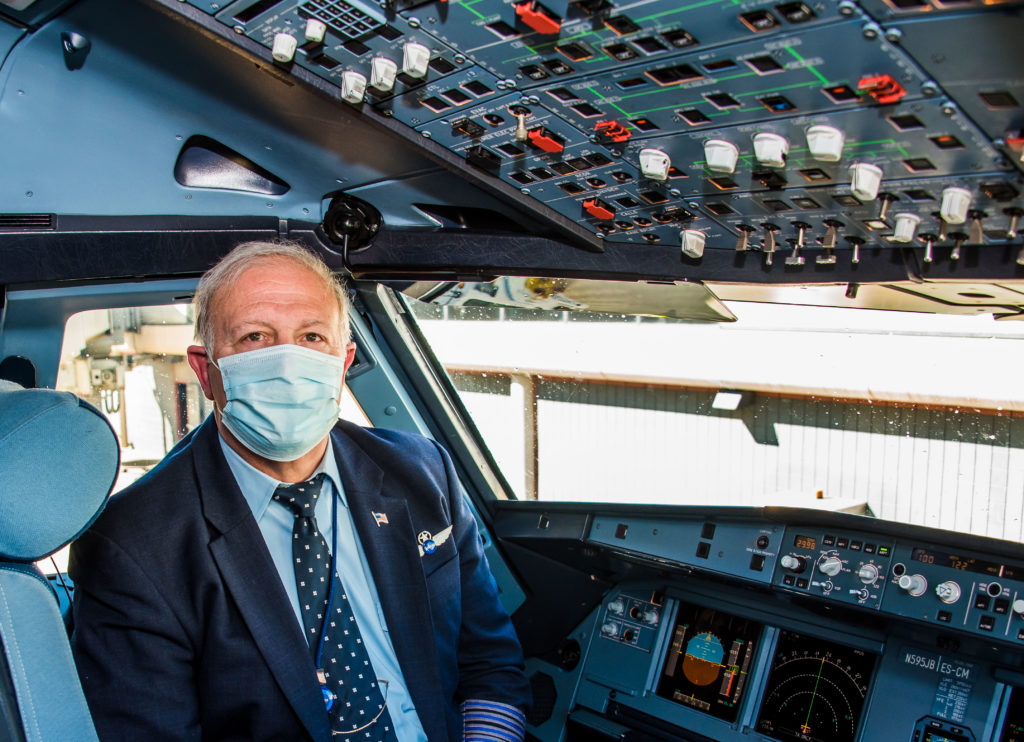 As he taxied to Gate B29 at PIT on Wednesday morning, Aulicino was welcomed with a water cannon salute provided by airport firefighters – a tradition for special events at airports, including pilot retirements.
"That's something I've looked forward to my entire career," he said.
One last flight
Making sure he could land at PIT was not without its challenges, though. Most JetBlue flights in and out of Pittsburgh are operated on the Embraer E190. Occasionally, JetBlue flies its Boston-to-Pittsburgh route on an Airbus A320, one of Aulicino's planes.
"I called the chief pilot in Boston and asked, 'If the schedule changes to a narrow-body plane for Flight 1485, Boston to Pittsburgh, can I please have that flight?'" he said.
As it turns out, another pilot had been scheduled to captain an Airbus on Flight 1485, but he gladly offered the opportunity to Aulicino.
Waiting at the gate to welcome Aulicino were his wife Eva, daughter Stefanie and his son Rick, in addition to more than two dozen other family members and JetBlue colleagues.
"I can't believe this day is here," said Eva Aulicino. "He went through a lot of highs and lows and worked so hard throughout his career, but in the end he would tell me he had the office with the best view."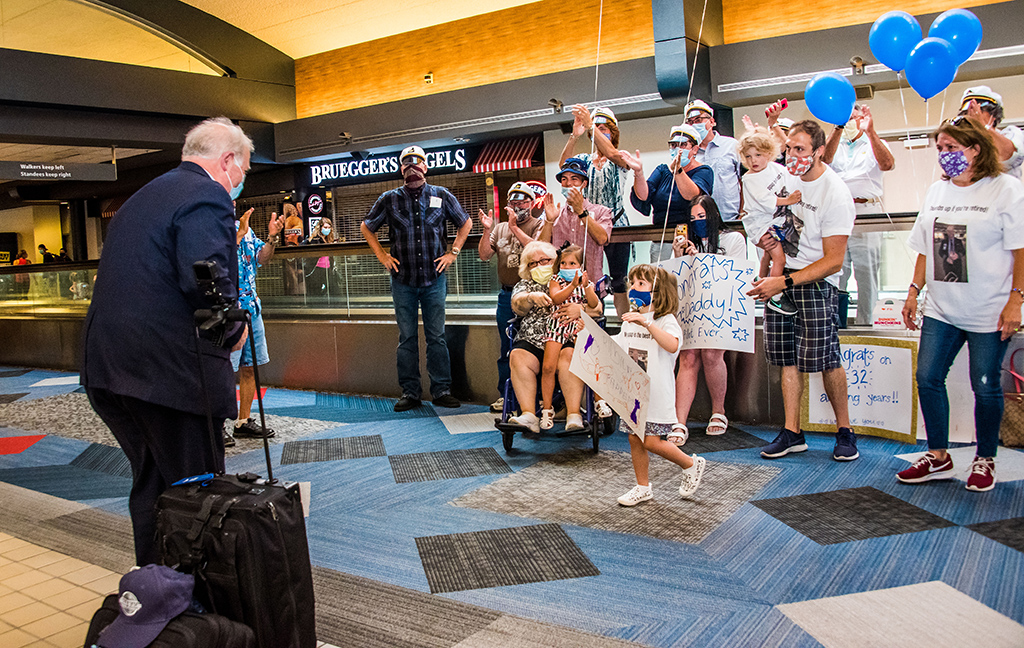 Fellow Pittsburgh-based JetBlue pilot Matt Rakolta made sure to be there for his friend's arrival into PIT.
"He's the nicest guy in the world," said Rakolta, who has shared the cockpit with Aulicino dozens of times. "He's by the book and you never have to guess what he's doing. With him, you can just tell he knows everything about the airplane, the FAA—everything. He's very knowledgeable and has a great attitude."
Takeoff to landing
Like many pilots, flying has been Aulicino's life.
"It's something I've always wanted to do; I knew I wanted to fly ever since I was a kid," he said.
When he was 13, he joined a Civil Air Patrol group in Pittsburgh to learn more about flying. At 16, he was selected by CAP to attend a summer camp offering lessons at Allegheny County Airport in West Mifflin.
Aulicino continued taking flying lessons while attending Central Catholic High School in Pittsburgh's Oakland neighborhood. The same day he earned his private pilot's license, he left for basic training in order to attend the U.S. Air Force Academy.
"It's kind of comical, because the ink wasn't even dry on my certificate," he said. "My father had to drive me from Allegheny County Airport after my check ride with the instructor to Greater Pittsburgh Airport. It was kind of a hectic day."
After serving 10 years as an officer in the Air Force, Aulicino and his young family returned to the United States from his post overseas. Settling in Charlotte, N.C., he started flying for CCAir, a former regional carrier, in 1989.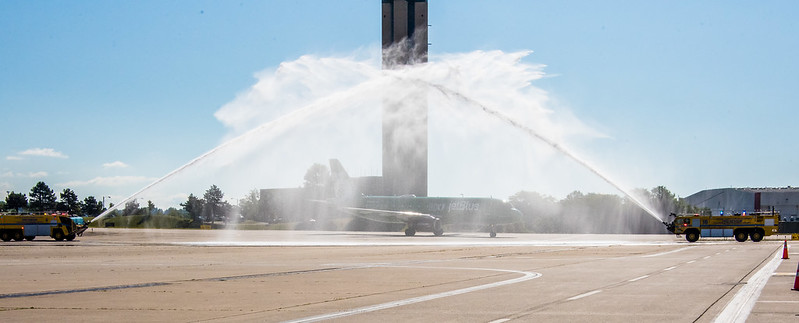 From there, Aulicino's career hit some turbulence. The 1991 economic recession during the Gulf War caused USAir to furlough hundreds of pilots, including him.
But he kept at it: he flew night freight, then chartered for Mellon Bank at Allegheny County Airport, then worked as a flight instructor for USAir and eventually joined a Pittsburgh-based startup, Nations Air Express.
"When a door closes, a window opens," Aulicino said.
In 1998, Aulicino began flying Boeing 737s for Continental Airlines. Shortly after, US Airways called him back from his furlough and he returned to his former airline as a 737 pilot. He stayed with US Airways until 2002, when the country faced another recession caused by the 9/11 terrorist attacks.
"[US Airways] started laying off pilots, and I knew eventually they would make their way up the seniority list," Aulicino explained. "I applied for JetBlue, which was a new airline at the time. I was fortunate enough to get hired and it's been smooth sailing ever since. All of the sacrifices over the years paid off when I got to JetBlue."
Contemplating retirement
Per FAA rules, commercial airline pilots are required to retire at 65. Technically, Aulicino could continue flying until his birthday in September, but he chose to leave early.
Once again, airlines are preparing for potential furloughs and layoffs because of the drop in travel demand caused by the coronavirus pandemic.
"I understand exactly what the other pilots are going through. As much as it's a bittersweet situation for me and as much as I'd love to keep flying until the very end, I'm grateful and relieved to be in the situation I'm in," Aulicino said.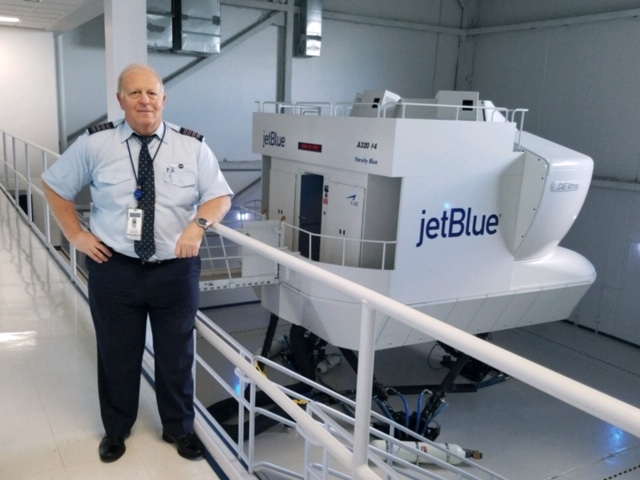 His advice for younger pilots just starting their careers?
"There's always a light at the end of the tunnel. Keep the faith and it will all work out."