Before March, this year had all the makings of a record-breaking one for the commercial air industry.
On Dec. 1, 2019, the end of the Thanksgiving holiday weekend, more than 2.8 million travelers passed through security checkpoints nationwide, according to the Transportation Security Administration, the busiest day ever in the 18-year history of the agency.
That capped off a year in which U.S. airlines carried 925.5 million passengers—the most since 2003, according to the federal Bureau of Transportation Statistics. Annual passenger totals had risen steadily for years and everyone expected the trend to continue in 2020.
Then COVID-19 changed the world and, in the last two weeks of March, commercial air traffic came to a virtual stop.
"The problem is so big, no one could have imagined," said Bijan Vasigh, professor of economics and finance at Embry-Riddle Aeronautical University in Daytona Beach, Fla.
Bleak outlook
Dependent on development of a coronavirus vaccine, the industry's recovery to pre-pandemic levels could take until the end of 2023, according to a July prediction from Moody's.
Passenger numbers have hovered between 400,000 to 700,000 this summer, with the highest day so far, Aug. 16, peaking at about 863,000.
There has never been such a prolonged downturn in passenger demand at any other time in the history of commercial aviation, said Janet Bednarek, professor of history at the University of Dayton and author of "Airports, Cities and the Jet Age."
"We have no playbook for dealing with a global pandemic," she said. "The last one of this kind of magnitude happened in 1918. Not a lot of commercial aviation in 1918."
During World War II, airlines had fewer employees and airplanes thanks to the war effort, but air traffic grew during that time, Bednarek said.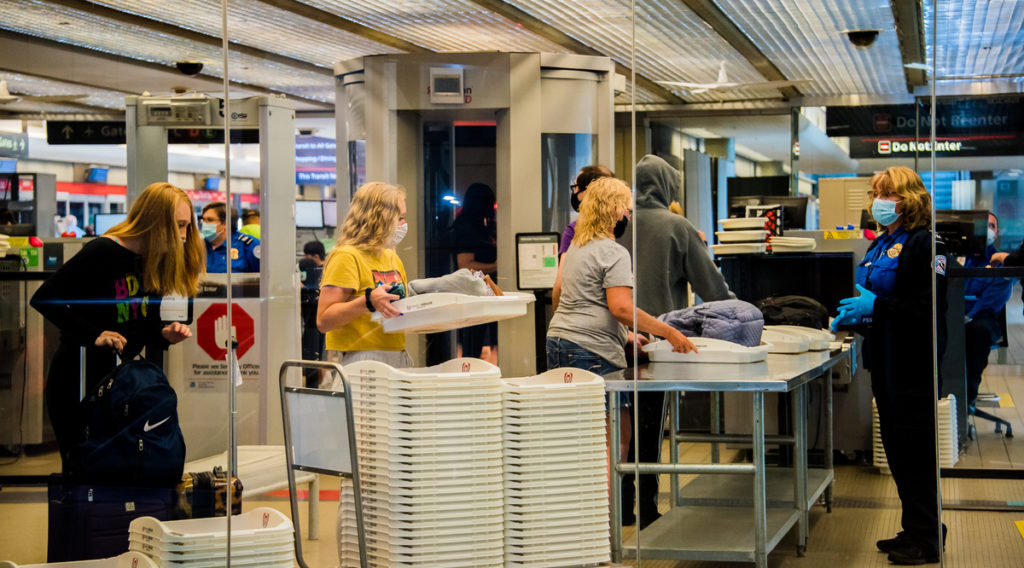 More recently, the terrorist attacks of 9/11 caused uncertainty about flying that lasted about a year and a half to two years, Vasigh said.
"The problem is that, even today, we don't know the end of coronavirus," he said.
'Data vacuum'
Several factors contributed to last year's record numbers, just before the pandemic.
As the industry recovered from the Great Recession, the U.S. went from having 11 major carriers to four due to mergers. Consolidation meant less competition, cutting costs and increasing revenue, Vasigh said.
"When you're not competing, average ticket prices start to change, then (carriers) started really nickel-and-diming all the passengers, charging for everything from seat assignment to overhead bin," he said.
Carriers learned how to harness "big data" to their advantage during that time, matching their fleets to their load factors depending on routes, days and time of year, Bednarek said.
"The key to making money in airlines is, to put it bluntly, to put butts in seats," she said. "You want to have as many people on your airplane as you possibly can, every single time … for the five or six years before (the pandemic), in particular, you never had an empty seat next to you."
That reliance on information analysis, which became a driving force in the business model, has become something of an Achilles heel because there simply is no precedent for the industry's current landscape.
"They're operating in a data vacuum," Bednarek said.
Reassuring passengers
One industry bright spot continues to be air freight, prompting some air carriers to help with demand as people continue to order things for direct delivery at home. Airports near Amazon hubs like the one in Cincinnati remain busy, Bednarek said.
The pandemic also opens up opportunities for innovation. Perhaps plane manufacturers will develop better, quicker sanitation or better air filtration technology, Vasigh said.
Communicating those measures, and making passengers feel secure, is what will get them back in the air.
"Airports are playing a key role because people have to feel comfortable even before they get on the airplane," she said.
In the short term, Vasigh and Bednarek both worry about how the industry might fare in the fall, when numbers are traditionally lower than normal, plus cash reserves and stimulus funding could begin to dry up.
"When the money that the airlines got to maintain employment runs out, that's when the rubber is really going to hit the road," Bednarek said. "We're in the middle of the beginning, we're still in the thick of it."