The future of Pittsburgh International Airport's microgrid got a little brighter recently when the first of 9,390 solar panels for the project were installed.
"It's a major milestone," said Tom Woodrow, Vice President of Engineering. "We are leveraging the talents and skills of our local workforce and partners to create an energy source that is resilient and sustainable. Pittsburgh International will be one of the most site-hardened airports in the world."
The microgrid, an electricity network that can operate independently of the regional power grid, will be the airport's primary power source but will remain connected to the grid as an option for emergency or backup power if needed.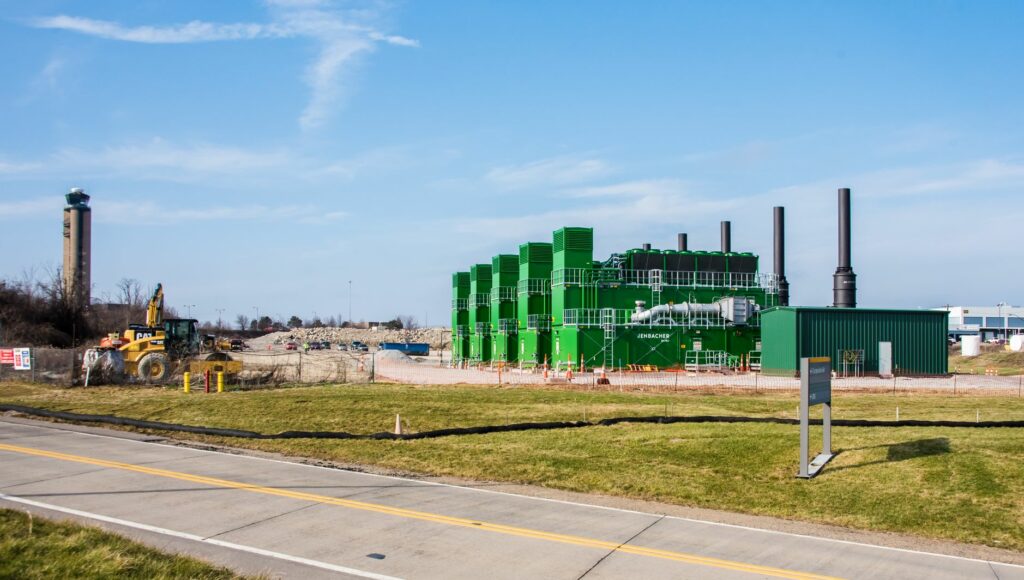 Overall, the project will supply the entire airport with electricity, but Woodrow explained the microgrid can be viewed as two components. The first part includes five generators fueled by natural gas sourced from wells drilled on-site by CNX Resources. This component will provide power to the airfield, the terminals, and the main public areas of the airport.
Here Comes the Sun
The solar project, which could be considered the second component, will supply power to various spots on the surrounding airport property.
The solar panels, which will be visible to the public north of Interstate 376 near the main airport exit, received approval from the Department of Environmental Protection on Jan. 7 and construction began two days later. This part of the project is slated to be complete by summer's end.
"Part of our mission is to be a world leader in aviation innovation and this project is about powering airports into the future," said Pittsburgh International Airport CEO Christina Cassotis. "This project will bring power resiliency and redundancy to enhance safety and ensure continued operations for the traveling public."
Together, the microgrid will produce more than 20 megawatts of electricity, or the equivalent of powering more than 13,000 residential homes. The airport's current peak demand is approximately 14 megawatts.
The solar facility will be built, operated, and maintained by North Shore-based IMG Energy Solutions.