A year ago, we wrote that 2021 began to see a rebound in aviation activity from the depths of the COVID-19 pandemic in 2020, and that 2022 was positioned well for the upswing to continue. And we were right.
We're repeating that prediction for 2023, and we hope to continue writing about the resumption of pre-pandemic schedules and the introduction of new airlines and destinations over the next 365 days, as well.
But there were other important stories that took place in Western Pennsylvania aviation this year, and we want to take a look back at some of the successes achieved by the Allegheny County Airport Authority and our community. We start off with a video and then link to our most important stories of 2022.
Thanks for reading this year, and we look forward to seeing you next year with all-new stories, photos and videos.
---
A great deal of progress was made on the $1.4 billion project to "right-size" Pittsburgh International Airport, and one of the biggest signs was the installation of the steel framework that will give the new building its shape. While the pouring of foundations and drilling of caissons was crucial for the project, watching the construction rise into the air gave onlookers a real sense of what the TMP will become.
The locally fabricated steel may have been the most significant step, but it was far from the only one. Piers for the elevated roadways were installed; work began on the Multi-Modal Complex, which will house a parking garage, rental car services and more; plans for dramatic outdoor art installations were unveiled; innovative safety and medical protocols continued onsite; and experts tested the durability of planned facades, among other major milestones.
Of course, none of this happens without a wide range of community partners, including contractors and companies onsite; elected leaders at the county, state and federal levels; and the millions of passengers we serve who are getting an up-close view of the project from Concourse D.
---
With virtually all international flight shut down at the onset of the pandemic in March 2020, British Airways' direct route to London Heathrow from PIT was suspended after operating for less than a year. But airport officials and the airline maintained regular contact, looking for the best time to restart the popular service.
It turns out that was June 2022.
The return of BA was a major signal that air travel in Pittsburgh was bouncing back, and the resumed link to Europe was a big win for regional businesses looking to reconnect with their international partners. The good news got even better in November, when the airline announced it would add two additional weekly flights beginning in 2023, giving PIT a direct connection to one of the world's biggest air hubs six days a week.
---
The one-year anniversary of PIT's first-of-its-kind microgrid came in July, and the positive environmental impact and financial savings it tallied in that time were very significant, to say the least. The successful operation essentially served as a proof of concept phase, and even Congress wanted to know how we did it.
There was more than just talk, however. The blueprint has spurred action at other airports to develop similar infrastructure, efforts that PIT pledged to support from the beginning of the project.
And interest in the gas and solar-powered network didn't stop at national borders. Representatives from other countries and international corporations regularly toured the operation throughout the year to learn more about the airport's "world-changing idea."
---
PIT's xBridge innovation hub is indeed a physical space—10,000 square feet at the end of Concourse B, to be exact—but at its heart, it really is just an idea: let's start inventing the airports of tomorrow right inside the airport we have today.
The xBridge program has already begun delivering on that idea in spades. Passengers moving through PIT this year saw cars being driven from 15 miles away, algae filtering excess carbon dioxide from air in the terminals and a robot delivering drinks to people right at their gates. And those were just the projects in public view.
What will we think of next? Stay tuned and find out.
---
As part of the overall plan to diversify the airport's business interests—as opposed to, say, relying on a single airline for nearly everything—PIT began ramping up its cargo business several years ago, making crucial partnerships with international airlines and freight forwarders looking for alternatives to overwhelmed shipping hubs in traditional cities like New York and Chicago.
Those plans paid off handsomely, as freight began moving through the airport at historic levels, a success that prompted the need for more space. Enter Cargo 4, a 77,000-square-foot facility that will generate an estimated annual economic impact of $229 million for the region.
Scheduled to open in 2024, Cargo 4 will be able to handle any cargo aircraft flying today.
---
When ground was broken on the Neighborhood 91 advanced manufacturing campus in 2019, there was just dirt and grass at the site on the west end of the airport property. Now state-of-the-art processes build critical components for the rail industry and other customers using high-tech machines as part of a unique manufacturing ecosystem wholly located at PIT.
In 2022, the first building became fully leased and a new tenant signed on for a second building currently under construction. A third is being planned.
Pittsburgh builds things. And while tenants like Wabtec and Cumberland Additive build products for their customers using lasers, powder and heat, PIT is building the future of the growing advanced manufacturing industry using Neighborhood 91 as the blueprint.
---
In September, thousands of delegates from around the world gathered to discuss the future of clean energy technology and implementation. The three-day conference included a high-level plenary, topical roundtables with energy and science ministers from 31 countries, CEOs and experts, side events, technology demonstrations, and other activities.
And their choice of venue for this momentous event was apparently an easy one: Pittsburgh is "a town that exemplifies how a legacy energy and industrial-dependent economy can be transformed into a technology and innovation powerhouse," said U.S. Secretary of Energy Jennifer Granholm.
We couldn't have said it better ourselves. With its unique microgrid, new terminal construction plan and other sustainability initiatives, PIT is proud to help the region lead the way to a future that's better for the community, the environment and the economy.
---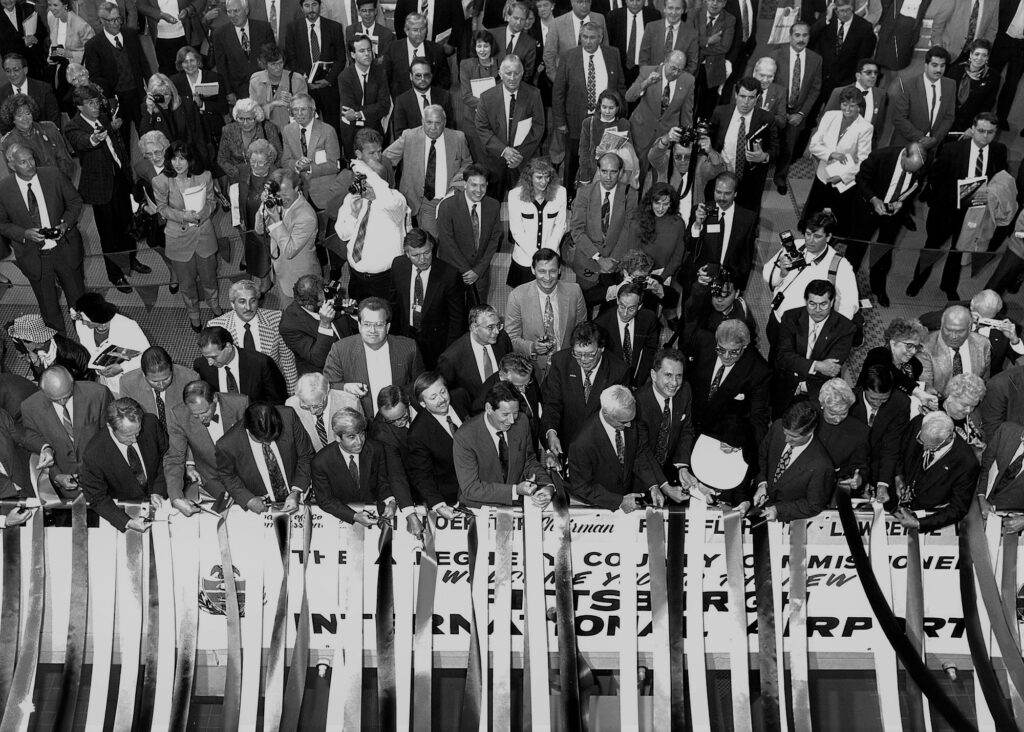 Even as we build the future of aviation right here in Western Pennsylvania, we remember the incredible successes that have gotten us to this point. On Oct. 1, 1992, Pittsburgh International Airport opened, featuring innovations that eventually became standards for the industry.
Shopping malls in airports? We invented that. X-shaped terminals? We have the first one. The facility the New York Times called "the airport of the future" would go on to serve more than 20 million passengers annually before US Airways abandoned the market.
This is Pittsburgh, where we treasure our history. Pittsburgh International Airport was a gigantic step forward in aviation, and we'll honor that heritage by doing it again in 2025.
---
It took Nellie Bly 72 days to go around the world, but more than two years to go 18 miles down the Parkway West.
The famed traveler, journalist and businesswoman was introduced as the third historical figure to be stationed at the airport, along with Steelers Hall of Famer Franco Harris and first U.S. President George Washington, in March 2020. Days later, COVID-19 overwhelmed the world.
The pandemic delayed the figure's delivery until this past spring. Bly—who was born outside of Pittsburgh in 1864 and wrote for the Pittsburgh Dispatch as a teenager—was feted at a dedication event held on her birthday, May 5.
---
A Sad Farewell to Franco
Pittsburgh experienced a shocking loss to end the year, as Steelers Hall of Fame running back Franco Harris died Dec. 21 at the age of 72.
Tragically, he passed days before the Steelers planned to retire his jersey at halftime of the Dec. 24 game against the Raiders to commemorate the 50th anniversary of Harris' most famous play, the "Immaculate Reception," on Dec. 23.
At PIT, we have a particularly special relationship with Franco. A figure of him making the Immaculate Reception sits in the Airside terminal, greeting arriving travelers from around the world as well as Pittsburghers who see him as a beacon welcoming them home. It has become a defining symbol of the airport and the region.
We are grateful for the time we got to spend with Franco and his family, and we wish them peace and comfort in the days and weeks ahead.